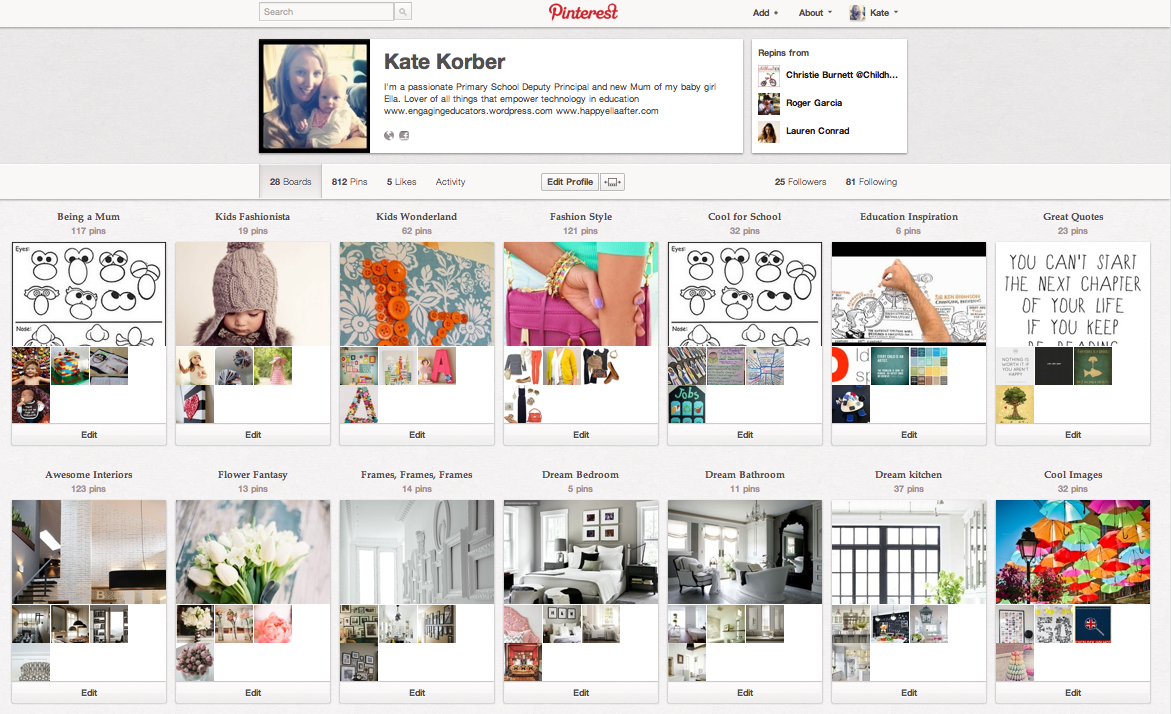 I heart Pinterest!
I heart Pinterest!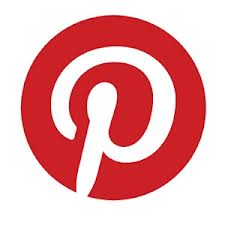 My name is Kate Korber and I am a Pinterest-aholic. I never thought I would be, but I am. I admit it. I'm on this band wagon in a big way. When I saw all the talk about Pinterest (via Twitter and Facebook), I thought – yeah, yeah…another thing. Coming from someone who openly admits to loving social networking and the fantastic world of mobile devices, I was apprehensive to delve into this new 'fad', for reasons that I now seem to forget. After a year of learning to be a Mum (still learning and always will be), I was quite proud of myself for embracing Instagram and starting this little blog. I thought that I could not possibly be into something else – boy was I wrong.
I am always talking about (no raving about) the possibilities of Twitter in terms of networking and professional development for teachers.  It is such a fantastic tool to ask questions, share knowledge and resources. It really is an untapped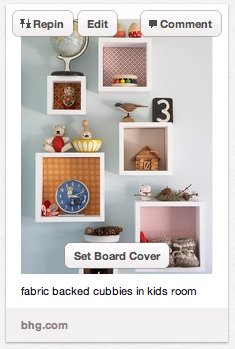 resource for many who seek to broaden their networks, whether it be for a new business, community group or personal interest. I also used to love and use a fantastic resource called 'Delicious'. Delicious was an online bookmarking service that allowed users to tag their favourite websites with keywords and save them to the 'cloud' (ie. the web). This means that all your favourite sites could be accessed any time, anywhere and be shared with anyone you like.

Pinterest brings this idea to a whole new level. As a teacher, and now a new Mum, interest has allowed me to browse the web and 'pin' ideas, resources and any new finds to virtual pin 'boards' that I have created. Instead of bookmarking a link, you basically bookmark an image from the site that you like. Thus you develop a fantastic pinboard of images relating to your topic of choice. As a new mum, this means that you can pin ideas for your baby's room, cute clothes, recipes, art and craft ideas etc. If someone shares a great website with you – pin it! If you find a picture of a great birthday cake for next year – pin it! You can create boards for any topic you like!
Some of my favourite boards that I have created include: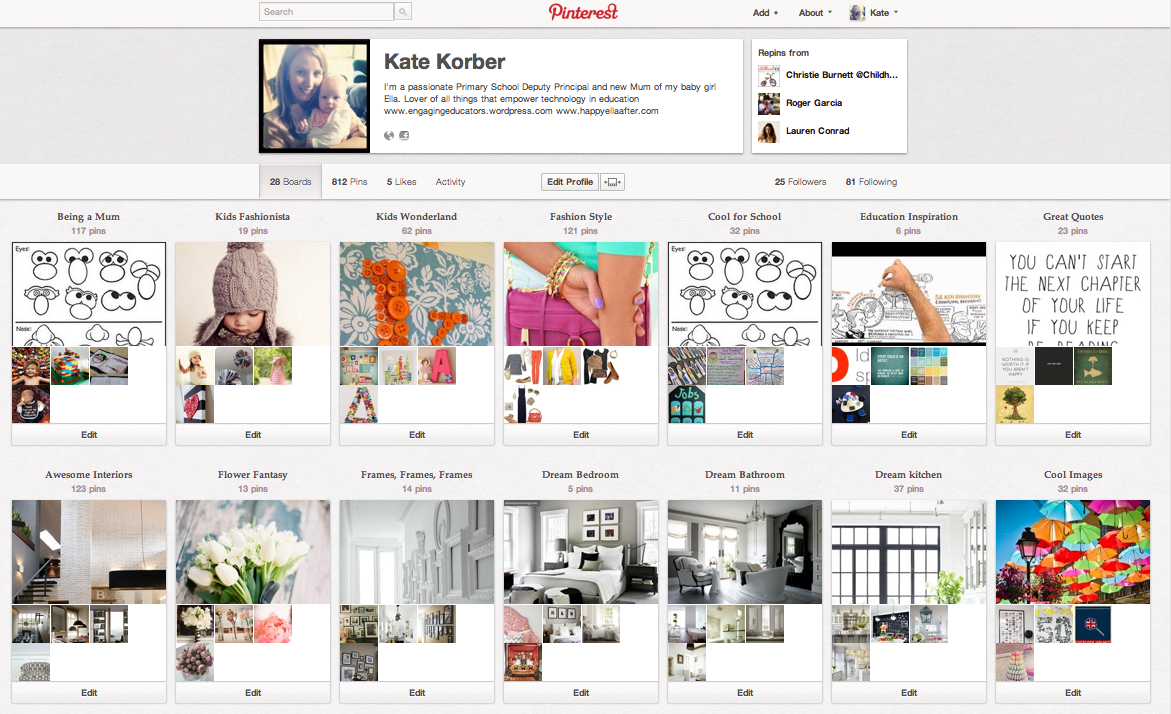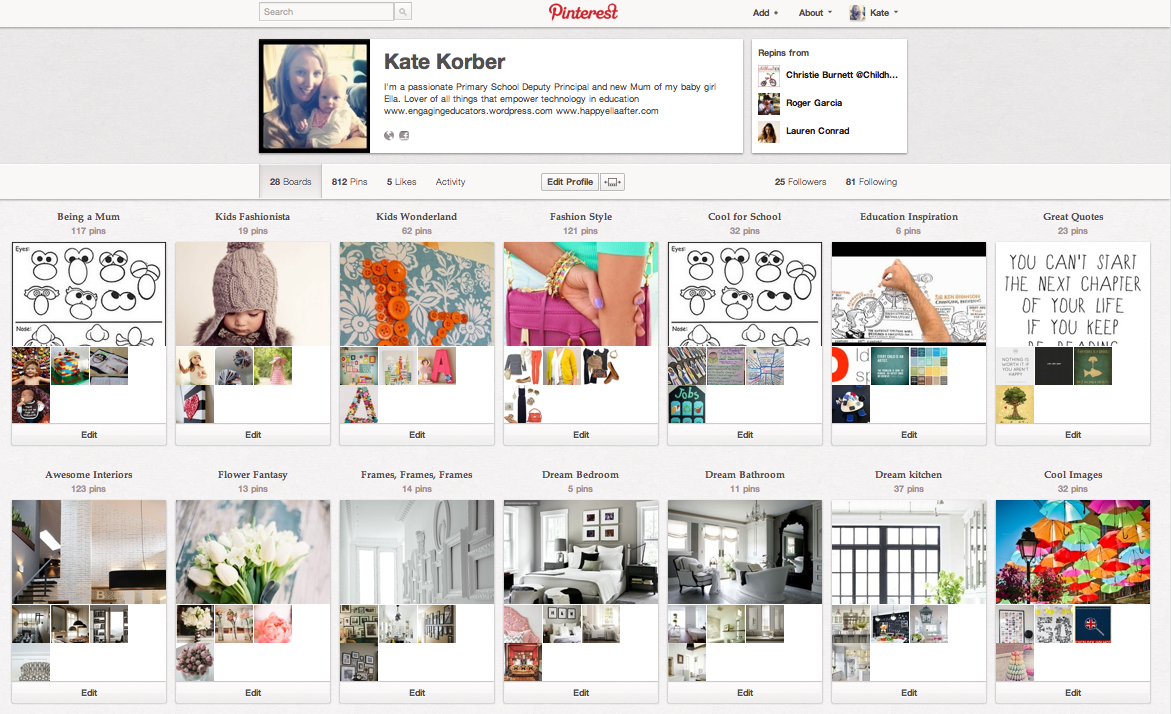 Being a Mum
Kids Fashionista
Kids Wonderland
Fashion Style
Cool for School
Dream Kitchen
Dream Bedroom
Dream Bathroom
Education Inspiration
Awesome Interiors
Cool Images
Frames, Frames, Frames
Great Quotes
Technology in Education
The best thing about Pinterest is the ability to follow others, so you get to see what other people are 'pinning'. You can follow every day people, friends, businesses, celebrities or anyone who inspires you. You can re-pin their ideas onto your own boards, email the link, share it via twitter or Facebook etc. You can browse through categories and look at what is hot in the world of interest at that point in time.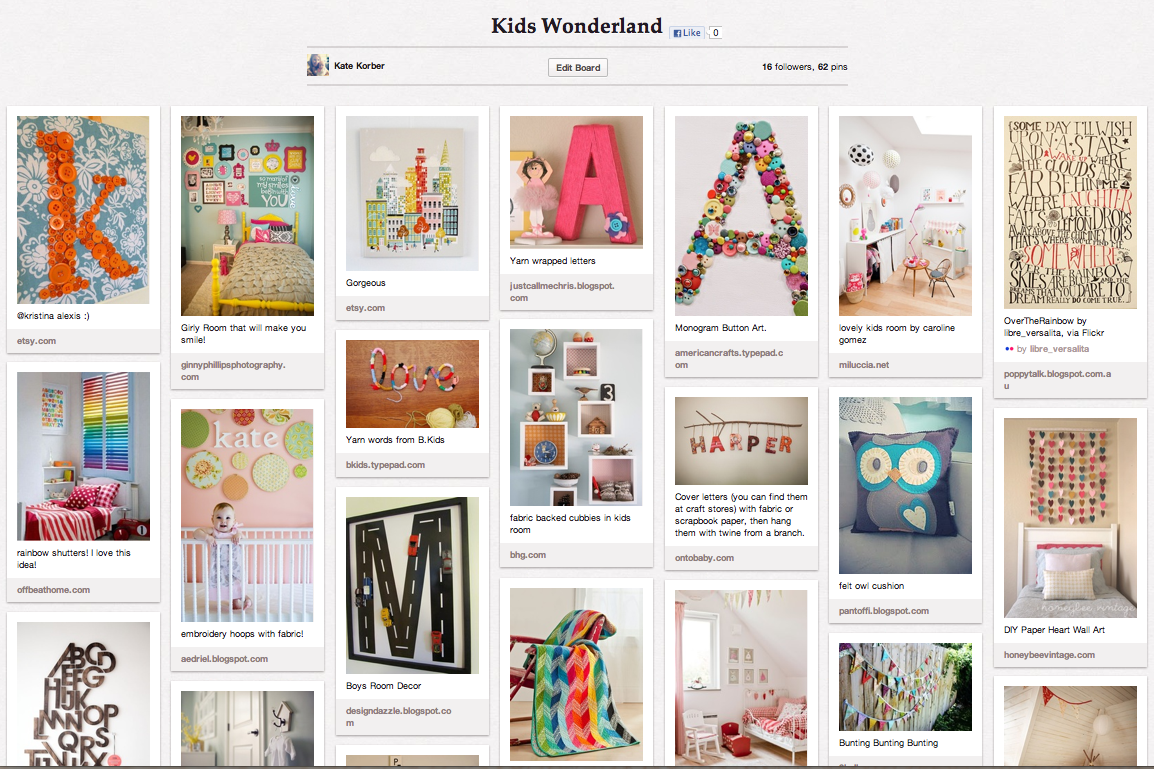 I think that the possibilities for this site are endless. If you were researching for your wedding, you could pin all your ideas to a board you have created! If you have a business, you could pin ideas for potential clients, or post images of things you are proud of within your own. If you are researching for ideas for your own home, you could create boards (like I have done) and save ideas for later. If you are a teacher, you could post ideas for the classroom for all areas of Education. This image is a snapshot of my board 'Kids Wonderland' which holds heaps of ideas for Ella's bedroom. Some of these ideas I have used, some are for the future. Click on the image to be taken to this board.
As a Mum, I'm always on the look out for ideas and resources that make our lives a little more easier and fun. As a Mum on the go – Pinterest is a great way for us all to save the ideas that we would like to make happen, but always seem to forget. If you are like me, paper is the enemy – I never seem to remember where I put papers down. However I always have my phone or iPad handy and this site can help me to keep my ideas in order, even when my brain can't. That has to be a good thing!
If you would like to share the love – follow me on Pinterest via http://pinterest.com/katekorber/