Friday Finds: Minihappyme
Friday Finds: Minihappyme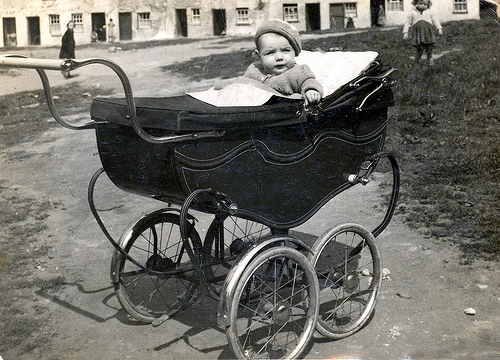 When you have a baby, you are faced with many decisions. Funnily enough, one of the biggest decisions is which pram to buy. It's like buying a new car. There are so many gadgets, accessories, colours. Walking into Baby Bunting for the first time was an overwhelming experience to say the least. There are over thirty types of prams to buy. For new parents, the site can make you feel every part 'pram iliterate', and I have to say that I turned right back around and found the comfort of the familiar Witchery much more inspiring. Things sure have changed in the world of prams since we were kids. The term 'pusha' is certainly not something that I hear flying around in the world of Mummas and Papas these days!
Before purchasing our pram, I decided to put the power of Facebook to good use and promptly sought recommendations from friends who had road tested their own. I quickly came to realise that the variety was endless and the factors vast. What did we want our pram for? (Um, to push a baby around?). Were we buying a pram to accommodate a second child? Did I intend on jogging with our pram? (ah, no…labour was enough excercise for one year!). It was however, great to see the pros and cons about a variety of prams first hand. When Dan and I ventured back into Baby Bunting a second time, we entered feeling well informed and quite knowledgable with the terms Bugaboo, City Strider and Phill& Ted in the back of our minds. We decided that our pram only really needed to carry one child as we thought that we might as well learn how to look after one, before we contemplated having more, let alone a pram that carried two!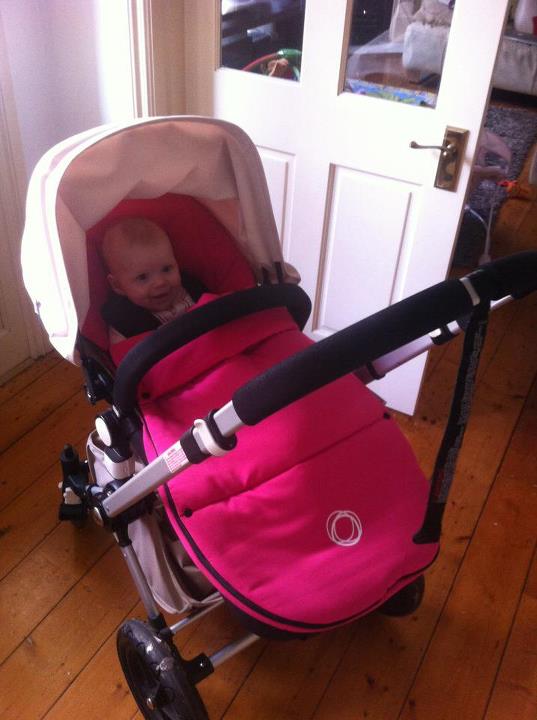 I have to say that we were thrilled with our purchase and love our pram. Like so many new parents, it's one of those purchases that you come to either love or loathe, and I'm pleased to say that we are still loving it. The pram we chose (Bugaboo Chameleon) came with both a bassinet and seat, rain cover and mosquito net. Although the pram was a little pricey, it folds easily, moves easily has some pretty amazing suspension (my husband's favourite part). When Ella was born we used the bassinet, and she loved it. Slept peacefully and lay there in her cosy capsule. Recently, we have moved her into the seat, and it's as though she now has a whole new world opened up to her. The pram now folds almost flat into the car and takes up much less room. This is something we cherish given that with two adults, a baby, a dog plus all of our luggage.
One thing however that really irritated me was when we moved her into the seat, I didn't realise that the pram did not come with a seat liner / foot muff. This makes sure that your little bubba is comfortable and warm, especially in the warmer months. After asking several friends who had the same pram, they all agreed that whilst annoying to buy, it was a necessary accessory. So I trekked off to my new favourite store 'Baby Bunting' and got Ella a bright pink foot muff. Amazingly cool and funky, it would want to be, because at $180 I was a little flabbergasted! Especially when researched showed that they were selling for $70 in the USA but with postage, it would cost more than that to ship over.


Since then, I realised that a friend had actually recommended a website : www.minihappyme.com.au (thanks Charise & Mel). A very clever Mum had also been annoyed at the ridiculous prices that companies were charging for these accessories. She decided to start making her own pram liners, foot muffs and other accessories for a range of prams in funky fabrics. The best part is they are almost half the price of the same products made by the actual pram makers. I have several friends who have bought these items from Minihappyme and have been really happy with her products. I wish I had have read the Facebook recommendations more thoroughly and seen this site before I forked out an arm and a leg for my Bugaboo one.
I'm sure I'll need to buy another pram liner / foot muff in the future and I'll defiantly be buying one from this site. I know that many friends are moving their little bubs into bigger seats right now, so I'm hoping that this find will help you save some $ that you can spend on something else, maybe some shoes for Mum this time!

*Images are linked to their original source
*You can also find Minihappyme on Facebook here