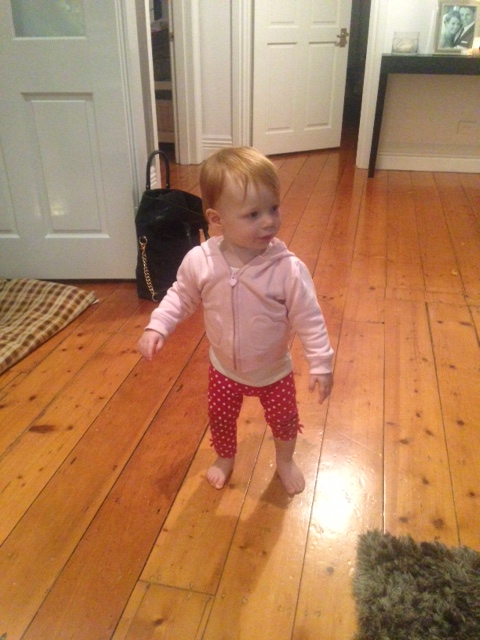 One small step for baby!
One small step for baby!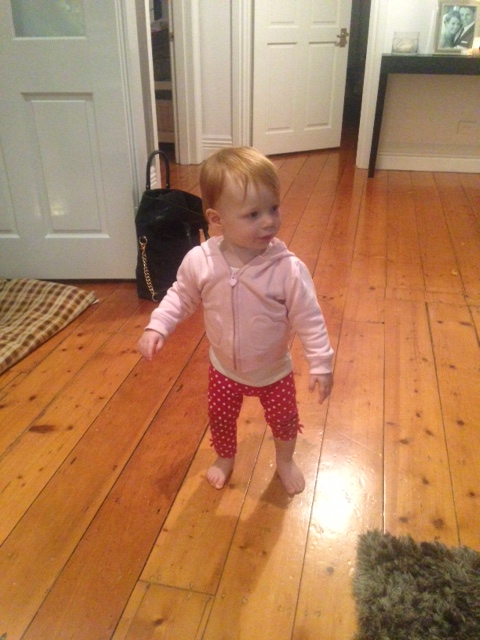 This week Ella reached what is arguably the most anticipated milestone…walking. Once she hit her first birthday, we were bombarded with 'is she walking yet?'. Walking seems to be 'that' developmental milestone that everyone waits for. Every parent seems to remember clearly the exact month that their child started to walk. Some start early, some start late. When ever your baby starts, it's not something you can rush. When they are ready, they will walk, and this week, Ella did – 15 months to the day!
For a few months, Ella has been upright, walking around and holding on to what ever she could. She can climb up onto the couch, our bed and the dining chairs. All you had to do was hold one little pinky finger and she would happily walk anywhere with you. It's such a curious thing, but as soon as you let than little finger loose, her confidence got the better of her and she dropped to the floor. Why walk on my own when I can crawl super fast?
Never the less however, her Daddy and I were always trying to coax her along and praise her with each little tiny step she made. We were also worried that we would miss the time when she finally took those steps on her own. This is something that all working parents have to grapple with. We had often been receiving text messages from her grandparents when they would mind her during the week – 'one step', 'two steps'. Although we were wanting to walk, we were also hoping (kind of selfishly) that she would think of her parents and take those golden steps when both her Mum and Dad were with her.
Last Sunday, remarkably this happened. We were both home, enjoying some family time when she took those magical steps. The look on her face is priceless. Sheer joy and a touch of surprise as she walked from Daddy's arms across to Mum. After a few trips back and forth, my husband finally told me to get my camera. I must admit that I instinctively reach for my iPhone any time she does something that I want to remember. I just want to capture everything so we can look back in years to come. Daniel always reminds me that it's more important to view these moments through my own eyes, and not through the eyes of a lens. It's so true. By the look on her face in this video however, I'm sure glad that I captured it.  I have played it back so many times! You'll have to excuse the moments when it goes out of focus, Mummy was trying to video and watch it with my own eyes at the same time.
I hope parents everywhere can get to experience joyous moments like these together.  One small step for baby equalled one huge achievement (for all of us) in our eyes!