Ella's 1st Birthday on Bondville
Ella's 1st Birthday on Bondville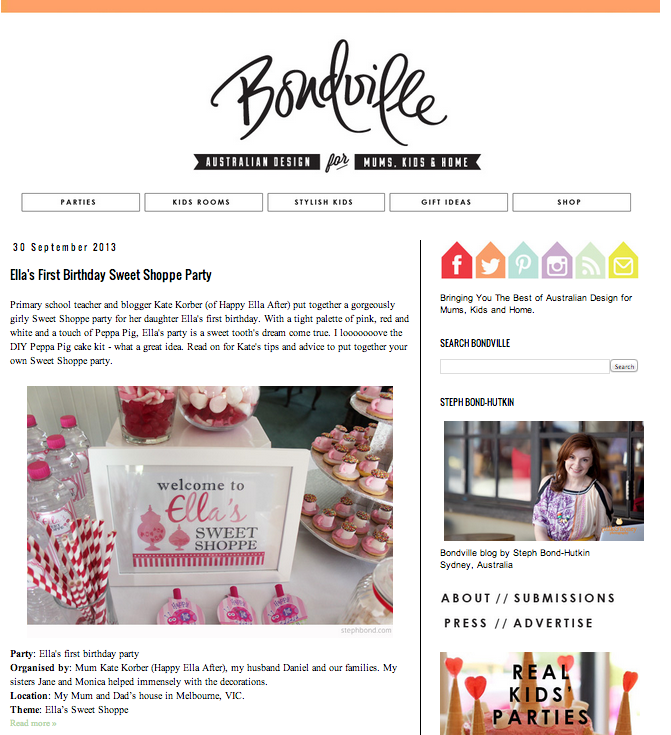 Today we are thrilled to see Ella's First Birthday featured on the super stylish Bondville Blog. The brainchild of Stephanie Bond, Bondville features a whole host of fabulous Australian products, designs and art for kids. Stephanie supports Australian and Hand made products and features a whole host of ideas that would inspire any family. The aim is to help Mums and Dads, whether it be with styling a new nursery, creating a magical birthday party on a budget, or featuring new fashions for kids.
Key categories on the site include:
Party Ideas (featuring real Australian kids parties)
Room Ideas (featuring real Australian kids rooms)
Stylish Kids (featuring Australian-designed kids fashion)
Gift Ideas (featuring Australian-designed products for Mum, kids and Home)
Printables (featuring Australian-designed print-your-own stationery)
It is with great pride therefore, that Stephanie featured Ella's First Birthday Party. I was so excited to be able to share my tips and advice for creating a beautiful celebration without breaking the bank. When I originally posted about her birthday back in March, I wanted to share my ideas with parents so that they too could afford to create the perfect party for their kids. There are so many options out there…whether it be on etsy, a diy idea on pinterest, or a youtube clip. By using the power of technology, you can transform simple paper into a stylish creation!
Some of the ideas from the blog post include:
Creating your own personalised invitations with the help of graphic designers on Etsy. The one we used was J for Jordy.  The other stroke of pure genius is using a Cake Rescue Kit from Cake 2 the Rescue. Never again will I need to worry about the perfect cake…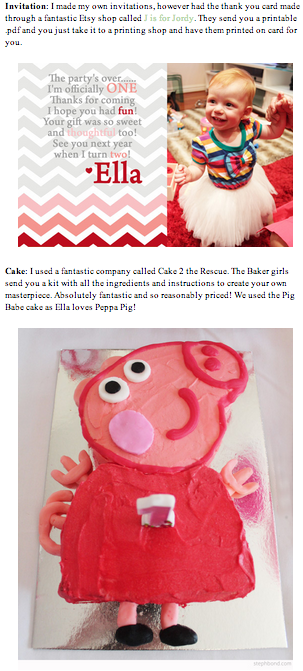 Simple, beautiful and personalised decorations from Vens Paperie on Etsy. All you do is send off your child's name and age, and they send you a PDF to print and laminate! We also made the tissue Pom Poms by watching a youtube clip. All it takes is a little patience!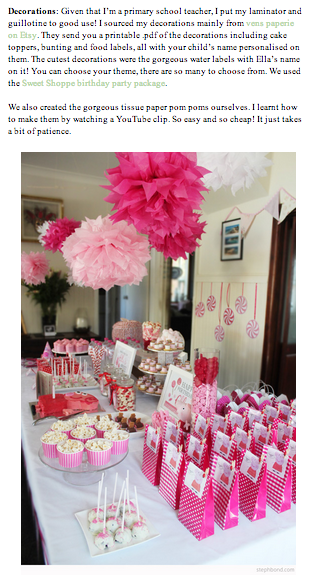 And finally, the sweets were clearly the piece de resistance, so simple recipes like this one from Kidspot helped to make the sweet treats yummy! These mars bar teddy cars were a real hit!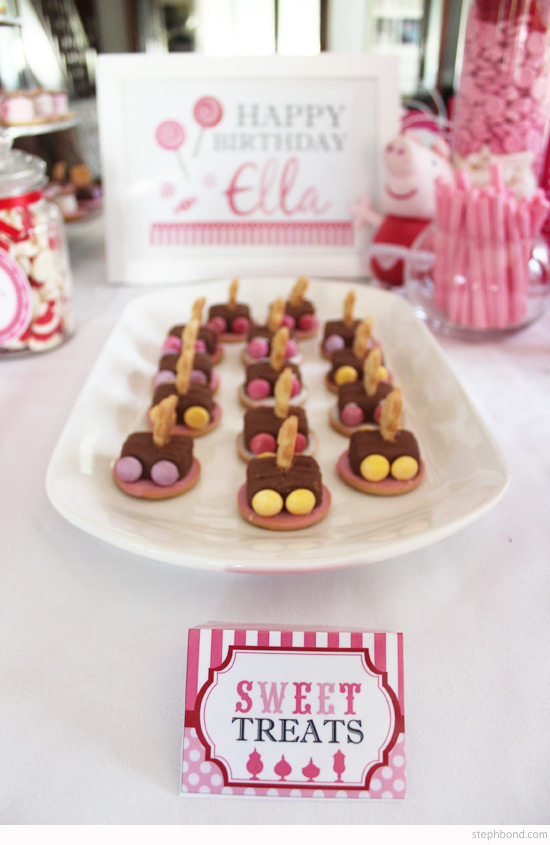 I hope that Stephanie's Readers enjoy the post and can benefit from the ideas and advice! It's a great site with loads of suggestions for Mums and Dads! You can follow Bondville via Facebook, Instagram, Twitter and Pinterest!
Thanks Steph!!