Win a copy of the Healthy Mumma Healthy e-Book
Win a copy of the Healthy Mumma Healthy e-Book
On Friday I was delighted to share a new venture by my cousin Lisa. Healthy Mumma is a new brand bringing delicious, tasty and healthy food to mums and their families. It was established in 2014 by Lisa, who has always loved food and has a passion for health and well-being since becoming a mumma to her 2 children. She believes strongly that a happy, healthy mum leads to a happy, healthy family.

Lisa's Healthy e-cook book has recently been launched to great success. Incorporated is range of healthy, quick and simple recipes for families, this book has already proved to be a hit as samples of yummy dinners are shared across Instagram and Facebook. Her tips are really practical as she also helps you plan ahead for your busy week.
The e-book provides fantastic recipes that cater for all dietary requirements, including; gluten free, sugar free, vegan, dairy free, nut free and full paleo eating plan. It is divided into simple sections covering:
breakfast

smoothies

entrees and soups

salads

mains

sides

sweets

condiments and treats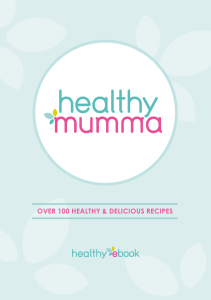 I am delighted that Lisa has offered Happy Ella After Readers the chance to win your own copy of this fabulous e-book. Simply follow the link below to enter the competition. As always, entrants need to like both the Happy Ella After and Healthy Mumma facebook pages via this link. You can also earn extra entry points by leaving a comment below about your tip for being a Happy and Healthy Mum!
Enter directly below…Good Luck!