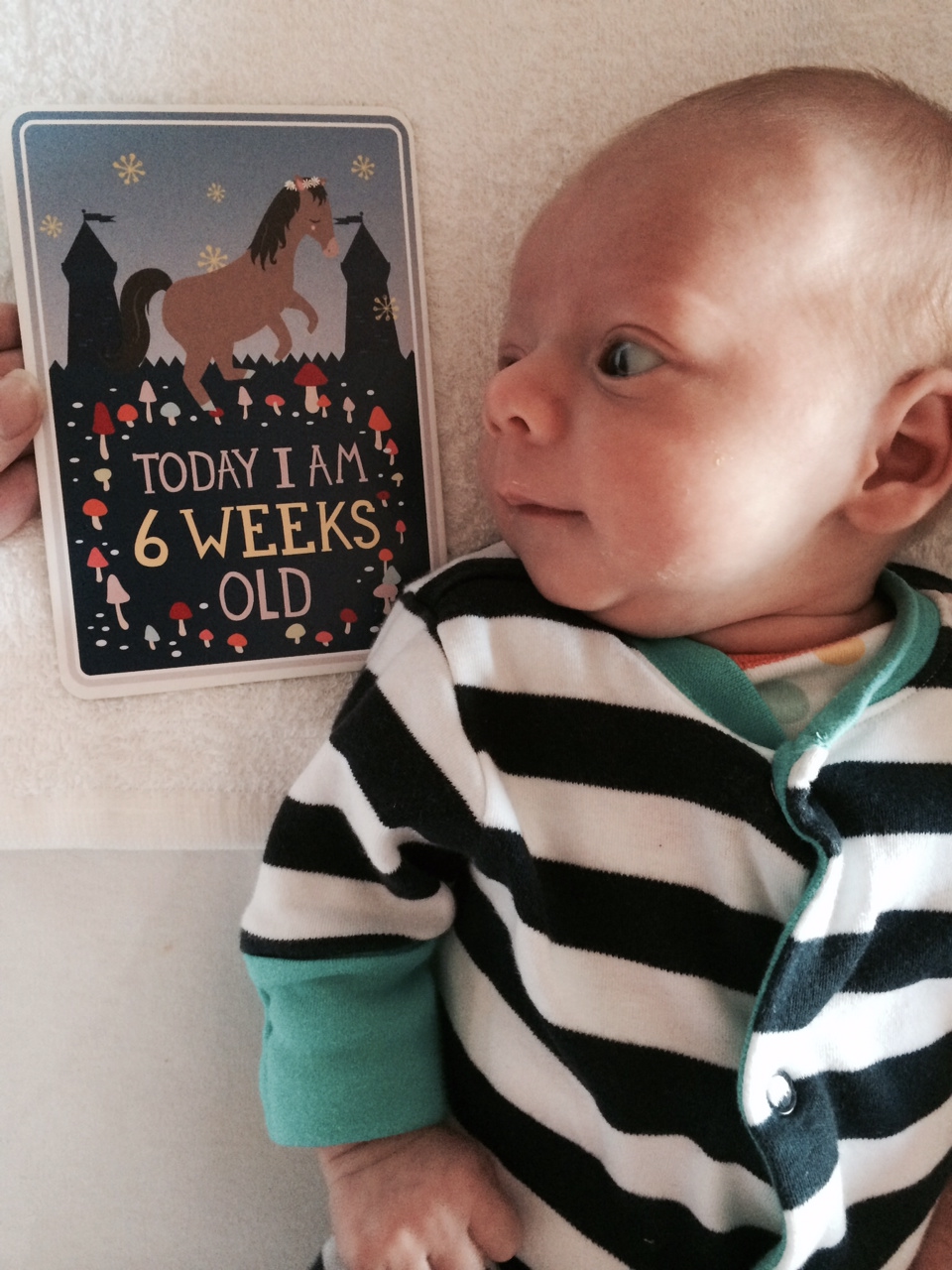 Whinge alert – this post is my way of venting and having a bit of a whinge. Apologies in advance.
The last week has been really tough. The first few weeks of having a new born is really hard for any family, and we are now dealing with escalating colic / reflux / intolerance. Hudson's irritability and unsettledness has escalated somewhat in the past week, and I have become 'that' Mother who searches for the answer by Googling, asking everyone and of course, relying on the experts. I've been told that time is really the only answer, and whilst this is hard to take, I know it is true.
Last night before we went to bed, I said to Dan that I both 'love and hate' night time. The feeling of putting your tired head on the pillow is pure bliss, until your brain hits you with the reminder of the night ahead. Right now I would love to be in a predictable night feeding routine. By predictable, I mean get 3/4 of hours sleep, wake, change nappy, feed, settle and repeat. Our nights have become a mix of musical beds as Ella has started to wake with the sound of her crying brother. I try to feed H in the lounge room, but am constantly scared of his whimpers waking his big sister. Hudson is generally unsettled most of the night from 2am. His grunts and strains are heartbreaking and they are starting to take their toll on all of us. Dan and I are doing our best to be there for each other. He checks in with me during the day, and I with him. This weekend we are moving back into our home after a mammoth 6 month renovation, much of which he has done himself. I'm not sure if we were adventurous, smart or crazy to time this all at the same time.
Emotionally, I am ok, but physically I am pretty exhausted. I think that I have been able to deal with this colic in a better (ie. rational) way, given the fact that I have had a baby before. The rule of thumb is that 'this too shall pass'. I guess I'm feeling a little sad that we cannot enjoy his early weeks more, as we are both tired, worried and anxious about what is causing his pain. One thing is for sure is that I know we are not alone. I've had so many messages of support, advice and tips on how to treat these (for the moment) unknown conditions. Currently, we are using a reflux medication, and I am also going Dairy Free to try to work out if Hudson has reflux or intolerance to Dairy. I feel guilty to admit that I really struggle with the thought of not being able to have milk, butter, cheese (cheese!!) and a new Mum's best friend, chocolate. After a night of no sleep, a cup of tea feels like pure heaven and I cried at the thought of not being able to do this. That said, I know that there are alternatives, and I also know that things could be far worse. I will do what ever I have to do for him. It's just hard yakka when you are in the thick of it, and it simply feels really overwhelming.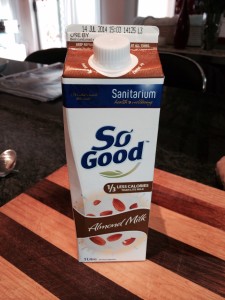 All we want is for our little man to be happy and healthy, and right now he is presenting as healthy in every sense of the word, except for this. He is putting on weight and feeding well. It's just heart breaking to see him constantly squirm in pain, and as a Mum you feel helpless. I just have to trust that things will sort themselves out, and there will come a time that he will be a happy and contented baby who will not have to deal with this.
I take my hat off to any parent who has dealt with colic, reflux or intolerance. It truly sucks. There is no other way to put it. The last thing I want to do is wish away this time, but at the moment, I hope that the miracle '12 week mark' comes soon. As I take a photo of my little man at six weeks old, this feels like a long time away. Given the fact that he was 4 weeks prem, it may also be a little longer…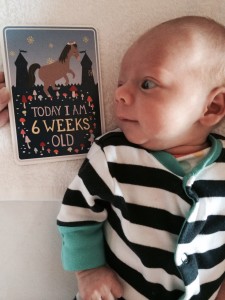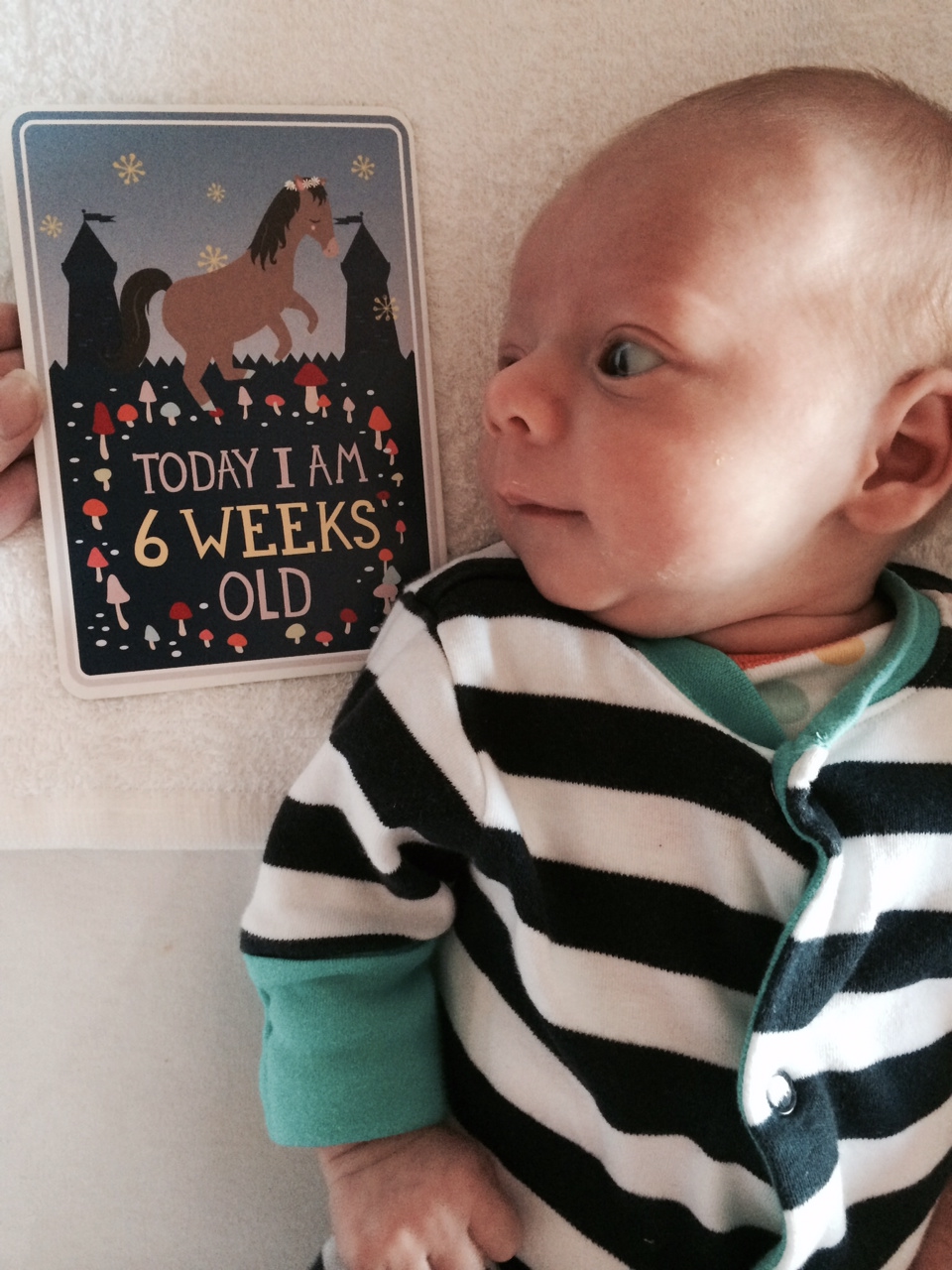 In the mean time, I will stay positive and trust that it will all be ok! If you have dealt with colic, reflux or intolerance, I'd love to hear from you!