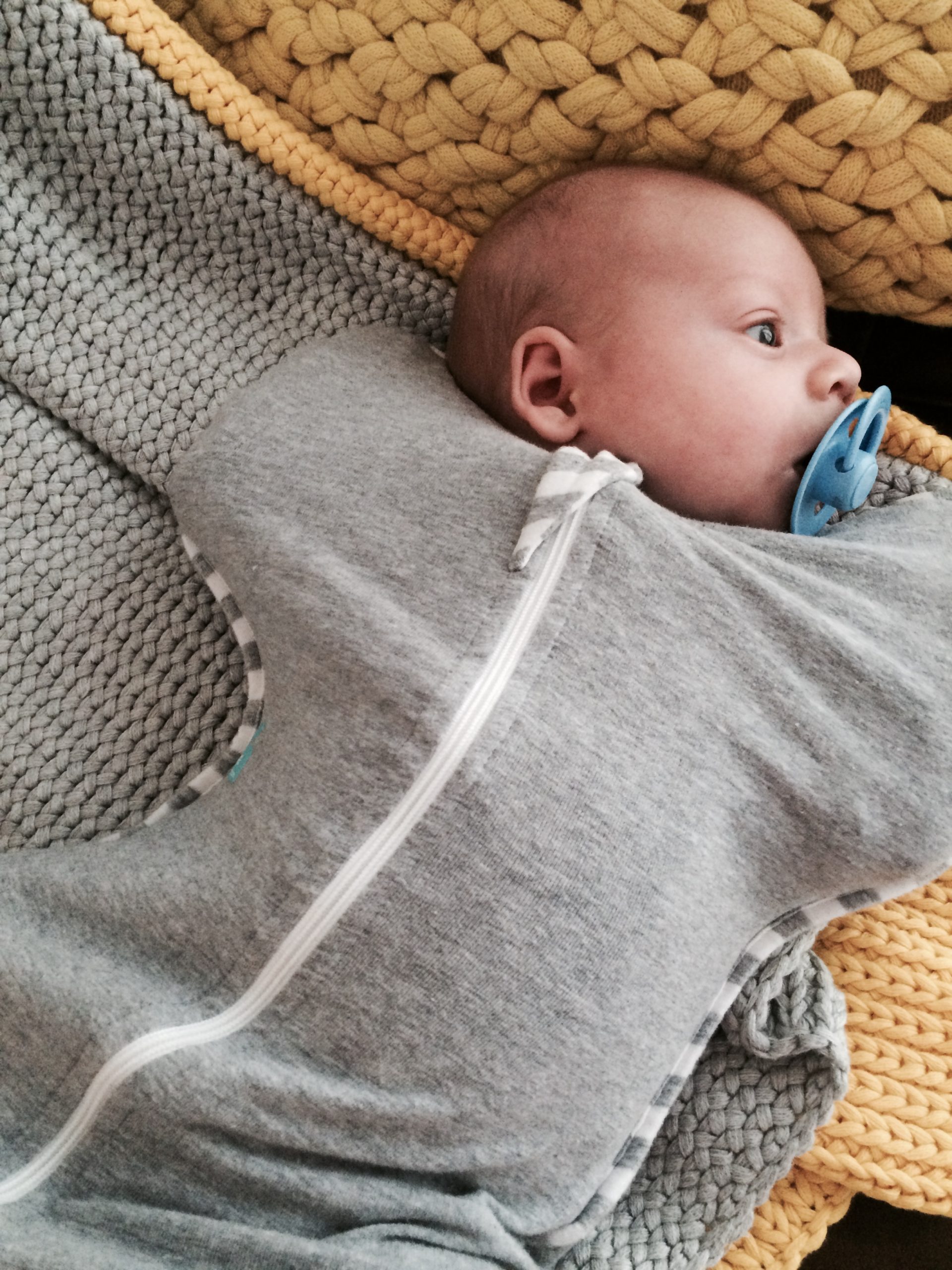 Friday Find: Love to Dream Swaddles
Friday Find: Love to Dream Swaddles
Sleep time with babies is hard. Some babies settle easily, whilst others require their parents to jump through a million hoops just to get them to shut their eyes. Swaddling is one of those techniques that seems to really help babies feel safe, comfortable and settled for sleep. Research says that swaddling helps babies sleep better, and soothe better. All new parents know that swaddling is an art form that some people find easy, whilst others never seem to be able to keep their little one's hands inside, and wriggle out as they sleep. There are so many ways to wrap, it's hard to know which one works. To make matters worse, some babies like to be swaddled, and some don't. Some like their arms swaddled beside their bodies, and others like them to be up near their chest or around their face.
Hudson was both premature and suffered (suffers) from shocking colic. I've come to find out that babies like him, feel better when they have their arms across their chest to mimic nestling into their Mum or Dad's chests. It makes sense, it brings them comfort from the pain that they are feeling. No one likes to have their arms by their side when they are in pain, and adults naturally curl into a ball on their side to find some relief.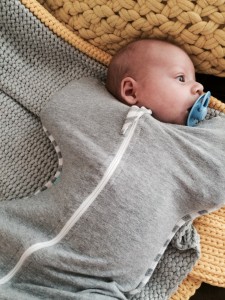 So it came to great releif myself when I was reccomended to try the Love to Dream 'Swaddle Up' suit. Lucky for me, the company also sent me a sample to try, to see if my little man enjoyed it. There have been a number  of friends who have told me that their children loved sleeping in these suits and so I was excited to give them a test run and see how they would go.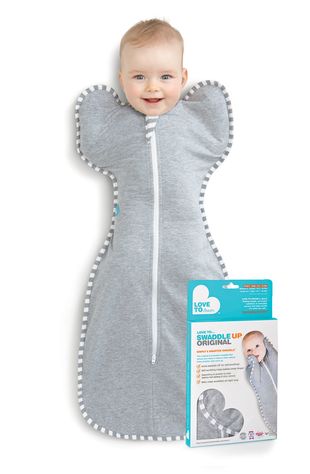 So after using the suit for approximately a month, I'm pleased to report that I think they are fantastic. The benefits include:
Hudson still has the wrapped, swaddled feeling whilst having a little more room to move his hands. He doesn't need to fight the wrap as there is just enough give in the fabric to help them wriggle and squirm, whilst still feeling contained.
The zip. Oh the zip. Changing nappies in the middle of the night is a stressful process, especially if you have a toddler and you are trying to keep your baby quiet. Time is of the essence and the zip ensures that you get in and out quickly.
Furthermore, the double zip means that if you want to, you do not have to take the entire suit off. You can zip it from the bottom and change it quickly, whilst keeping the babies arms intact inside.
The zip has a cotton protector at the top ensuring that your baby is not irritated by the clip
They are easily washable
They are designed based on medical research, and the utmost care has been taken to ensure that there is sufficient room for your baby's legs to move whilst they are sleeping. To read more about this, click here.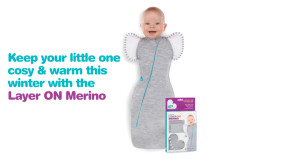 I also was given the chance to review their new Layer On Marino wool suit, designed to be worn over the 'original' suit. This woolen suit ensures that your baby remains warm all night without the need to use blankets to keep them warm. If you have your baby in a room that remains cold then this is a great option. The fabric is beautiful and feels lovely against your skin. It also has a diagonal zip across the body, meaning that your baby is not overwhelmed by multiple zips around their neck area.
The suits are available in a range of sizes and colours, so they can suit any one! There also a fabulous 50/50 range which allows your child to progressively transition out of the suit altogether by removing the arms one at a time.
Anything that helps your baby sleep (safely) is fantastic in my book. Anything that is reasonably priced and brings about some comfort for families, especially during the night, is wonderful. Whilst swaddling might not be for everyone, if it is for you and your baby, then this range is for you. It might not solve all of your sleep issues, but it may just help.
To find out more information about their range, you can visit their store online here.
*Stay tuned to Instagram on Monday for a fantastic giveaway. Thanks to Love to Dream, we are giving away an Original Love to Swaddle, in your choice of colour. Valued at $39.95! This giveaway will be run via Instagram, so follow @happyellaafter to make sure that you are in the running!