The BEST Raspberry & White Choc Muffins recipe ever!
The BEST Raspberry & White Choc Muffins recipe ever!
There ain't nothing better in my book than the combination of Raspberry & White Chocolate. Combined in a simple and easy muffin mix, you've got a cheap, quick and yummy treat. Best of all, you can make it with the kids, and within an hour you can turn any household from grumpy to walking on sunshine! Today I'm sharing with you, the best Raspberry & white choc muffin recipe ever!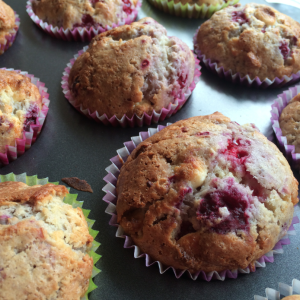 So if you feel like a quick bake off in your place today, then here is the recipe that I use from 'That's Life'…
Prep: 10 minutes
Bake: 25 minutes
Makes: 12
Ingredients
• 2 cups plain flour
• 2 teaspoons baking powder
• 1 cup caster sugar
• 1 egg
• 1 cup milk
• 50g butter, melted
• 1 cup frozen raspberries, thawed
• 180g good quality white chocolate, roughly chopped
Method
1. Preheat oven to 190 C. Place 12 large patty cases into a muffin pan. In a large bowl, sift together the flour, baking powder and sugar.
In a small bowl, whisk together egg, milk and butter. Add liquid mixture to dry ingredients along with the raspberries and chocolate. Using a large spoon, mix until just combined. (Make sure that you do this until, just combined! An over-mixed muffin mix ends up too dense).

Distribute the batter between patty cases and bake for 20-25 min, or until a skewer comes out clean and muffins are golden.
Then all you need to do is get them in your gob (as my Dad would say)!
Happy Baking and even happier eating! By the looks of this picture…Ella was one happy toddler!