These are the days of our Double Pram lives…
These are the days of our Double Pram lives…
Last week I went to Chadstone, aka Chaddy, Melbourne's biggest and best shopping centre. A shopping centre for everyone whether you be male or female, old or young, with child or without. A trip to Chaddy in the 'old days' was a relaxing affair. Often a few hours of slowly browsing the aisles of what ever shop took my fancy. Maybe some lunch? Heck, I even got to try on clothes quickly. My visits to Chadstone these days are very different to the ones in my past. For starters, they begin with a trip to the parent room, and by gees, what a great room it is. When I arrived last week, I greeted a woman who had clearly just given birth recently and was feeding her newborn baby with a look of both love, and absolute exhaustion on her face. Her Mum sat nearby and we started to chat about our babies, how old they were and how incredibly different life is with children, compared to 'before'. This poor new Mum was clearly in the midst of the newborn 'fog' and I wanted to wrap my arms around her and just help her feel better. The best I could do, was reassure her that things do get easier. Whilst it is by far, the hardest and most exhausting thing we could ever do, being a parent is by far, the most joyous and rewarding. I told her to hang in there, trust her instinct, and accept help from her Mum. She seemed thankful for the words of wisdom, and whilst I'm no expert, I sincerely hope it helped her feel better.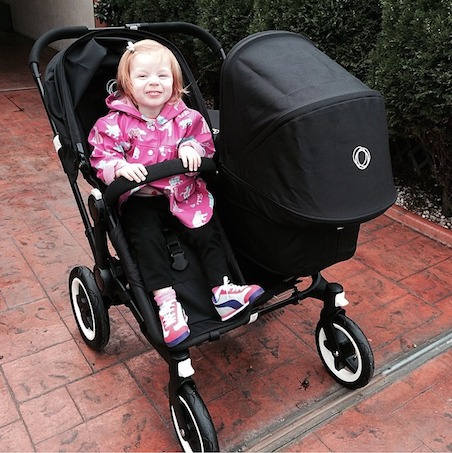 Upon leaving the spacious parent room at Chaddy, her Mum commented on how 'double prams' have evolved, and how she loved the look and feel of mine (did I mention that she lovingly rocked Hudson whilst I helped change Ella's pull ups?). I agreed that my pram is indeed, one of my most coveted possessions, and that I could simply not do without it. That said, given the fact that my double pram is 'side by side' it does make for a challenging shopping experience. It is wide, but thankfully quite easy to manoeuvre. If you have a double pram, and whether it is side by side, or front to back, there are challenges. It make me think about the things that I now do differently in a day in the life of a double pram….
You can't just go into any old shop. It takes a sympathetic brand to cater for double prams. Wide aisles means less floor space for stock. You actually end up knowing which shops you can go into, and which you can't. It's amazing how you learn to adapt.

You can't go into a standard change room. Single pram? Maybe. Double Pram? Forget it! That said, there ARE some clever shops that have worked this out, and have installed 'family change rooms'. Best thing ever.

Lifts are your new best friend. Forget escalators, unless you want some serious injuries! Mind you, this problem isn't isolated to double prams…it's all prams!

Undercover parking is gold. I've been known to sit and stalk like the best of them….

Food court eating. Not unless you are truly, truly desperate and want to eat standing up!

You say 'sorry' a lot. It seems that you are always trying to get by, get through and get out! You always bump someone, or something!
It's funny when you walk past a Mum who is also pushing a double pram. An empathetic smile, and a knowing nod of shared experience. There are indeed many challenges when it comes to managing a  double pram, but I have to say that I couldn't live without it. It has been a life saver, and has ensured that I can get about with a new born and a very speedy toddler. The best part by far, is the fact that Ella leans over to see her brother, and when ever he is upset she lovingly reaches to grasp his hand. She has even been known to hold his hand for entire trips.
Worth every cent. Do you love your double pram?