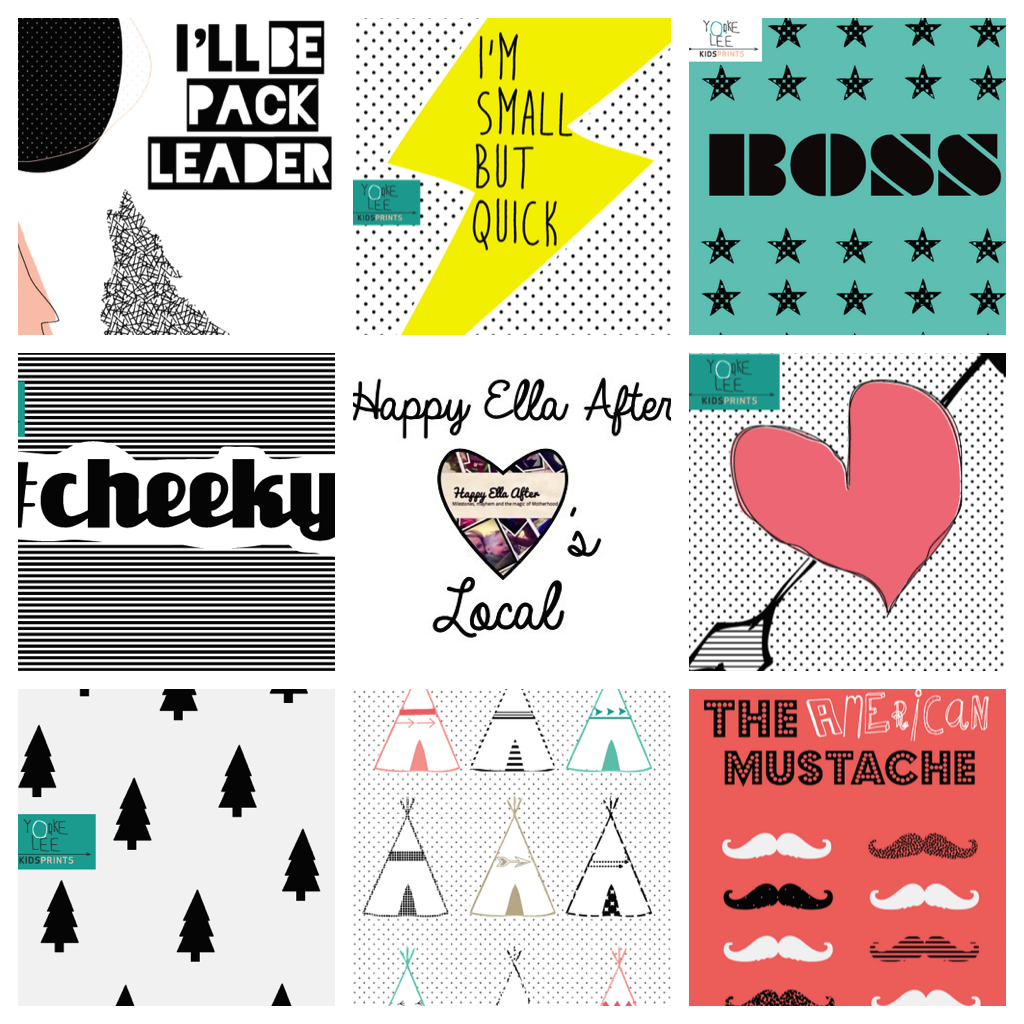 Ella Loves Local: Kate from YorkeLee Prints
Ella Loves Local: Kate from YorkeLee Prints
Scrolling through my Instagram feed, I daily come across new brands and inspiring images. A few weeks ago YorkeLee Prints caught my eye. Kids' prints are 'so hot right now' as parents everywhere share images of their child's nursery adorned with cute images and words of wisdom. Everyone knows that I'm avid lover of Superheros and Kate's 'I'm small but quick' print jumped off the screen and into my wishlist of things I (still) want for Hudson's room. After contacting Kate is soon became clear that she is another example of a Mum who has trusted her instinct and gone with her passion talent. A gorgeous range of prints for girls, boys and unisex rooms that is ever growing. What sets her prints apart is the fact that they are so affordable, and come in a range of sizes.  Here is a selection of some of my favourites (note that each print is monogramed with her logo, but when purchased they are logo free)…
My favourite, and the one that caught my eye…'Bolt'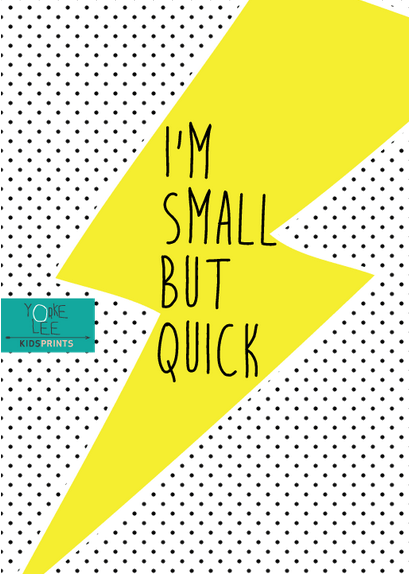 'Pack leader'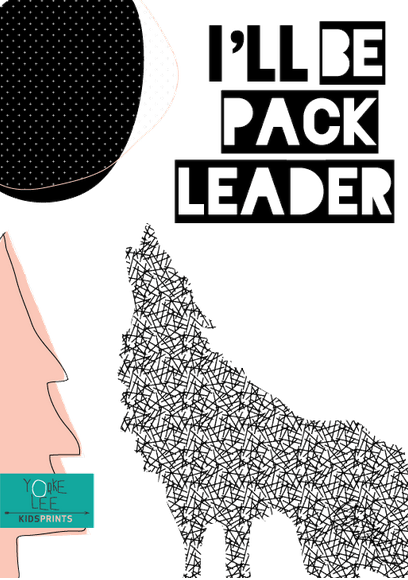 'Arrow Heart'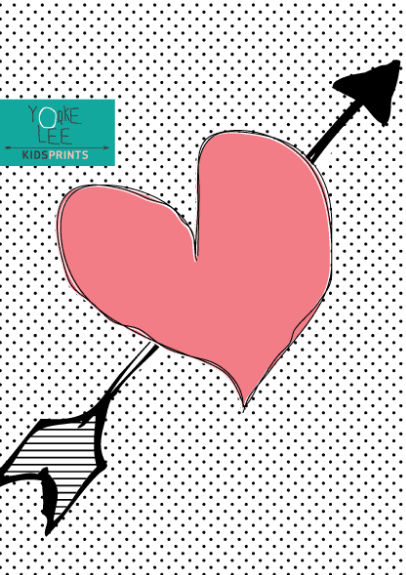 'Boss'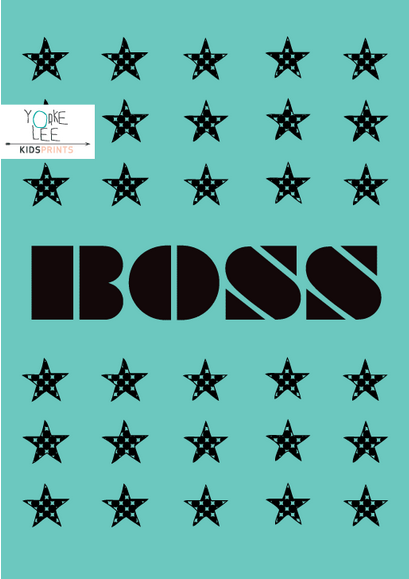 'Teepee'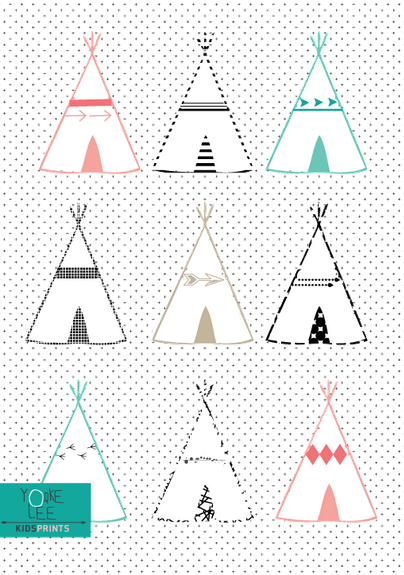 Gorgeous prints and a gorgeous Mum behind them…
1. What inspired you to start YorkeLee?
I started YorkeLee Kids Prints after trying to find creative, unique prints and decor for my two boys' rooms, I found it surprisingly hard, particularly for boy's decor, there is a lot of pretty decor for girl's rooms but not a lot for boys. When I did find some, they were totally out of my price range, so I went on a mission to create unique, affordable prints for kids bedrooms.
2.How do your juggle business and family?
One of the big reasons that I decided to work from home was to have better work life balance, I wanted to be able to see my boy's grow and I am lucky enough to be in an industry that allows me to work from home. At times, it is definitely not easy, I have learned that it is essential to separate my day's into "work time" and "family time", I allocate a specific amount of time each day to work, I have specific hours that I work, for example, I work most mornings until 12pm then in the afternoon I dedicate the time to playing with the boys, activities, going for a walk or to the park.
3. What has been your proudest moment so far?
I don't like to take anything for granted, so I feel proud of what I am achieving everyday. I don't think there is a specific "proud" moment, but it is so humbling to have such amazing support from my family, friends, followers and buyers. I am very passionate about what I do and I feel very proud that people love my designs.
4. What has been your biggest challenge?
My biggest challenge is time, I feel like I need an extra 24 hours in each day to get everything done! I also want to make sure I spend enough time with my boys and remember the reason I first started YorkeLee Kids Prints, it is so easy to get caught up with Social Media and loose sight of what's important in life.
5. What is your advice to others wanting to start their own business?
I just love Albert Einsteins quote – "I have no special talent, I am only passionately curious" If you love what you do and have passion, you will find a way and make it work. I guess my advise is 'just do it'.
What are three words to describe YorkeLee?
Unique, Creative & Affordable
7. What is your favourite product in your line?
I have so many favourite prints at the moment, but i just LOVE 'Pack Leader'!
8. Pay it forward…YorkeLee loves….
YorkeLee Kids Prints Loves Project T-Bear, handmade, customizable modern bits for modern babies! Love them xo
As said above, Kate's prints are affordable, unique and creative. Starting at $10, you choose the size and it gets delivered to your door, ready to frame. Mix the prints, mix the sizes. Here is my favourite 'bolt' print in Hudson's room…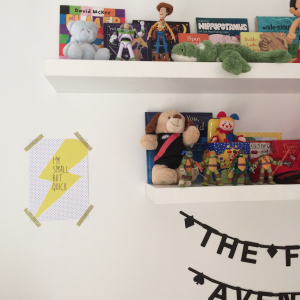 So to visit her range and purchase a gorgeous one of your own, visit YorkeLee prints here.
**STOP PRESS**
Later on today we will be kicking off a giveaway on Instagram where you could win a print off your choice! Visit Instagram and follow @happyellaafter for details! Also be sure to check out her gorgeous gallery, with tips on how to hang and style the prints in your child's room.
Thanks Kate…for giving such joy to kids' rooms everywhere! By the looks of this photo, you are pretty joyous yourself!