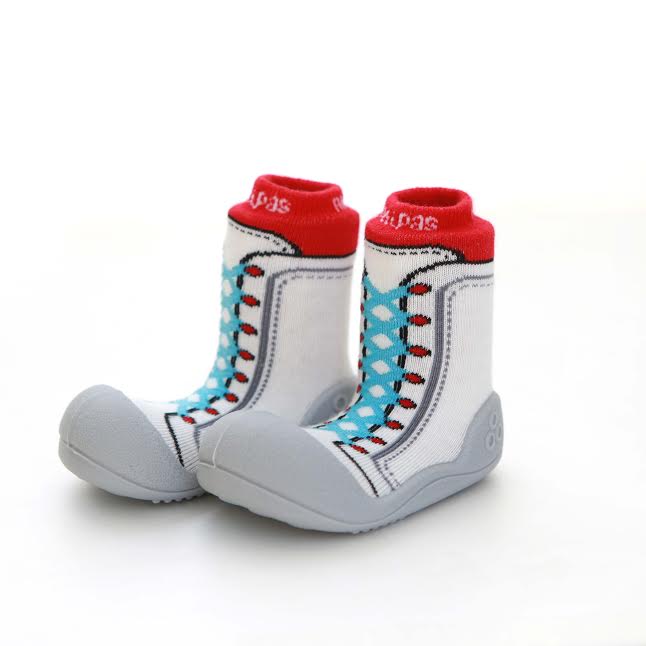 Giveaway: Attipas Shoes Australia
Giveaway: Attipas Shoes Australia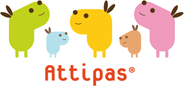 I'm always on the look out for cool shoes for little ones, and when Attipas Shoes contacted me about their range, I was taken by surprise. If you have a toddler like me, who always takes her shoes off, but loves wearing socks, then these are for you. I'm always worried about Ella's feet on the bare floor, but yet, she hates wearing shoes in the house. But then, so do I. Step in Attipas Shoes. If you can imagine a gorgeous pair of socks, with a rubber sole, then you've got an idea about Attipas shoes. The difference is, their shoes / socks are actual shoes. They slip on like socks, but protect your child's feet. You can throw them in the wash, they are light weight, fit in your handbag and don't fall off! Perfect for a busy Mum, and equally busy toddler!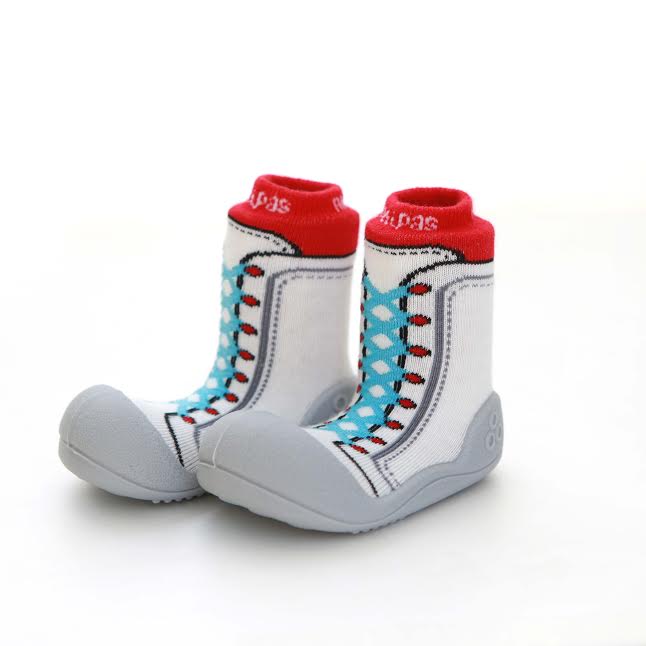 Attipas are a world first in toddler shoes! As light as a sock but more supportive than a pre walker, these functional infant shoes ergonomically support first steps & thereafter. Attipas toddler shoes are made with a non-slip gripped sole, are highly breathable. Attipas shoes were launched in 2011 after 7 years of research & development, and are quickly becoming the number one choice in pre walker shoes. Available in 8 styles & 4 sizes, Attipas shoes are Walking Science™. From birth to 40 months. 
According to Attipas, the five key benefits of wearing their shoes include:
Convenience: non-slip and machine-washable

Breathable: fine holes that release heat

Big Toe Box: allows free toe movement to improve
cognitive and motor development
Non-toxic: to prevent exposure to potentially harmful materials

Lightweight: light and flexible, just like socks
Their range is to die for. Fabulous patterns, lace ups and a new Christmas range that is just perfect for the festive season. The limited edition styles in snowflake, cherry red and white designs are back and are the perfect way for all babies and toddlers to run, jump and skip their way into the Christmas joy. Not only do they look great, but the stylish pre-walkers are lightweight and comfortable for any toddler to walk and run around in.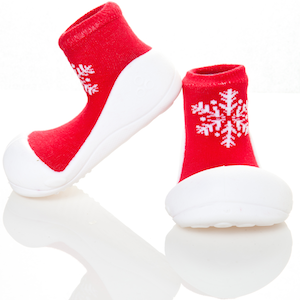 Best of all, Attipas Shoes Australia are giving away a pair of their shoes, and a baby romper to one lucky reader. Valued at $29.95 each, you will get to choose a pair of shoes from their range. To win a pair of their shoes, and a gorgeous baby romper, complete the competition entry below. The competition will be open to Australian Residents Only from Monday 10th November, and will close on Monday 24th November at 6pm AEDST. Entrants need to follow the form below. The winner will be chosen randomily via the 'Rafflecopter' app, and the winner displayed on the Happy Ella After FAcebook Page.
GOOD LUCK!