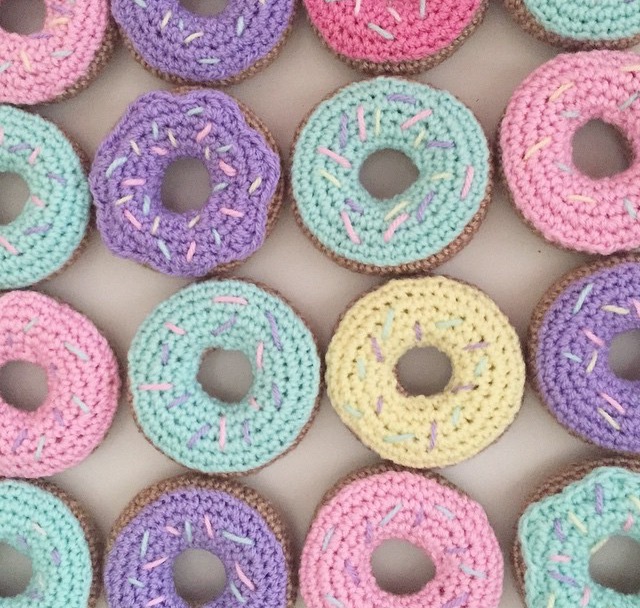 Ella Loves Local: Sarah from Little Fox Crochet
Ella Loves Local: Sarah from Little Fox Crochet
There is nothing sweeter than donuts and ice cream. That is, until you find these delights, hand lovingly crocheted into little toys that you could seriously almost eat. I came across Sarah from Little Fox Crochet via Instagram, and was immediately taken by her beautiful work. Seriously cute, seriously talented, seriously amazing. Her creations range from your typical donuts in various colours (and flavours :-), ice creams, garlands and crocheted superhero toys. Sarah lovingly hand makes each and every thing she sells, and once you invest in one, you'll be hard pressed not to be addicted and want more. Her beautiful creations are the stuff of childrens' dreams, and lets be honest, grown ups too…
Here are some of my favourites…
I had the chance to chat with Sarah recently and learn more about her work…
1. What inspired you to start Little Fox Crochet?
I've been crocheting since I was 10 years old but I hadn't picked up a hook in years. On a whim I decided to get back into it after my 3rd baby was born at the beginning of last year, and I couldn't stop! I was crochetingso much that my family was in danger of drowning in a sea of crochet! So, with the support of my fabulous husband, I decided to take a chance and open up a shop! And of course, I had to name it after my son – he's my little fox! 
2. How do you juggle business and family?
 To be honest, I feel I don't do a very good job of the juggle! When I started out I had 3 kids under 4 and not a lot of time to myself to work! I do most of my crocheting at night after the kids go to bed or during nap time. Which means of course, if the baby has a bad night, not much work gets done. I'm still working on finding a routine that works for us and I'm actually heading back to my "real" job very soon where I'll be working 3 days a week, so we'll see how that goes!! 
3. What has been your proudest moment so far?
My very first sale was by far my proudest moment! It was so scary to put my stuff out there and then just wait for something to happen! When I got that first sale I was so excited I danced around my kitchen like a crazy person! I still get excited when people buy my creations –  there's not quite as much song and dance these days, but I'm still so touched and humbled that people like my stuff enough to continue buying it!
4. What has been your biggest challenge?
Oh Gosh there have been so many!! Haha! I think the biggest one for me has been getting the balance right between keeping up with current orders and finding the time to develop new stuff. My head is constantly buzzing and I have so many new product ideas practically bursting out of me! But 
crochet
 is a time consuming art and there's a lot of time and effort put into each item, which doesn't leave me a lot of time to get all of these ideas out of my head! But I'm trying to work on not taking on too much at once – it's a work in progress!
5. What is your advice to others wanting to start their own business?
Find something you love and just go for it. You never know if you never try. I thought about opening a store for so, so long. I was really worried that no one would want to buy what I made – so I put a few things up on my personal Instagram page, and got a feel for what people thought. I was honestly surprised to find people were willing to pay me money to do what I love! I still am! And because I love doing it, it doesn't feel like work at all!
6. Three words that describe Little Fox Crochet…
Quality, fun, original
7. What's your favourite current product in your line?
I have two: doughnuts and ice creams! I absolutely love making them and I love seeing all the different colour combinations my customers come up with! I also love doing custom orders because it gives me a chance to try new things and use different colours than I would normally use.
8. Pay it forward to another local business.  Little Fox Crochet loves…
This is a tough question!! I love the Instagram community so much and there are so many talented women I adore and who inspire me everyday. I'll give you three favourites, but keep in mind this list could on forever! 
Arlo and co,
Little

 Olive and C
o, and
Top Knot Girl
Ella was lucky enough to sample some of Sarah's delights, and these donuts sit proudly on her new shelves in her room…
Be sure to support this local gem, and purchase some of her delights from her web store here!