Ella Loves Local: Melanie & Lesley from Mr Willo
Ella Loves Local: Melanie & Lesley from Mr Willo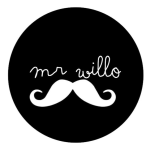 I don't know about you, but after having a boy I was pretty shocked to see the lack of range for boyswear when you walk into the clothing departments in several kidswear stores. After having Ella, the range seems endless, however unfortunately for boys it's been really limited. That said, if you turn to local businesses like Mr Willo, who have clearly found a gap in the market, you will find the most divine, funky, hip and cool shirts for little dudes that you ever did see. Like most of my finds, I stumbled across Melanie from Mr Willo on Instagram. A fellow Primary teachers who was also on maternity leave, I was captured by their unique designs and cool edge. Who says that boys shoudln't have all the fun? I'm thrilled to share their range and story with you today and I'm sure you will fall in love with their amazingly cool shirts, just like I have…..
Their signature GUTHRIE shirts…
A little bit about Mr Willo:
Mr Willo is a Melbourne label, made up of Melanie, and her mother-in-law Lesley. She is a primary school teacher on maternity leave and has always had an interest in colour, pattern, fashion and design but without any training in the fashion industry she never dreamed of finding herself in the world of fashion and design let alone in children's wear!
Lesley always thought fashion was a field she belonged in. She has forever loved it. Throughout school she sought out creative subjects and studied textile design, pattern adaptation and pattern making. With life's twists and turns she was tugged in other directions, pursuing many others things. The sewing machine has been a constant throughout- making, altering and repairing clothes but it was with the arrival of her first grandchild, Mr A, that she has come full circle and ended up using the skills she had such a thirst for earlier in life to set her on the path that is Mr Willo.
Mr Willo is a lot about who they are and their passions. From the beginning they decided to name each range after a musician as music is a constant and something they both have strong ties to. Each of Lesley's children are musos in their own right and they wanted to bring Mr A up surrounded by music. Their debut Guthrie range was named as a cheeky nod to him. The incorporation of the flannelette they love into our Guthrie range was due to the strong connection to the fabric through their dads and CJ, Lesley's son and Melanie's partner, Mr A's papa. Family is important and this is a small family owned and run label.
Together they design and create super cool handmade threads for littles with big style. They strive to challenge the babywear norm. To design clothes that are eye-catching, fashion-forward and meet the needs of the little wearer. Clothes that reflect the personality of the little person and their parents. Mr Willo aims to inspire fun. In life. In fashion.
1. What inspired you to start Mr Willo?
We formed Mr Willo to challenge the lack of inspired, quality boyswear choices for little misters. As a new mother, I struggled to find a dapper yet practical outfit for my 2 week old son (Mr A) to wear to a wedding. Discouraged, my complaints to my very talented mother-in-law Lesley about available options turned into an excited discussion over breakfast burritos at a local café and ultimately led to the decision to go ahead and start a new label. Our objective is to create high quality, unique items with our shared ideas of aesthetic and practicality in mind.
2. How do you juggle business and family?
Like most mumma's running a small business from home, I work when Mr A naps. Thankfully he's a pretty great sleeper. I can noisily hammer away in the next room applying press-studs to our shirts and he'll continue to sleep. When he is going through a change in routine or is unsettled and I'm unable to get anything done during the day I am fortunate that I have a wonderful support in my partner CJ (AKA Papa Mr Willo). He'll take over with Mr A and allow me the time and space I need to get things done.
3. What has been your proudest moment so far?
Definitely seeing photos of little people wearing Mr Willo! We love that our customers adore their Mr Willo pieces and feel honoured that they share photos on social media of their gorgeous children enjoying their threads. The feedback we have received so far has been incredible. It's great to know that children are chasing adventure, making memories and reaching milestones wearing Mr Willo.
4. What has been your biggest challenge?
Time. Managing it, longing for more and realising that building and growing our label is going to take time. We get so excited sometimes and want things to happen instantly. We can't help but want to speed up the time from idea to conception and having the finished garment in our hands, or our piece in a magazine, or our next range to be realised and released. We need to be patient and let it evolve.
5. What is your advice to others wanting to start their own business?
Take the leap. Just do it. Learn as you go. Find a supportive creative community, join it, build relationships, make friends, ask questions. Enjoy yourself. Celebrate your achievements. Be humble. Get excited. Have fun!
6. Three words that describe Mr Willo…
Distinctive. Considered. Evolving.
7. What's your favourite current product in your line?
Our signature ◆ G U T H R I E ◆ shirt is our absolute favourite! Each and every one is unique; you will not find another just like it. It was our first item and it grew from our love of flannelette shirts. Both Lesley and I have a connection to flannelette through memories of our dad's wearing it. The first ◆ G U T H R I E ◆ was made especially for Mr A. We include many small design features to ensure complete comfort and practicality. Flannelette is great to work with. It's hipster, it's cowboy, it's city, it's country, it's just cool. It suits everyone and can be styled in so many ways. The fabric is so perfect for little people. It's soft, cosy and easy to care for. It actually gets better with wash and wear. Precisely what is needed in children's clothing.
 8. Pay it forward to another local business. Mr Willo loves…
Grandy and Baa (www.grandyandbaa.etsy.com), sweet little friends full of whimsy and imagination. These quirky softies are lovingly handmade in Melbourne out of the most stunning textiles, think wool, linen, velvet, cotton, corduroy and cashmere, some even screenprinted by the very creative maker herself.  Each one bursting with personality. Once you start browsing the store you won't want to leave with your shopping cart empty. Choosing the perfect friend out of this gang is quite the challenge. I dare you to adopt just one. They make a perfect gift for a new baby, a small child's birthday or that grown up friend that appreciates beautifully handcrafted items. Be sure to follow on Instagram (@grandyandbaa) to be privy to some pretty interesting conversations between these unique characters and their talented maker Rachael.
So head over to MR Willo and grab your little man his own little GUTHRIE!
#ellaloveslocal – #supportsmallbusiness – #shoplocal

Mr Willo
#mrwillo #welovetoplay
Store: www.mrwillo.bigcartel.com
Email: youngmrwillo@gmail.com
Instagram: @mr.willo
Facebook: /youngmrwillo
◆ G U T H R I E ◆ shirt
long sleeve RRP $65
◆ G U T H R I E ◆ shirt
short sleeve RRP $60