Product Review: Love to Dream Inventa Sleep Bag
Product Review: Love to Dream Inventa Sleep Bag
Sleeping Bags are the best invention ever. Honestly. No worrying about your child getting cold, unless that is they get out of it. Sleeping Bags are the best invention ever. Honestly. No worrying about your child getting cold, unless that is they get out of it. With two young children, I've been through my share of various sleeping bags, from various companies. Expensive and cheap. What I've learned is that you get what you pay for. Recently I purchased a sleeping bag for Hudson from a well known, Australian brand and it was hopeless. The first thing I would say is that zips are king. No press studs (unless you want them to learn straight away how to get out of it).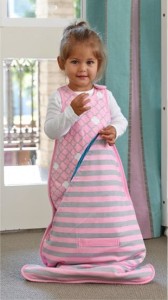 So when I was approached by Love To Dream to try their INVENTA 2.5TOG Sleep Bag, I was curious and excited. Being winter, I was on the look out for a sleeping bag that would keep Hudson warm (first and foremost), and…well…contained. Before I share my thoughts after a few weeks of trialling this product…here is, well, a bit about the product!
According to their website, 'The Love To INVENTA Sleep BagTM features our Genius Cooling System that helps you to moderate your little one's temperature simply by opening or closing the mesh vents, without disturbing their precious sleep routine' 
Other features include:
Hypo-allergenic

100% natural bamboo fill

100% cotton lining is brushed for a cosy feel

Ergonomic Design, soft stretch fabric for increased comfort

Longa Shorta

TM

 length feature

The INVENTA

TM

 range of sleeping bags for babies & sleeping bags for toddlers is available in 3 TOGS, making the range suitable for all seasons: 0.5 Tog for the warmer months – 1.0 Tog for use all year round – 2.5 Tog for the colder months
So after we trialled the bag for two weeks, my conclusions are:
It's great. Really great. Thick, heavy fabric that you know has been made and stitched together well. 

It has zips. Hooray!! It's on the front too which helps in the night if you need to change a nappy.

This one was unexpected. It features one shoulder with a press stud, and one that is sewn shut. This means that you can access your baby, but the baby cannot get out. Pure genius. 

It is extremely long, and features the ability to fold the bag up and shorten the length with press studs. This means that you can keep it and use it for a very, very long time!

Whilst we didn't use it, being winter, the mesh insert allows you to make the bag cooler in the summer months. Another great feature particularly when transitioning from cooler to warmer weather, and you still want your baby to be in a heavier tog bag.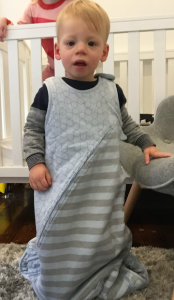 So all in all, a fabulous product. Currently on sale for $59.95 (normal RRP $79.95), it is definitely worth the investment!
To purchase, head to their website here: www.lovetodream.com.au