Christmas Toy Review #2 & Giveaway!: Leap Frog Sweet Treats Cafe and Scoop & Learn Icecream Cart
Christmas Toy Review #2 & Giveaway!: Leap Frog Sweet Treats Cafe and Scoop & Learn Icecream Cart
This Christmas, I'm thinking laterally and looking for toys that give me bang for my buck. Two for one. Killing two birds with one stone you could say (even though that sounds terrible!). No, all jokes aside, I'm actually looking for toys that both of my kids can play with. Together. Toys that develop oral language, role play, imagination and working together. I've found that Ella and Huddy are now at an age where they actually can, for a small period of time, play together quite happily. Toys that encourage them to use their imagination and role play have been wonderful. They are also at an age where gender stereotypes have not REALLY set in, and so it's a great time to encourage them to have fun no matter what they are playing with.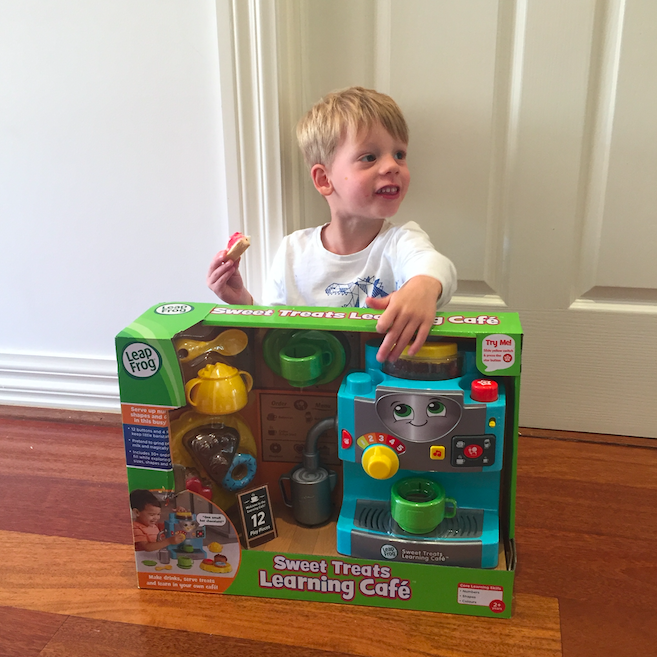 Recently we were asked my Leap Frog to review two of their new offerings; their Cafe set and Ice cream Cart. Leapfrog are known for developing toys that developing thinking. That encourage children to make decisions, to interact and be creative. So I was quick to say YES and get my kids involved. What's even better is the fact that we are giving away a Cafe set to one lucky reader. Read on to learn more!
THE PRIZE
We are thrilled to be offering one lucky follower a  Sweet Treats Learning Café (for 2+ years), RRP $59.95.
See post below for more information about the product. Comp is open to Melbourne followers only who are able to pick up the prize from St Kilda. Comp Closes Monday 6th November at 8pm AEDST.
HOW TO ENTER
Simply head to our Facebook Post Here and leave a comment sharing your child's favourite cafe treat and tag a friend!
*For a bonus entry , head to Instagram, follow us, like our Instagram Post for this giveaway and comment letting us know you have entered on FB.
(for 2+ years), RRP $79.95 Available for Christmas from Big W and selected toy retailers.
We've all grown up with the sound of Mr Whippy driving the streets, and this is seriously like having your own at home. The LeapFrog Scoop & Learn Ice Cream Cart lets your children create a variety of  tasty-looking ice cream combinations using four flavours of ice cream, three toppings and three syrup flavours. The magic scooper helps them scoop up the ice cream and toppings to build customer orders (ie. Mummy's favourite flavours) and it will recognise the colours and flavours. Add toppings and syrup to complete the treat!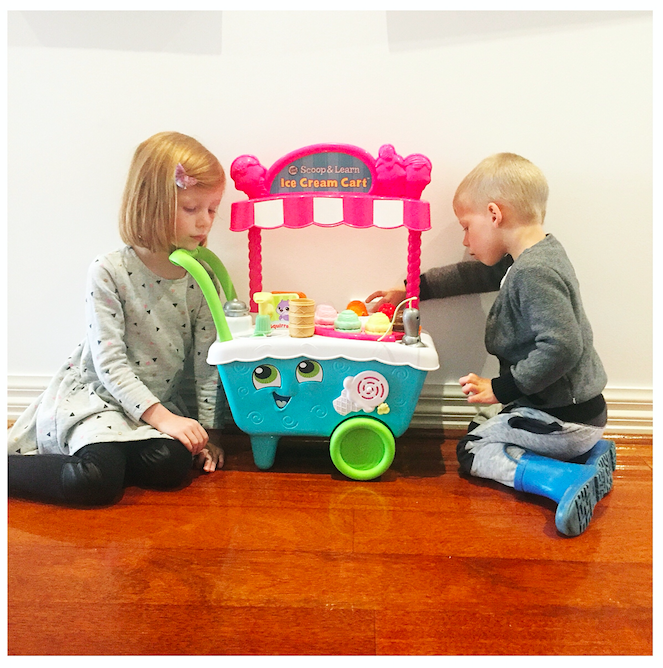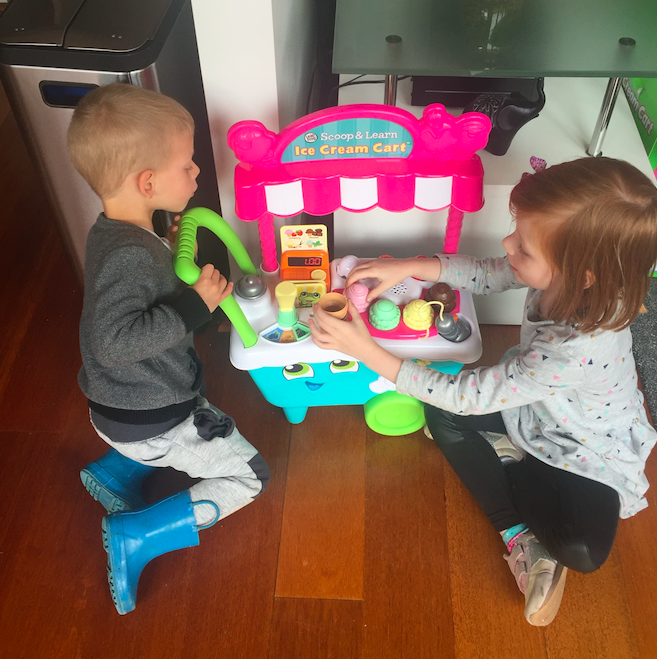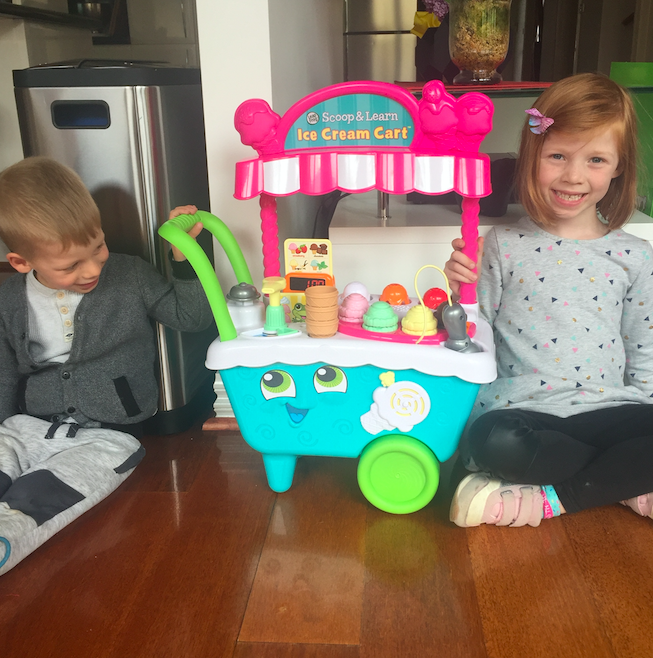 They also get to build memory and sequencing skills by choosing from six cute animal order cards and following the instructions. Playful phrases introduce colours, numbers, flavours and more while you explore the cart's features and activity cards. The cutest part is the fact that it is mobile, and allows kids to move around whilst playing music.
This is a real winner in our house and I would highly recommend it for Christmas!
(for 2+ years), RRP $59.95 Available for Christmas from Big W and selected toy retailers.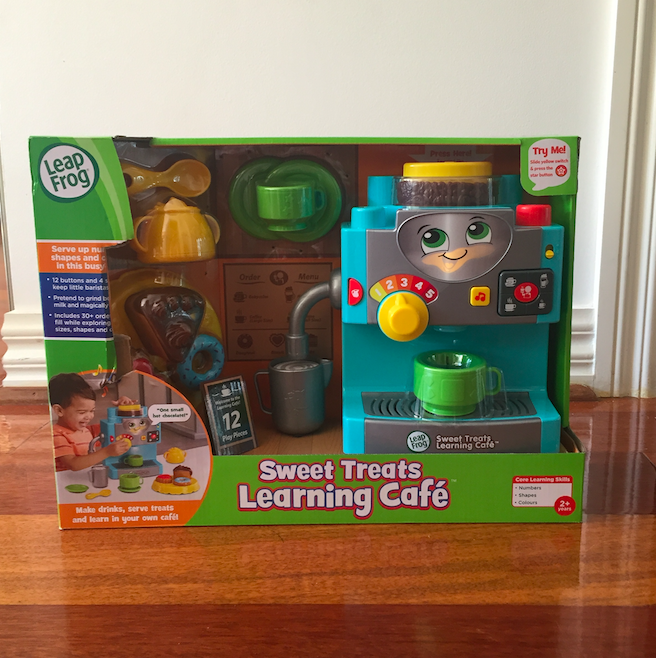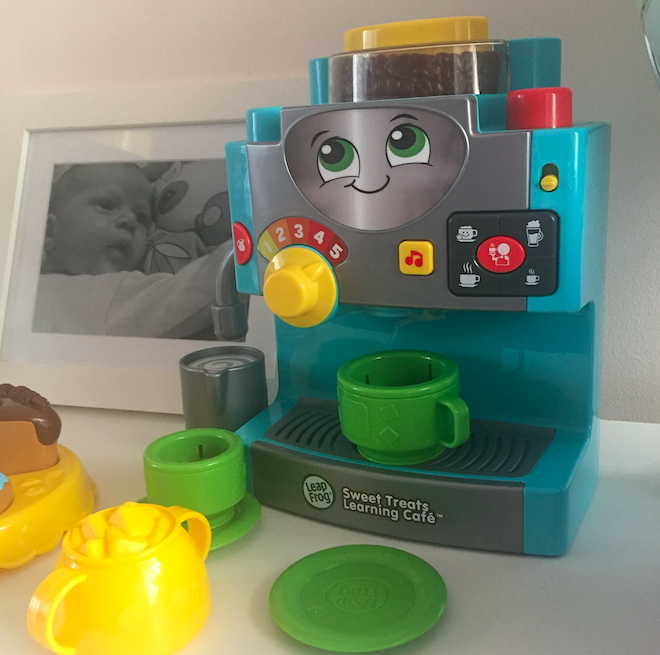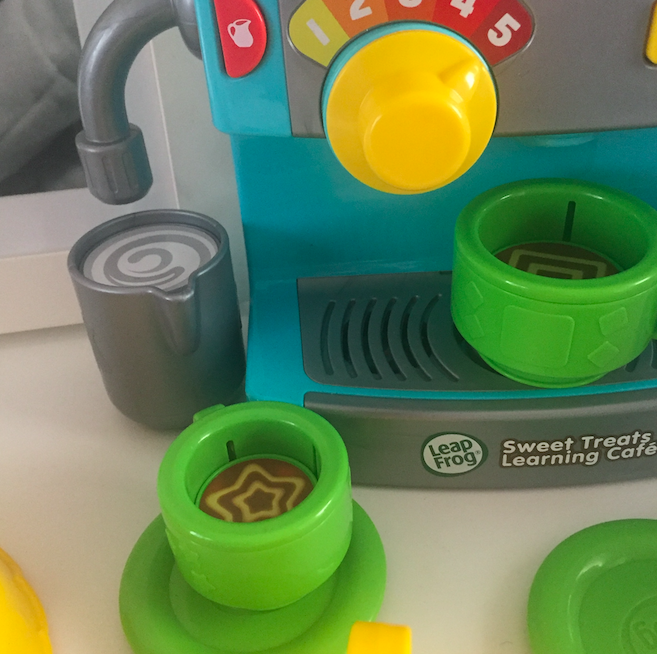 Weekends in Melbourne are not complete without a trip to our local cafe. With the sweet treats cafe, your kids can serve up learning with a double shot of fun! Fill cups, complete customer orders and serve tasty-looking pastries while learning numbers, shapes, colours and sizes; and running your own café. With four original songs, 10 touch points and 12 pieces including magic tilting cups, your little baristas will feel as though they really work in their own cafe!. Pick the right drink, choose the correct sized cup and set the right temperature. They'll love learning about numbers, shapes, and colours, while developing listening and memory skills as they froth the milk, grind the beans and brew the coffee. Whether they're hosting a tea party for their toys or role playing with friends, its espressos, hot chocolates and babycinos all round!
Another awesome toy that both my kids love playing with together, and with the whole family. It's really compact and can easily be taken out for the day.
So be sure to enter our giveaway today!