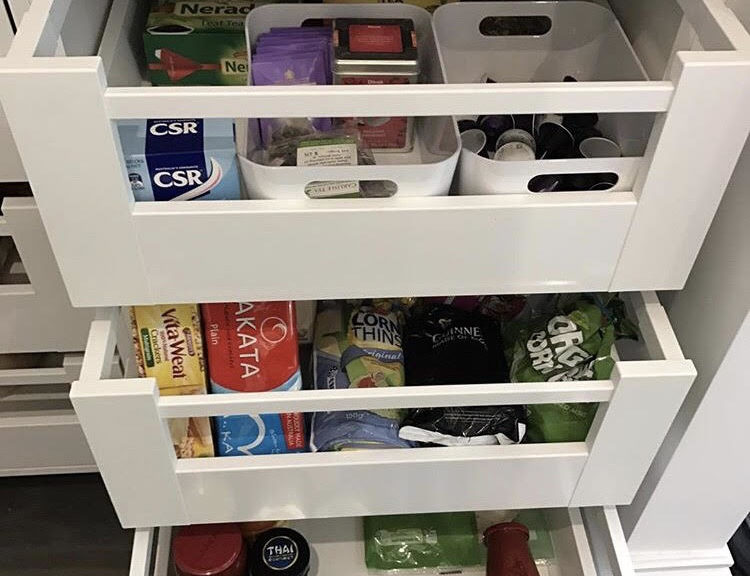 Local Legend: Tracy from Love my Pantry
Local Legend: Tracy from Love my Pantry
Pantries. They are the centre of our homes. Whether you've got a small pantry cupboard, or a large butler's space….if you are like me then you need, crave, want some order amongst all of the cereals, baking products, snacks and spices. Problem is, pantries are often the most cluttered, disorganised spaces in our home. With food coming in and out at an exponential rate, unless someone is putting things back in the right spot, then it quickly ends up looking like a rubbish heap. Even if you've invested in the most expensive tupperware! As I've gotten older I swooned over the amazing, organised, ordered pantry spaces that have graced many a pinterest board. There is nothing like seeing your food neatly ordered in lovely looking jars, labelled, easily at reach. The problem is, turning a pile of cereal boxes, opened packets of pasta and snacks into something that resembles the above, is a task that is well beyond the limits of time and patience for most people!
Step in Tracy from Love My Pantry. Quite simply, everyone needs Tracy in their life. No jokes, she is like an angel from heaven. You know those jobs you have that feel really important, that you really need to get some, some day, but they are never a priority? Tracey makes those jobs happen. Literally. Last year, after we moved into our home, I was lucky enough to have Tracy come to my home to weave her pantry magic. Essentially she comes to your home, assesses the state (or chaos) or your Pantry, cupboards, linen closet, toy room storage etc….removes everything, then reorganises, repacks, rearranges and sorts everything back in the most ordered, decluttered way. Tracy turns your once cluttered pantry into a storage space fit for any Pinterest account!
She uses clever storage tubs to help you categorise and organise your food items. Whether there be baking goods, spices, or snacks for the kids. She is your woman! Tracy is a local Mum who turned her everyday love of all things organised into a booming business of her own. After a few months, she had clearly struck a nerve, with people all over Melbourne begging her to help them! This is what she did with my new pantry!
MY DRAWERS BEFORE….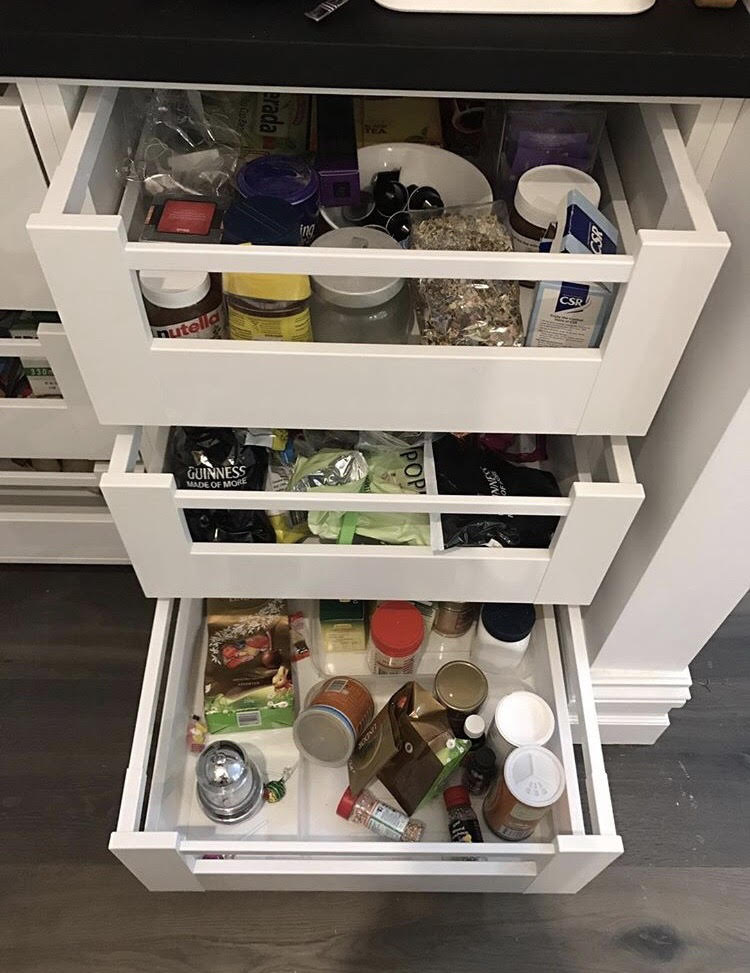 MY DRAWERS AFTER…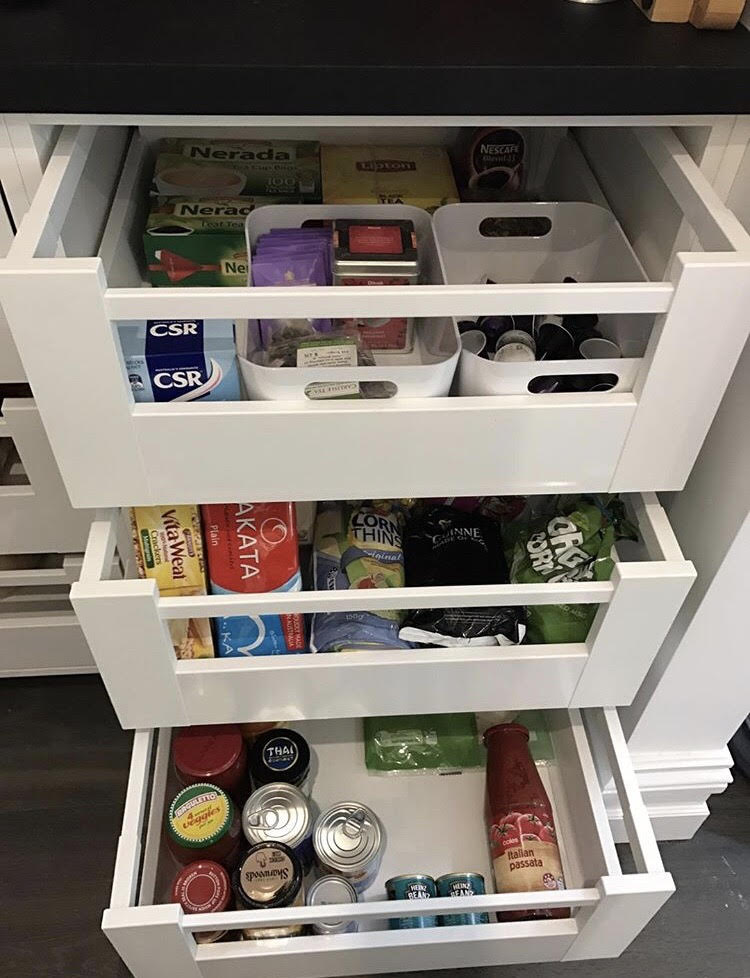 MY PANTRY BEFORE…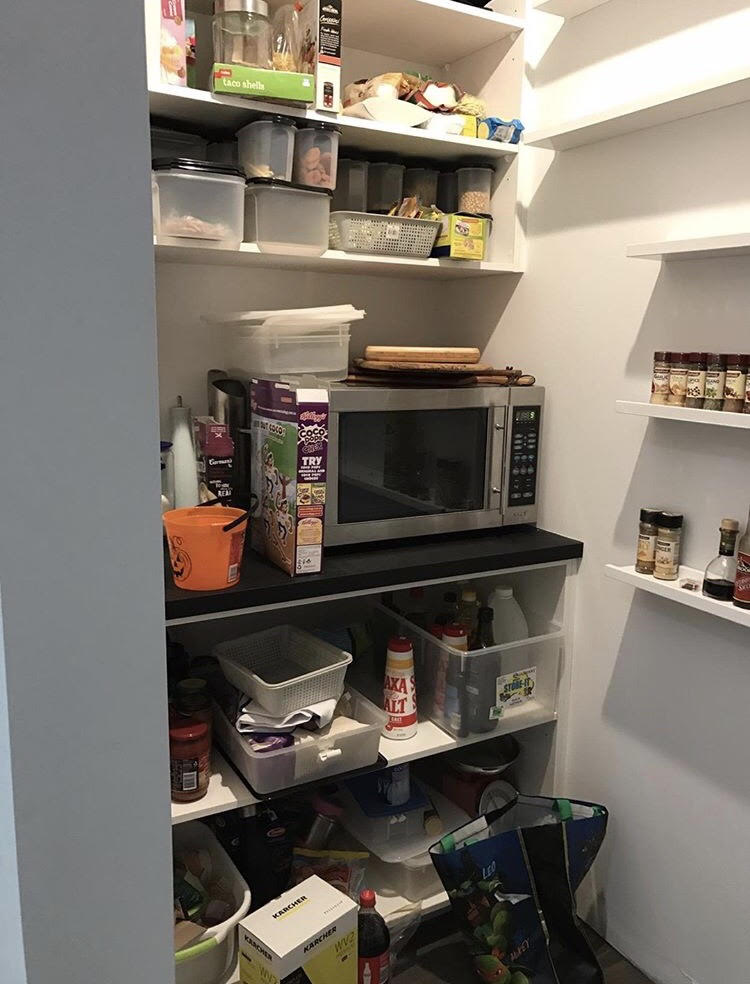 MY PANTRY AFTER…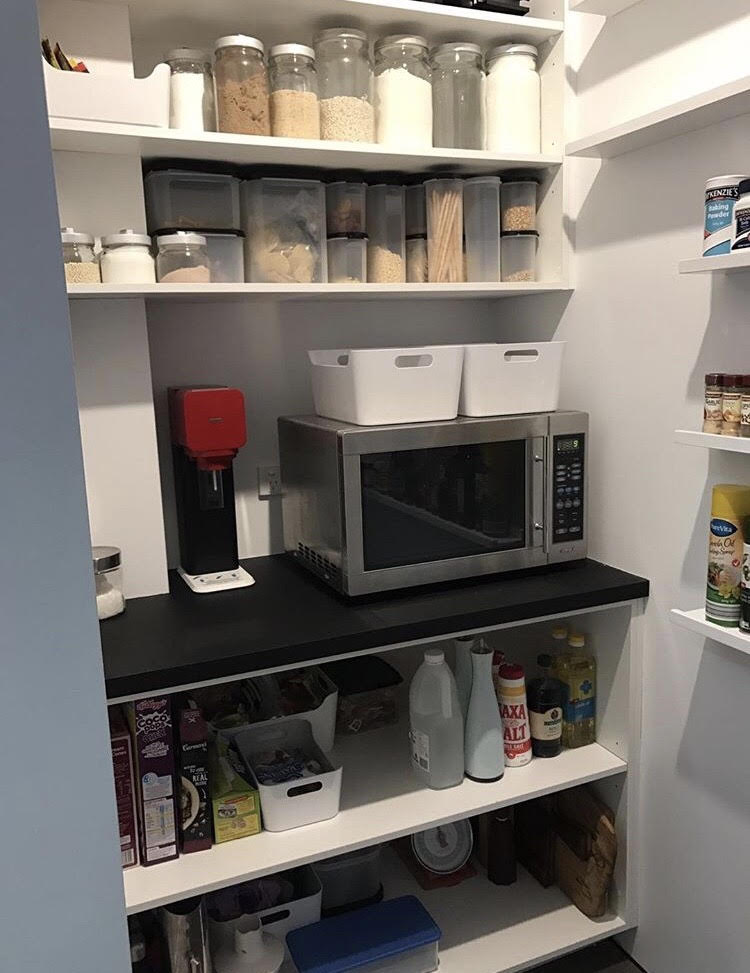 This is her story…
1. Tell us a bit about your business, your dream, your story
I started my business just over 2 years ago. As a housewarming present for my brother & sister in law I thought I would do a Pantry makeover. While I was doing this my sister in law said. "You are in your element you really should do this as a job"
I thought for a moment. Don't be silly. Who would want this? Later that day I decided to give it a go. I put a post of Facebook in a mum's & baby group giving away 5 free Pantry makeovers. The response was insane with so many mum's commenting "yes please!"
"Pick me". It's grown very organically through word of mouth from very happy customers. All my clients are overwhelmed with how amazing they say it makes them feel. It's a very rewarding job for me also as it makes me feel great too knowing what a difference it makes for busy mums. I now help in any areas in the home not just the pantry.
2.Magic: What is the most magical thing that has happened to you as a small business owner?
I would say the most magical thing that has happened for me as a small business owner would have to be all the amazing messages I get from my followers saying they absolutely love my Instagram page. It makes them feel calm! Many of them say they need me in their lives. For me this is very humbling. I've had clients call me the pantry queen & also the pantry goddess.  It really is an amazing feeling. Never thought it would make such an impact in so many people lives.
3. Mayhem: What has been your greatest challenge, moment of mayhem?
The greatest challenge for me is right now trying to work out how to scale my business so it's not just me. I get enquiries from all over Australia and I would love to be able to help everyone. I've been looking into employing other organisers and also franchising but I'm not sure which way to go.
4. Milestone: What has been your greatest achievement, milestone?
My greatest achievement so far would be all the press I received when
Mamamia Aus interviewed me
and wrote such a great article about me & Love My Pantry. Also reaching 10K Instagram followers was a really big milestone and I've started to notice other businesses taking me more seriously and asking for collaborations.
5.Pay it Forward: Who do you love? What small business are you lusting over right now?
 I really love seeing pictures of interiors & architecture. I was a graphic designer for many years before having my 4 kids. I just decided I no longer wanted to sit in front of a computer anymore. I follow
Dotandpop
and love everything about them. Simple decluttered spaces.
To see more of Tracy's amazing transformations, and to contact her to have her come and help you in your home, especially as we all head back to school and start a new year, head to her Instagram Page here:
https://www.instagram.com/lovemypantry/?hl=en