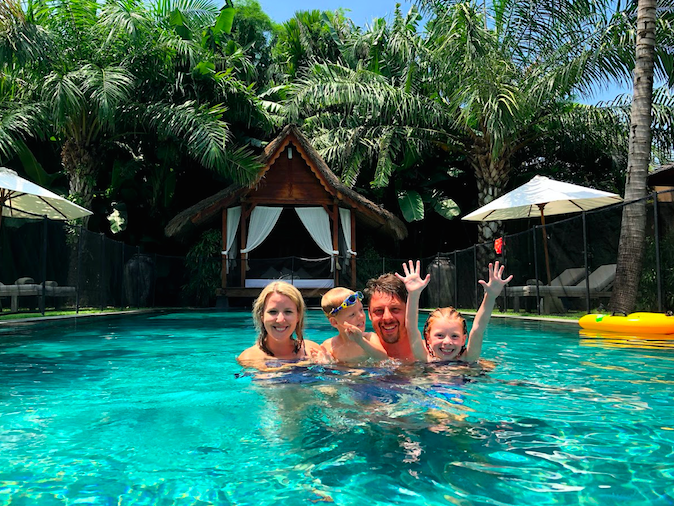 From blunder to bliss: How to have a ball in Bali with seven kids in tow!
Bali. It's a destination synonymous with Australia. Many say that you're not a true Aussie unless you've been to Bali! A few days ago we returned home from a fantastic Balinese adventure, albeit quite a different one from my previous trip more than 15 years ago. In the past, I did the whole 'Kuta' trip, with one of my best friends and our Mums. Whilst back then, we did indeed have a fabulous time, the days of drinking buckets in bars and shopping for fake Louis Vuitton bags and Gucci wallets are long gone. This time around we headed to the beautiful island with three families, six adults and seven children under six. Blessed to call our business partners our best mates, we have all travelled together many times over the past decade, with our little families growing a little more with each trip. With seven children, including one very precious new born baby amongst our crew, we knew Bali would be a fantastic destination. In particular, the draw card of renting a villa over the new year period would mean that we could both be with our children, and cherish some fun adult time with drinks and cocktails by the pool. It didn't disappoint!
Much like our Hawaii trip last year, this holiday brought with it many a learning experience. Both what to do, and in particular what NOT to do. There are so many aspects to planning a holiday overseas, but when you travel in a larger group, the planning stakes escalate considerably. We are lucky that we are all very good friends, very chilled, relaxed and understand that each of us have things we like (champagne 😉 and dislike. Following our Hawaii trip I shared my tips and tricks to having a great holiday, and this post will be no different. Whilst we did have a slight hiccup with regards to our first accommodation, we still managed to have an amazing time, and once we moved everything was as fantastic as we had hoped. There were so many laughs and fun times, and if you follow some pretty simple rules, then you too can have an amazing holiday away with your mates, and your children!
Without further adue….
Getting there and home again…
We flew Garuda Indonesia, and they were wonderful. Lots of leg room, four seats across the middle, full meals, movies, pillows, blankets. The flight is approx 5 1/2 hours. Flying out of Melbourne, we took the 9.30 am flight. This means that we arrived at our villa at approx 3pm Bali time (they are three hours behind AEST). This flight time was perfect as we arrived at the airport at 6am, the kids enjoyed the flight (and the entertainment) and we were at our hotel in time for a swim before they zonked that night. Flying home, we took the 9.30pm flight. Whilst this was a while to keep the kids up past their bed time, this meant that we could enjoy our last full day in bali. Flying a this time means that the children basically fell asleep straight away, and basically slept the whole flight. We arrived home at 6am Melbourne time (meaning that they only really slept around 4 hours). We took a cab home and basically all went straight to bed for a few more hours to catch up. These flight times both to Bali and home were really practical, and whilst coming home was a little more tiring, I would absolutely do it again the same way.
Booking a Villa
Villa Number 1: Villa Basilio – Seminyak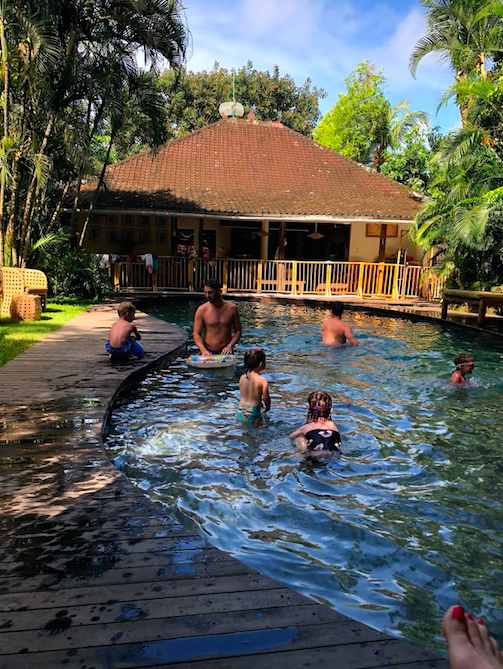 Before we went to Bali we did a considerable amount of research booking a Villa for our three families. Given there were six adults and seven children, and the fact that we were over the new year period, we knew that we had a challenge to find something that would suit us within a reasonable price range. We ended up booking our Villa directly and initially, were very happy with our choice. During the year, the Villa was sold and changed hands, and the consequences of this were not really evident until we arrived.  When we arrived a Villa Basillio, we were welcomed with open arms by the staff. The Villa was very large, with two pools, five bedrooms and six bathrooms. The staff were so helpful, gracious and beautiful with our children. However, the Villa was extremely run down, and had not been maintained well in recent years. Quite simply, the photos did not replicate real life. During our stay many aspects of the home started to break down (ie. showers, baths, tvs) and the general cleanliness of the home was not at all what we expected. Dan and I slept on a double bed (not great when your hubby is 6 foot 2, and you have a son who doesn't sleep and climbs into bed with you!). So after a few days of trying to tell ourselves that everything was ok, a toilet exploded (cue poo water everywhere), and we decided to speak up and share our disappointment with the manager. Whilst she was very supportive and empathetic, the problem with dealing directly is tackling language barriers and lower standards. We have been given a refund for the nights we didn't stay, and are still discussing compensation for the issues we faced during our stay.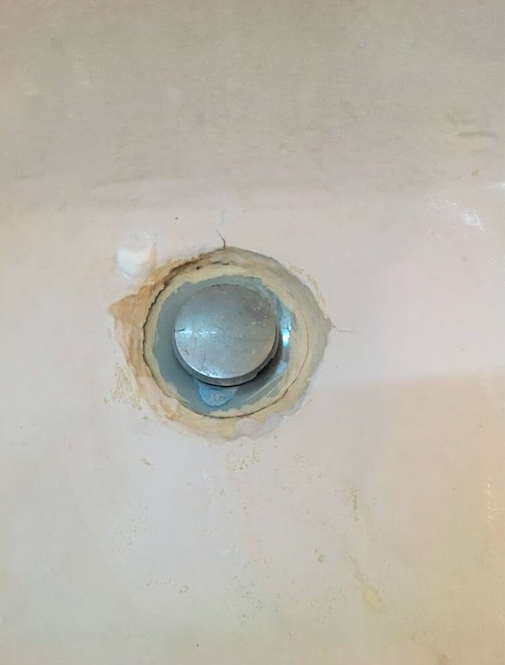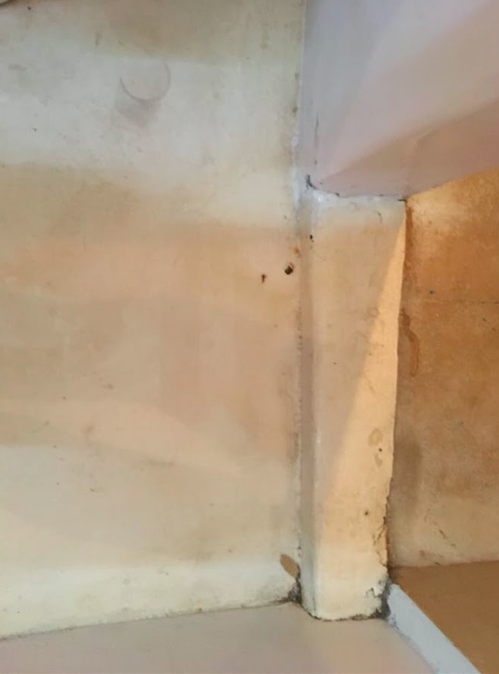 Luckily, thankfully, we were able to obtain the help from the amazing Sara at Ministry of Villas. A husband and wife team, they actually started their villa agency to help families avoid situations like the one we experienced. So professional, they even came to personally visit us to make sure we were happy. They personally stay at all of the villas that they list to ensure that the experience lives up to the promise. We will definitely be using them again!
Villa Number 2: Villa Tiga Puluh – Seminyak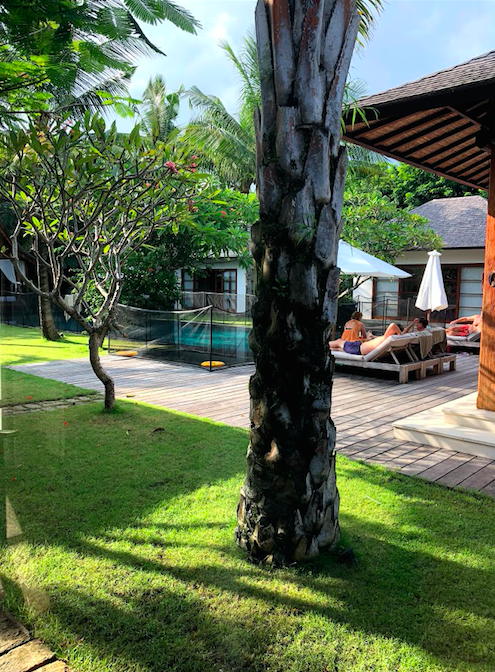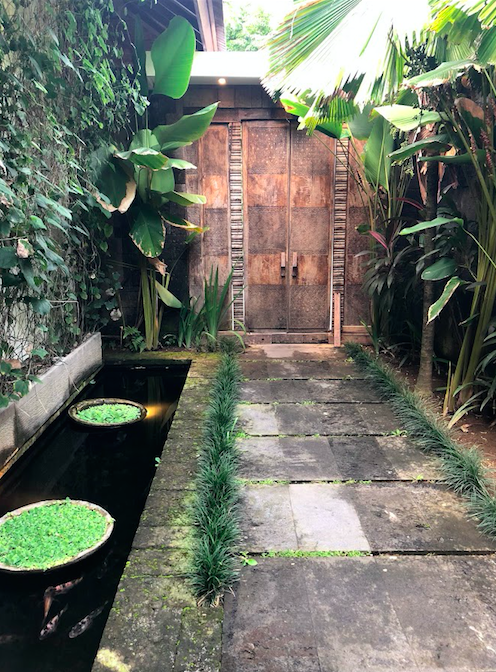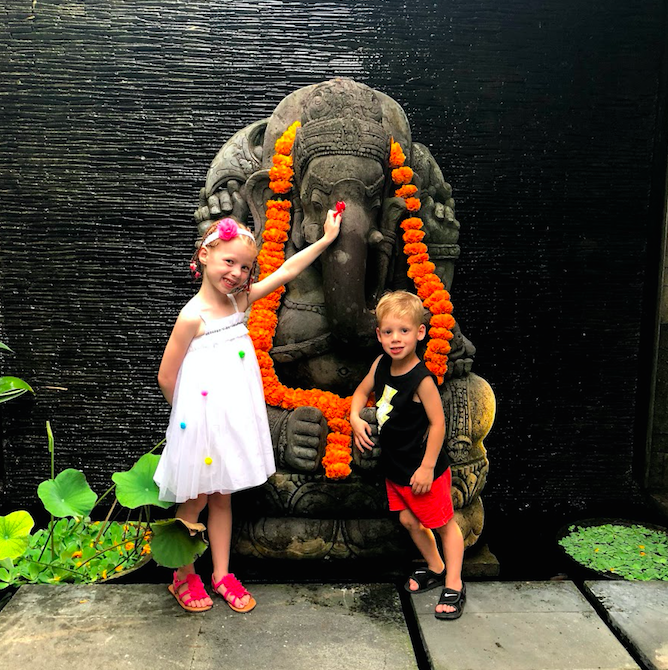 Sara was able to secure a last minute transfer for our families to Villa Tiga Puluh close by, but in a much better location in Seminyak. As soon as we walked into this amazing villa, we knew that we had arrived in the place we had dreamed for our holiday. Beautifully styled bungalows meant that our families could be close enough to be together, but far enough apart as to not disturb each other (think crying children in the night). The pool was absolutely divine. The pool fence was custom made for the villa, which kept our kids safe, but was sleek enough not to interrupt the view. A buffet breakfast was included each morning. For lunch and dinner, we were asked to select our meals from an extensive menu. The chef and assistants would purchase our groceries and bring them home to create our beautiful meals. We also had them purchase a variety of ingredients to make delicious cocktails by the pool for happy hour at 12pm, 2pm, 5pm! The bathrooms were immaculate. King sized beds meant we instantly had a great night sleep. There was also a very cool movie room that was air conditioned, meaning we or the kids could escape the heat for a little while if needed. Villa Tiga Puluh was truly our blissful Bali escape, and we have already decided to head back in two years. It includes transfers to and from the airport, and a driver can be arranged at any time you need!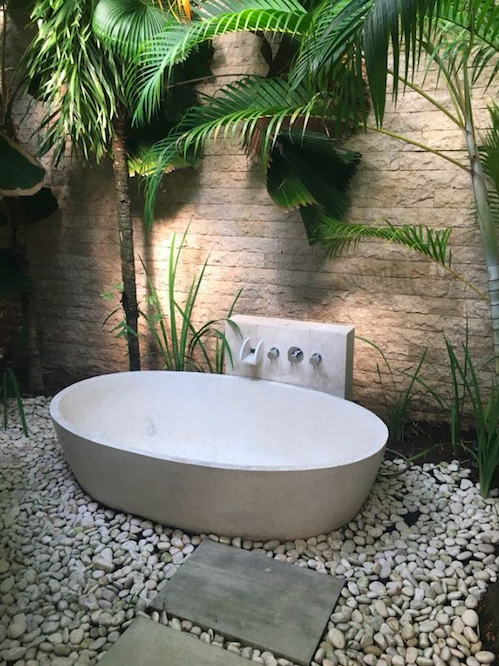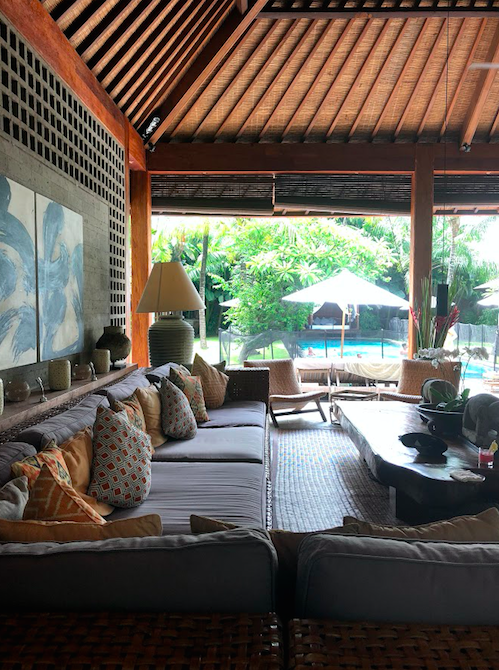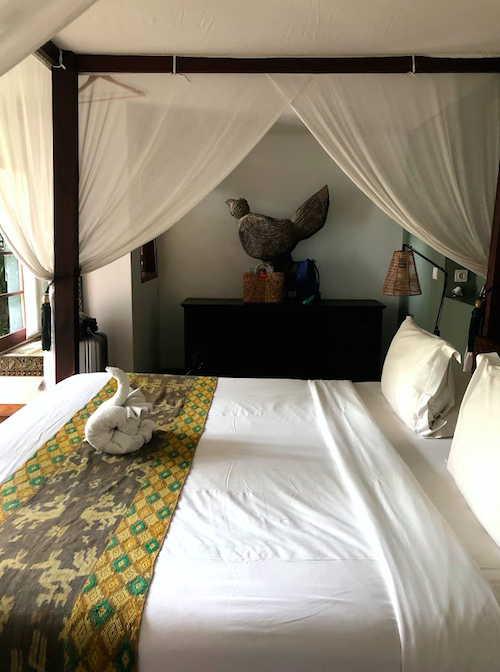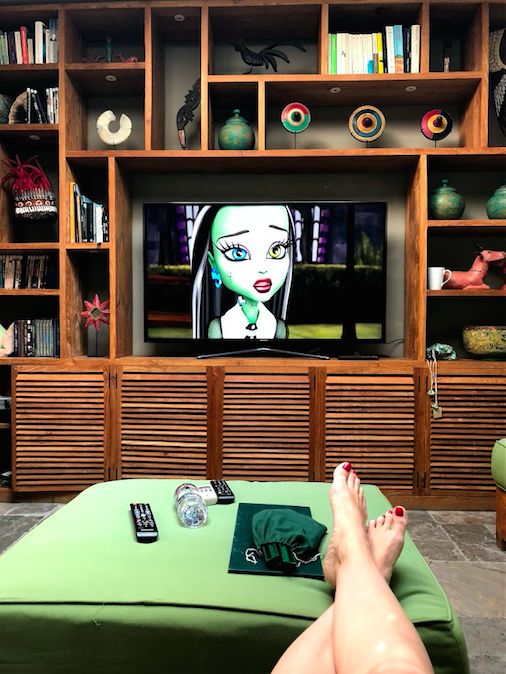 Eating out with kids
Some of my favourite haunts to eat out with kids in Bali include:
Motel Mexicola – in particular the epic dance floor that gets the whole family dancing after dinner!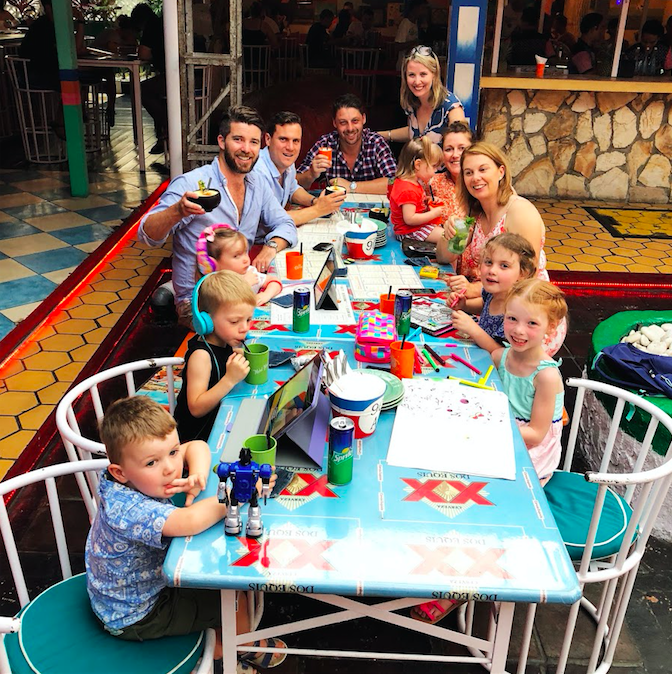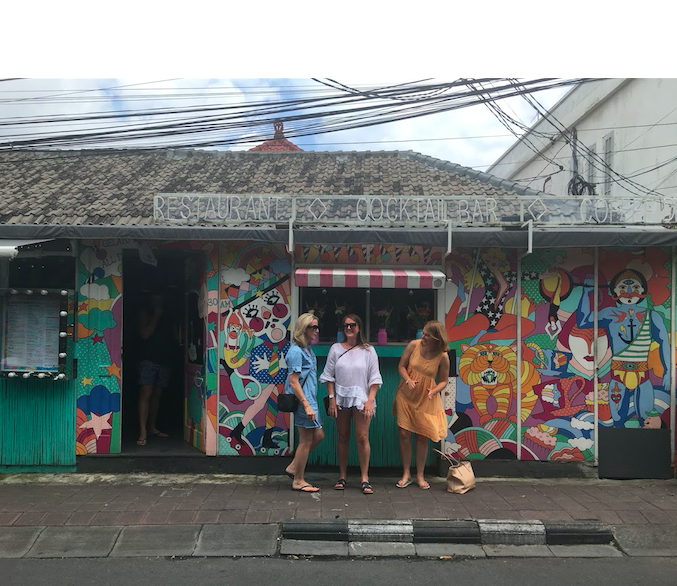 Eating out without kids
We were lucky enough to get to some beautiful, beautiful places during our stay. Having Nannies meant that our kids could have a great time at home, whilst we could get out and enjoy each others' company. Taking care of ourselves as friends and as couples means that we can be the best parents to our children. We really valued this time!
My top five:
Bikini –  we stumbled across this beautiful restaurant after having a cocktail on new years eve. The sister restaurant to SisterFields (next door), this place is epic. We had the degustation menu and it was delicious. The chef is from the Gold Coast and his creations blew our mind! A must do when you are in Seminyak!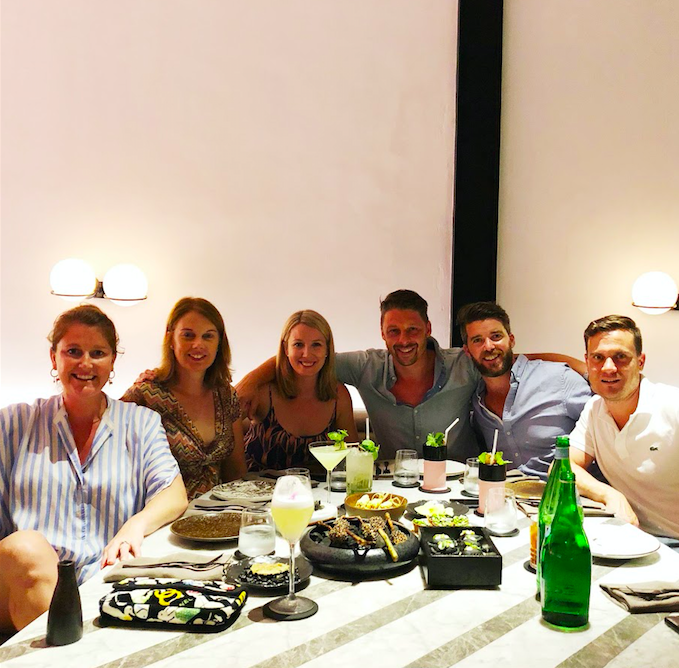 Metis – nestled in the most exquisite grounds, this restaurant / bar is everything you want on a beautiful night out.
La Lucciola – A Bali insitution, this intimate open air restaurant sits on the beach. Italian in inspiration, the food and ambiance is an experience you'll never forget. Unfortunately on the night we were there, an epic storm decided to make it'self at home, so we were rushed into a small but beautiful inside space. We thoroughly enjoyed ourselves!
Rock Bar – Perched atop distinctive rock formations along Jimbaran's pristine sunset coast, Rock Bar Bali is widely respected as one of the globe's most popular sunset, cocktail and entertainment venues. Showcasing unparalleled views from 14 meters above the Indian Ocean, Rock Bar is accessible via AYANA's dramatic cliff side inclinator. Featuring a glamorous sunset vibe, and a seductive after-dark ambience, listen to premier international DJs as they heighten your experience from a custom DJ booth carved directly into the cliff face. A tip is to arrive at 4pm to beat the rush when it opens!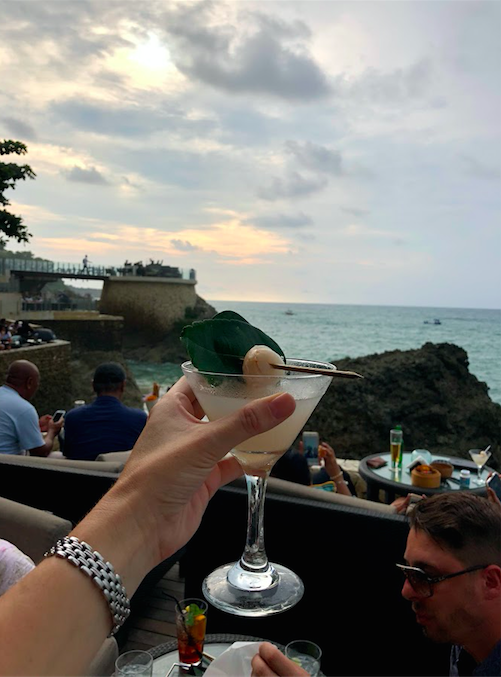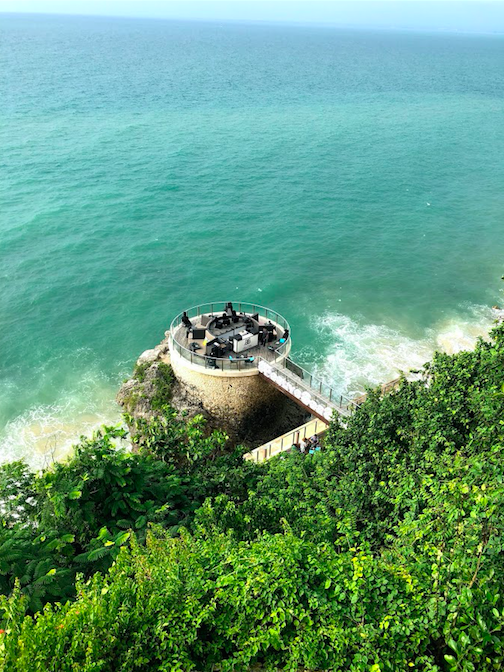 Potato Head: In one word…cool. A beautiful space where you can swim, dine, lounge or just sit and watch 'the cool people'. We had a ball drinking cocktails and lapping up the sun!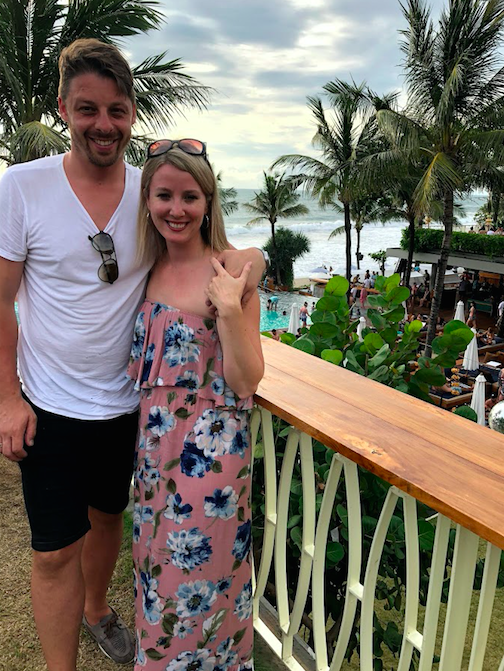 Nannies, Nannies, Nannies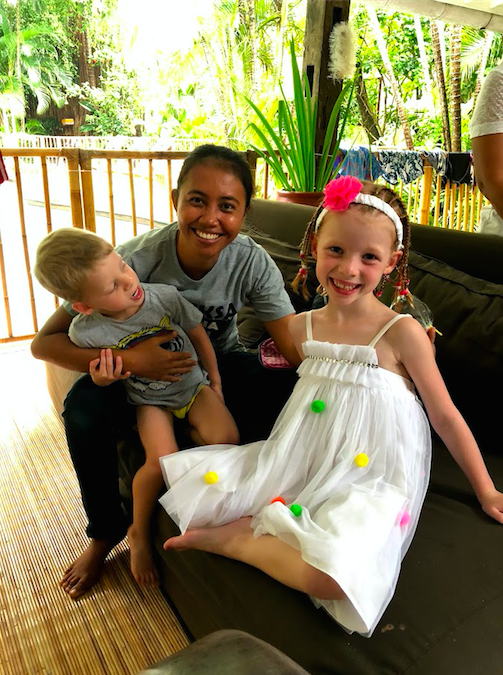 Whilst my children have had probably 100 sleep overs at our Mums houses, and they go to daycare, they have never actually been minded by a baby sitter, or someone they don't know! I was a little nervous about having a Nanny, but as a group, we'd decided that it we would take full advantage of the rave reviews of several friends and book some to help us. Our Nanny Sri was everything we could have hoped for. My kids loved her so much that Ella cried for hours the night she finished with us! We found Sri via word of mouth, and my tip with Nannies is to go by reccomendation. They all are on WhatsApp and Facebook. Dates are booked directly with them. Our Nanny was first aid trained and also swam with our kids (bonus!). Nannies range in price but average at $6/$7 an hour. We changed our hours each day, but ended up basically having her come around 2pm each day, swimming with the kids in the afternoon and then doing bath, dinner and bed with the kids. We would come home around 10.30pm at night. We did have  break in between for a couple of days as we felt our kids needed some full days with us. We can't wait to book Sri again!
Places to have fun together
For the Mums –  Body Works. Open for over twenty years and heralded as the initiator of the Seminyak day spa model now so popular in Bali, Bodyworks positive reputation is built on the consistent delivery of high standard massages and beauty treatments to guests that come back day after day and year after year. You need to come here and have a Cream Bath. Think a hair treatment / massage in one. Quite simply the best treatment I've ever had. The prices are so low, you can get a treatment each day!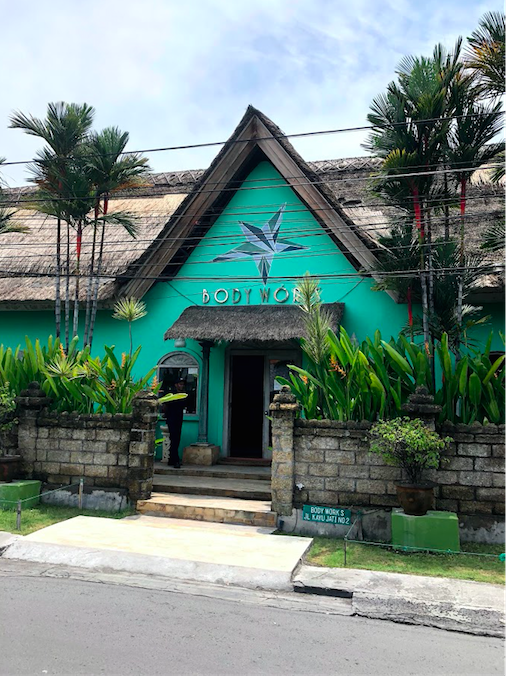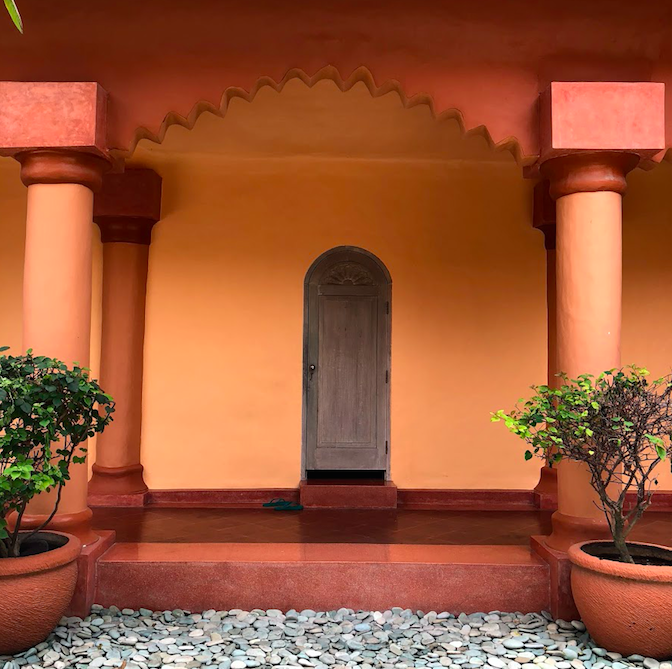 Splash Land – Located at Finns Recreation Club in Cungii, this is an awesome place to spend a few hours. A smaller water park with a kids area and slides, it is also a place to get some sun and drink a few cocktails whilst the kids enjoy the water!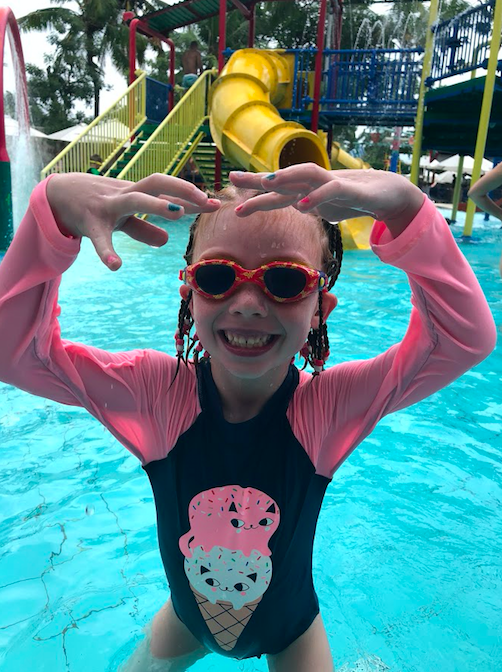 WaterBom Park – Our biggest day out. Think Wet N Wild on sterioids. With such a big group we went for the 'Total Package' which gave us:
VIP entry
Free photos (digital images that are taken throughout the park)
1 hour massage each
Kids choice of trampoline / hair brading + water balloons
1 meal and drink
Conceirge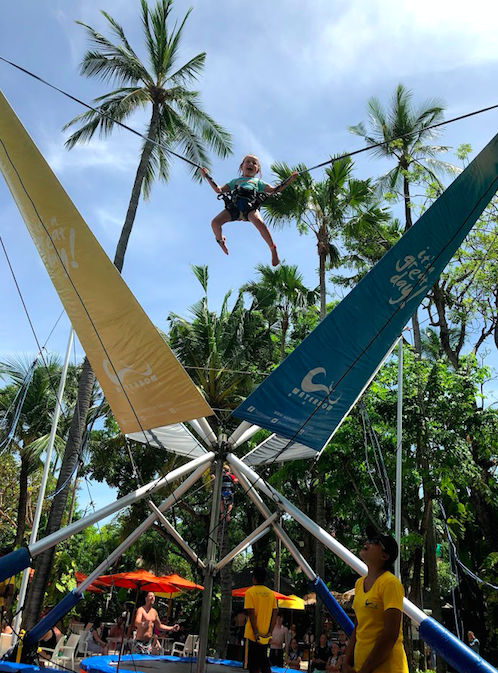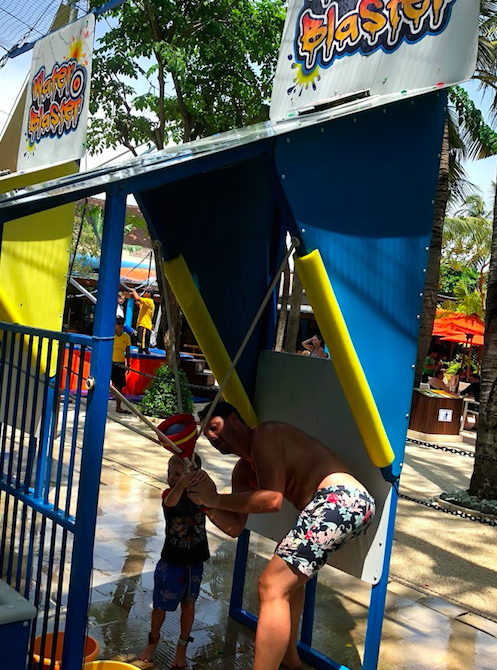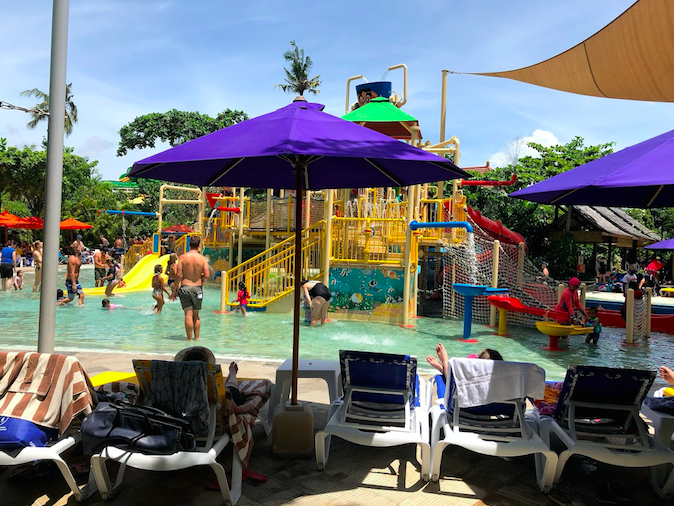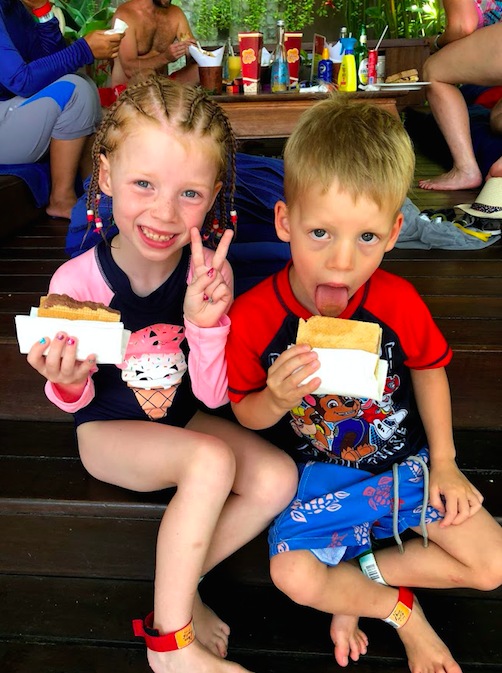 We hired our own 12 person cabana for the day which is a must do. All of the above is totally worth it.
Other essentials you need to know about Bali
One of the biggest things about Bali is being careful with the water. Bottled water is replaced hourly at the villa. You need to ensure that you use it for all drinking, washing of teeth etc. The kids bathed and showered normally, but never drank the tap water. Villas and restaurants are very good at ensuring that food is washed, and ice is made with purified water, but it is always good to ask. We travelled with seven children under 6, including a five week old (who never went in the water at all, just to be sure) and none of us got sick!
Avoiding mosquitos is one of Bali's biggest challenges. Arming yourself with considerable repellent (we used BUG OFF) is a must, and also purchasing special mosqito patches is a fantastic idea if you don't want your child covered in cream: http://www.kmart.com.au/product/mozzigear-mosquito-patch—pack-of-10/988836
Something to consider is pre writing a shopping list and emailing it to your Villa manager before you go. They can pre buy for you and you can have everything you want when you arrive!
You will see a lot of poverty. Lots of kids begging, and mothers asking for money. It's a good idea to talk about it with your kids before you go.
We had a driver with our first Villa who we recruited to stay with us at our second. Finding a good driver is key as the taxis can rip you off big time!
The shopping in Seminyak is fantastic! Especially for kidswear!
Take packet of Zooper Doopers and put them in the freezer when you arrive! Icy poles are hard to come by.
Pack pools toys! Zoggs are fantastic!
In terms of other destinations, we didn't venture our of Seminyak, but plan to next time once the kids are a bit older!
VISA: if you are staying for a holiday less than 30 days, you do not need a visa as long as your country is on the following list. For more information head to: https://www.bali.com/visa-indonesia-entry-requirements-bali.html
Other than all of that, make sure you travel with an epic crew. We are so blessed to have the best friends in the world to travel with, and our children are so lucky to be creating such fun and joyous memories!  hope those tips help you out a bit! We had such an amazing time, and once we found our feet, enjoyed every blissful second!
Until Next Time!