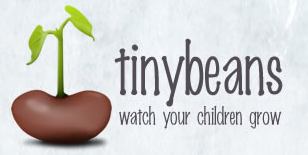 'Tiny Beans' – Watch your children grow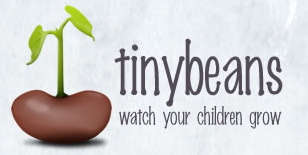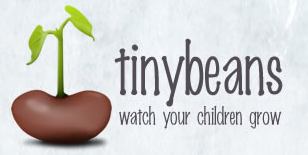 As with Instagram, I am a big fan of super simple ways of capturing daily memories of Ella growing up. Being able to capture photos on my iPhone has become something that is almost a reflex. Any app that can transform a somewhat hopeless amateur shot into a masterpiece is high on my list of Mummy friendly apps!  Then there comes the debate about sharing photos, and to what extent do we share them with the world. As a parent who is an avid lover of techno gadgets and anything starting with the letter 'i', I know that Ella will indeed be a well captured baby. I also know that being the first Grandchild, her family are always asking for current snaps and images that show her smiling, laughing, staring, slob erring….any old thing really. Never before has it been so easy to share our photos of daily moments with family and friends, and with social networking mediums such Faceboook, Twitter and Instagram, parents can share to their heart's content.
The issue of 'over posting' of photos however, is a topic that is gathering momentum. As a new parent, I am happy to share photos of my gorgeous girl, but am conscious of bombarding people with more and more pics each day. There are some people in my social networking world who are only too happy to see a daily shot of Ella rolling around the floor or wearing her Essendon Beanie, but I also know that there may be some people who must curse the FB phenomenon of endless babies popping up every hour in some sort of cute pose or outfit! On behalf of new FB parents everywhere, we are indeed sorry! However I want to continue to share in the delight of capturing my gorgeous grow grow each and every day.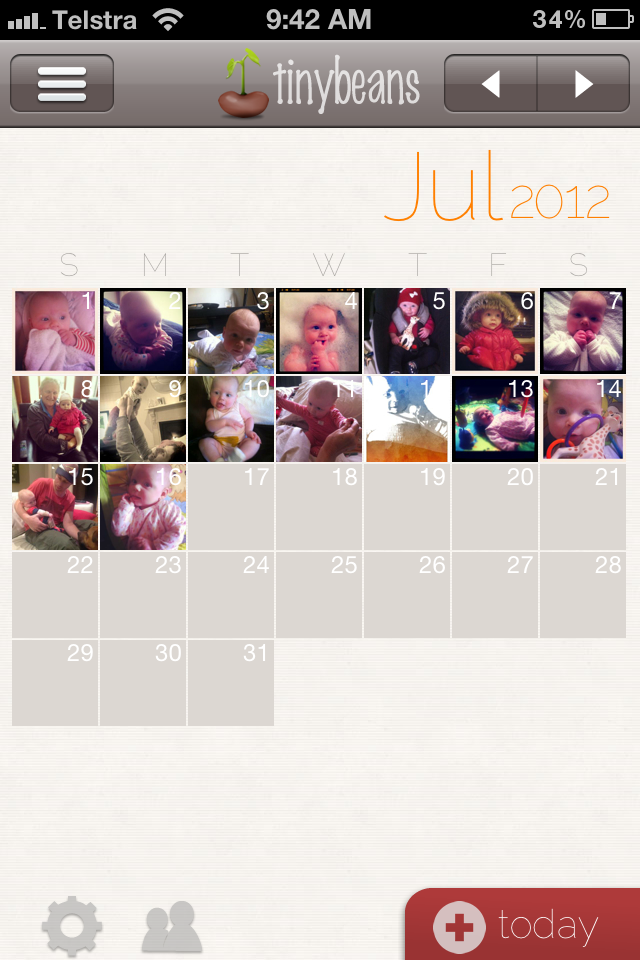 Tiny Beans is an app that came across my Mac desktop via the fantastic blog – Babyology. I have been looking for a way to be able to share a private photo gallery online with my family, so that they can still get their daily 'Ella fix' without needing to bombard all my FB friends at the same time. I mean, I know she is cute, but we are indeed biased like all parents!
Tiny Beans is just fantastic. It is a simple app that allows parents to capture moments on their smart phone and upload them to a daily calendar photo journal. This journal can then be as private or public as you like, with the ability to invite people to view, edit and add to the photo journal. You can access Tiny Beans either on your phone or with your log in online. You can even log in as a FB user.
Tiny Beans can also be linked to your FB, Twitter and Instagram accounts. When posting a picture to Tiny Beans, you have the option of sharing it on FB, or simply keeping it private to the journal. If you post a pic via Twitter or Instagram, you simply need to add the hashtag #tinybeanskids to also add the photo to your own Tiny Beans Journal. Tiny Beans also has a great range of  filters to enhance your photos, rather than needing to use a third party app. Those who can see the journal can add comments as well.
For those of us who love using technology to follow our kids grow each day, Tiny Beans really is a fantastic way to share the journey with your loved ones in an intimate way. Ella's Nanna loves checking in each day to see her little 'sweets' – and even sends be a subtle reminder when I have forgotten to upload a daily snap! Which reminds me….I need to upload one for today!
Tiny Beans is available via the iTunes store
To visit the Tiny Beans website, click here
To view the Babyology Tiny Beans review, click here

Images via www.tinybeans.com and a screenshot from my iPhone!