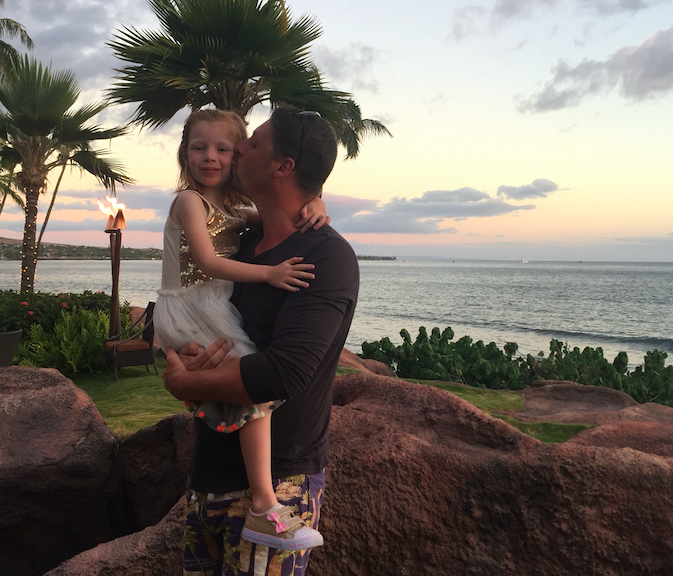 How to have an amazing holiday in Hawaii, with kids.
Last week we left the sunny beaches of Hawaii and after what felt like an eternity, landed in cold old Melbourne. It was an amazing, long overdue holiday, fifteen days of fun in the sun. Time for us to just 'be' with each other. No work, no kinder, no daycare, swimming lessons, parties, play dates. It was my first time to Hawaii, and my husbands second. Albeit a very different one from the time he holidayed with his family when he was 16. I'd always wondered about Hawaii. I'd been told that it was paradise, but also an up scale version of tacky Surfers Paradise. Well after venturing across the Pacific with our two children for two weeks, I'm happy to report that Hawaii is, indeed, an island paradise. Beautiful and warm, we were lucky enough to be holidaying in the height of summer. We split our trip up into three parts, five days each in Honolulu (Waikiki), Maui and finally a trip back to Oahu to Aulani, the Disney resort. I'll actually be posting a separate blog feature on Aulani, as it is, well, an epic place that needs it's own post to do it justice!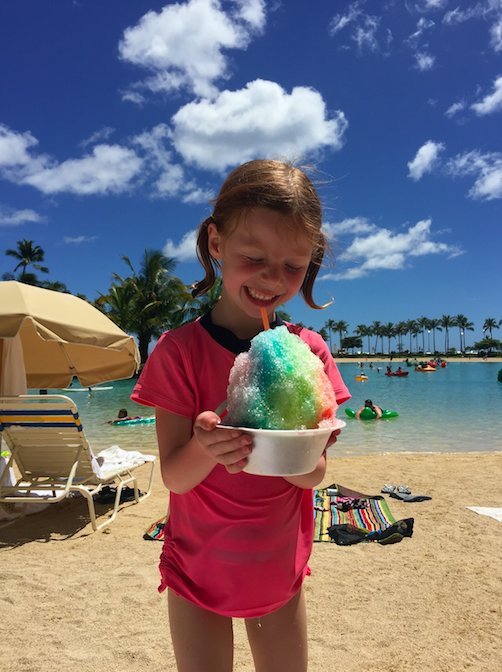 Like all holidays with children, you can have both an amazing time, and an amazingly terrible one. I loved and learnt many things about Hawaii. It's equally important to know what NOT to do, as well as what TO do!  Like all places, you need to find your groove, work the place out and just play the game. Once you've sussed it all out, you can expect to absolutely love the place. This post is about sharing my tips and tricks so that when taking children, you can head to the island paradise and actually enjoy yourselves. They say that holidaying with children isn't actually a holiday, it is just a change of scenery. This is true for the most part, unless you actually do your homework and find out, from people who have been there, how to have a great, no fantastic time. I hope this post can in turn help you to head to Hawaii and have a blast like we did.
Getting there
We flew Jetstar and our 11 hour flight was at 4pm AEST. This was actually a fantastic time to fly, as our children spent the first few hours enjoying the excitement of flying, eating all of the snacks I had prepared and generally having fun. After a few hours I changed them into their PJ's (on reccomendation from a friend!) and they went to sleep at 'normal' bed time. This meant that they actually slept about 6/7 hours. When we arrived it was 6am the same day Pacific time. The time difference to Hawaii from Eastern Australia is -20 hours. This actually worked in our favour as it meant that jet lag was reduced, being almost a full day behind. My advice would be to:
Pick a late afternoon flight
Pack a pillow and blanket for your kids (most airlines now charge for these necessities)
Make sure your iPads are loaded and charged
You can download tv shows and movies from Netflix, straight to your device and watch them offline without internet. Yep!!!! It's actually fantastic, amazing. You don't need to spend a fortune buying TV shows on itunes if you have a Netflix account! We watched episodes of My little Pony, Doc McStuffins and Care Bears. Best thing ever! To see how you can do it, visit here.
Pack little zip lock bags of snacks
Another fantastic tip was the carry on luggage we took for the kids: Trunkies. I must stress that this is NOT a sponsored post! We were given Trunkies as a gift for both our children when they were born. In case you haven't seen them before, think a small, plastic suitcase with four wheels on the side. It essentially is a suit case that becomes a ride on scooter, with a long handle that allows you to drag your children around the airport. I kid you not this was a life saver. It meant that we did not ever have to carry either of our kids, and they were generally happy to ride along and wait in the queues. Absolute winner. To see them in action, view the video at the end of this post!
Stop No. 1: Honolulu – Waikiki – Hilton Hawaiian Village
After arriving at the hotel by Cab, we unfortunately realised that we had left one of our bags at the airport. Tip no 1: make sure you have all your bags BEFORE you leave the airport. Once we had averted that disaster, and recovered the baggage, we arrived but also realised that we were there hours before check in. Luckily we were able to check out bags, get changed and enjoy the pool. If you haven't been to the Hilton Hawaiian Village then picture 7 towers built around three HUGE pools, right on the beach. You may know the iconic Rainbow Tower that has been used in several famous movies over the years. This hotel is a true village. Everything you need in one place. The pools are insane. The beach is insane. The man made lagoon is – insane!! It was an amazing place that we thoroughly enjoyed. We also loved the fact that it is close to the bustling centre of Waikiki. I found the whole place beautiful, and I was pleasantly surprised! Like all things however, there were absolutely Dos and Don'ts. Below you'll find out hot list that I truly believe would make or break any holiday!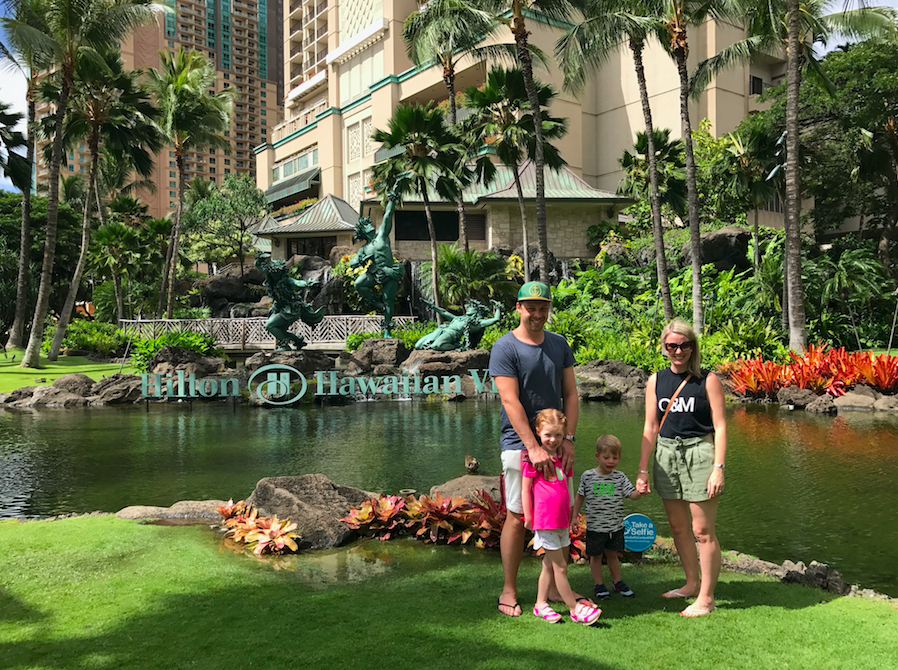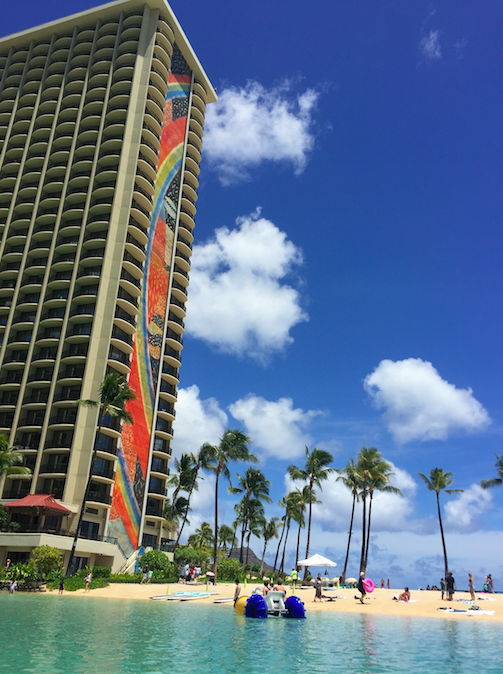 Do take your kids scooters! We are past the days of taking a Pram, and taking the kids scooters changed our holiday. We took the stick off and flat packed them! It was fantastic to see the kids scooting along at night, enjoying the scenery. It also meant that we didn't have to carry them once. ONCE!
Don't expect to head out to dinner and get in somewhere if you haven't made a reservation.  Make sure you book your dinners in advance. The first night we were there, we walked around for two hours because we couldn't get in to anywhere! Use the app OPEN TABLE which makes finding great restaurants a breeze. You can read reviews and pick a time that suits you. This is my absolute biggest tip in travelling to Hawaii.
Do use your concierge to make reservations at external resorts for you. Ours was fantastic and got us into the infamous Cheesecake Factory with half the wait time (which is generally two hours. no jokes!)
Don't bother taking floaties etc. There are ABC stores almost every few hundred metres. These are like small supermarkets / 7 Elevens. You can buy them really cheap and for an extra $1 you can have them enflated too! You can also grab basics including fruit, cereal, milk, juice, champagne here!
Do bring your own nappies. They cost a fortune over there!
Don't eat breakfast at your hotel unless you want to pay a fortune. Either make sure you have breakfast included in your package, or find a local coffee shop. We found a gem (listed below).
Do pack small plastic bowls, forks and spoons. The hotel rooms in Hawaii are very sparse on the basic utensils you would find in Australia resorts. There isn't even a kettle! Designed to get our out of your room and spending money at the restaurants, we found getting a few bowls etc helped after a few days!
If you head to Pearl Harbour, you either need to a. arrive super early (like 6am) to obtain a ticket to allow you to be taken by boat to the Arizona memorial. Or, if you are like us who had no idea you had to do that, you could, at 12.30pm head to the area where tours wait, and after each group goes through (there is one every 15 minutes) as they guide if they have any 'stand by' places. These are people who have dropped out after finding out that you can no longer actually dock at the memorial. We were lucky enough to snare a space, and headed out to the memorial by boat. Whilst we didn't actually dock there, it was incredibly moving to both hear and see the place where this historic wartime tragedy occurred.
Similarly, if you want to head to Hanuama Bay, make sure you do it early. Being a small bay, the council restricts the amount of cars allowed in at any one time. Unfortunately we arrived at 12pm and it was full. We made do by heading north to other beautiful beaches.
We went to the Waikele outlets. To be honest we were a bit disappointed. Great runners, but that is about it!
Definitely scope the internet for great deals on car hire. We snared a new Range Rover convertible for $70 for the day!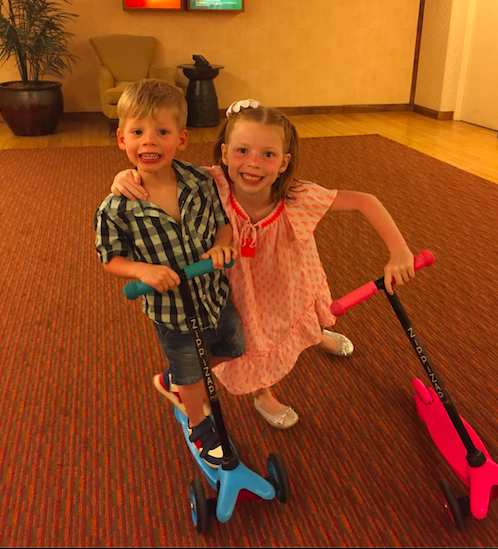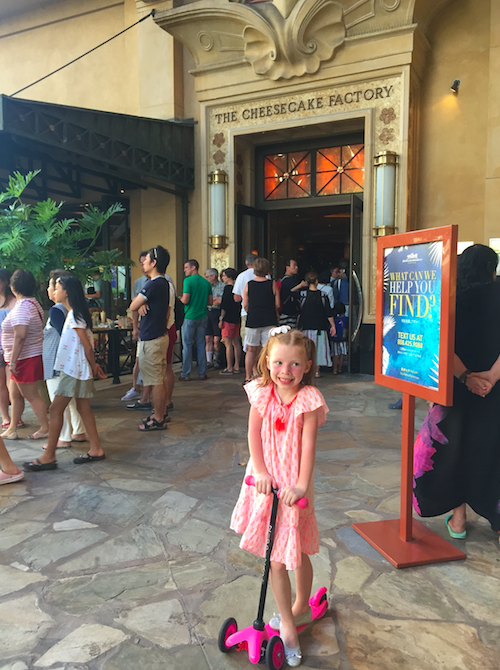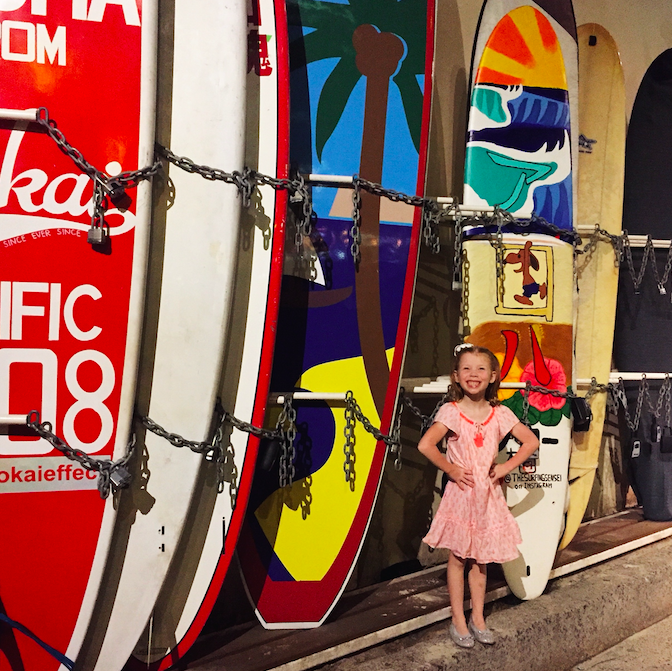 Places to eat in Waikiki
All of the restaurants are extremely child ('Keiki') friendly. We ate out at lovely restaurants each night and was very impressed by the fantastic menus offered to children.
Roys: Beautiful modern Japanese, Roys was delicious. After jumping the queue because we had made our reservation on Open Table (winning) we were greeted by lovely wait staff. The entire meal was delicious and made even better by the way they treated the kids.
Cheesecake Factory: Don't be fooled by the name. This place is in fact a huge restaurant with a menu spanning twenty pages. Firstly, don't expect to wait less than two hours to eat, unless you get your concierge to call ahead. Our wait time was halved, and we were seated in half an hour. The queues here are unbelievable. This place is BU-SY! That said, once you sit down, the food, the drinks, the cheesecake is ah-mazing. An absolute must!
Dukes: Located in the Outrigger Hotel, Dukes is an icon of Waikiki. Again, make sure you have a booking!
Tropics: Located on the beach at the Hilton Hawaiian Village, this place is very relaxed and has great food, drinks and music. The perfect place to eat before the fireworks!
Finally, if you stay at the Hilton Hawaiian Village, make sure it includes a Friday night. There are spectacular fireworks on the beach, right out front of the hotel at 7.45pm, attracting most of the tourists in the area. Such a fantastic experience! You can see them in the video below.
Stop No 2. : Maui – Hyatt Rgency
After a super quick, 30 minute flight we arrived in true Paradise. Let me just say that Maui was may favourite. After renting a Mustang, we drove ourselves to Kaanapali and arrived at the Hyatt Regency. Wearing our fresh leis, we met the Penguins (yes Penguins!) and headed up to our Ocean View room. Maui is beautiful. Less people, less craziness, less stress. Everyone seemed relaxed here. From the insanely cool pools that included an outstanding children's' area where we could laze in our deck chairs, but still feel close enough to our children, so the cliff top restaurants where you can watch the sun set. There are even flamingoes and swans roaming around the gardens. My absolute recommendation to everyone travelling to Hawaii is to stay in Maui. One of the best features of this strip of hotels is the beach front board walk that leads you past each resort, and takes you to a small but happening village of stunning restaurants and shops (ie. Sephora). This was true Hawaiian paradise and I wouldn't hesitate to go back! In fact I hope we do!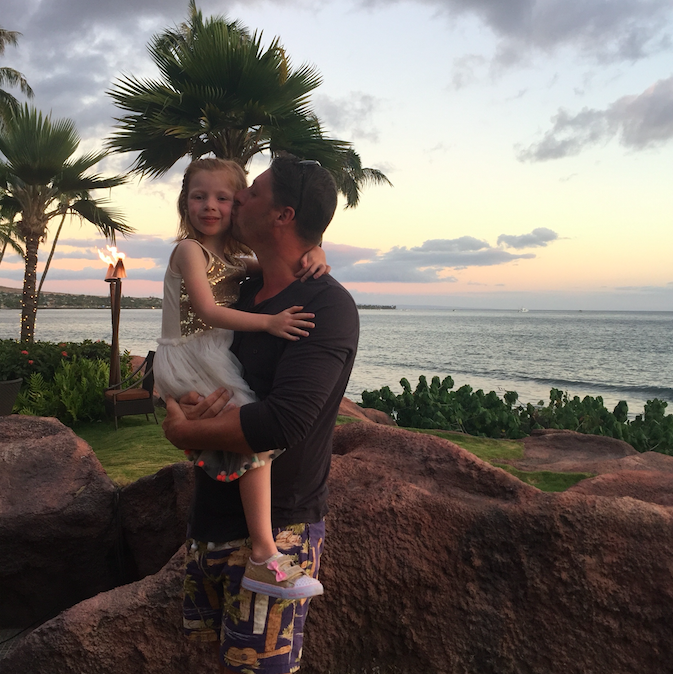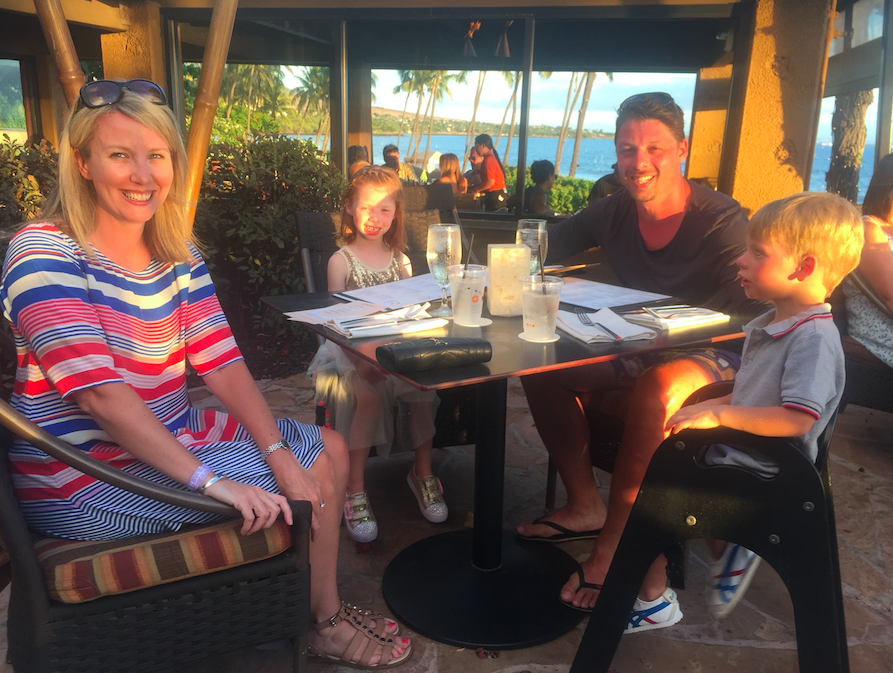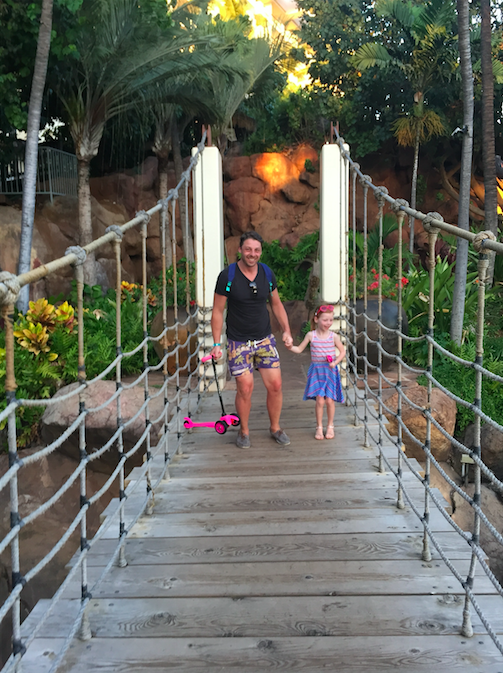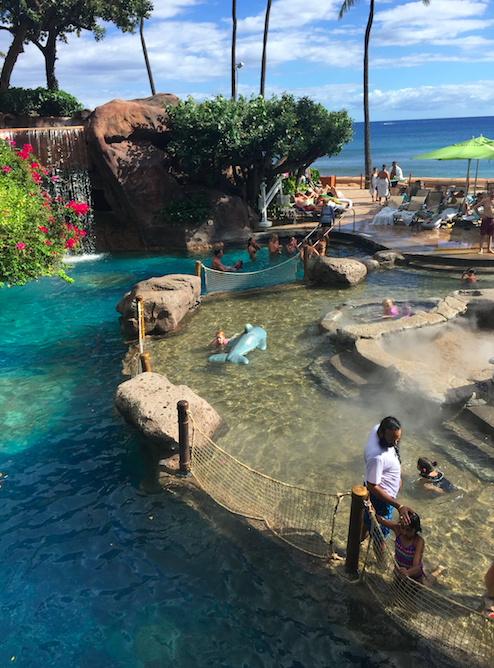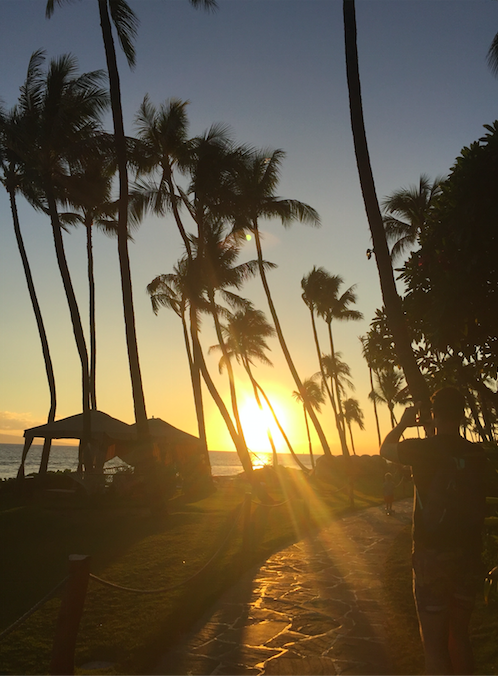 Make sure your breakfast is included. We had a full buffet breakfast each morning and it was delicious.
Do get an extra fold out bed for your kids if you need it. We did when we got there and it was a great investment.
Do rent a car. We had a mustang and for $20 each day we could cruise around and explore the amazing beaches!
Do take a MAP!
Do head to Black Rock for snorkelling!
Places to eat in Maui
Stop No. 3: Honolulu – Aulani – Disney Resort
Stop 3 was what can only be described as an epic place. So epic that I've decided to do a separate post al together. There is simply too much to say. Both what to do, and what not to do to ensure that you have a great time with kids. It is an amazing resorts, but SUUUPPPEEERR busy. The kids had a ball, and next week I will share everything we learned, very quickly about what you need to to to maximise your time here!
So that's it for now. Please, please, if you go to Hawaii, make sure that you follow my tips. As a Mum who wanted to both have a holiday with my kids, and a relaxing time with my husband, we found that we were indeed able to have both, by following some simple rules of thumb.
To see a little more of our amazing time, view the little video below. Stay tuned next week for my post about amazing Aulani!