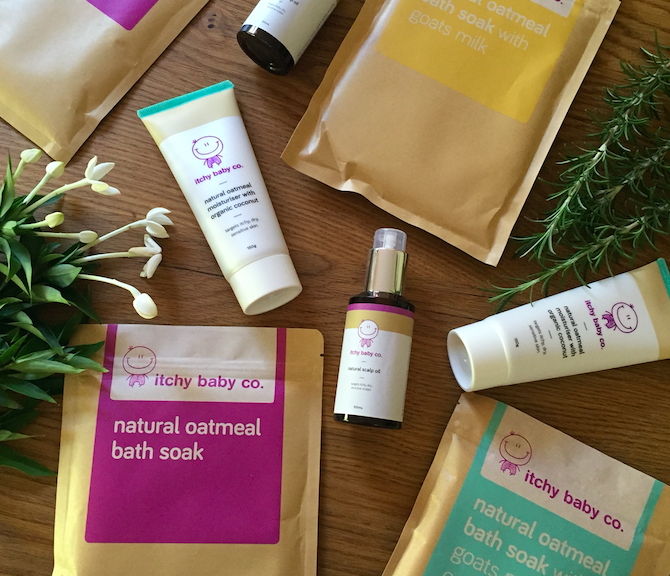 Review & Giveaway: Itchy Baby Co
*Please note that whilst this is a sponsored post, all opinions and findings are my own.
If you have a child that suffers from allergies and skin irritations, then you know the heartache that comes with trying to ease your child's pain and discomfort when it flares up. My Ella, with her Irish red hair and milky white skin, unfortunately suffered her first Eczema break out in her first summer, when sun cream was applied to her arms and neck. In the common 'sweat spots' her skin quickly becomes dry, scratchy and irritated. Often advancing quickly into red and raw sores that can be so painful. I quickly learned that particular brands of sun cream were her enemy, as were soap based cleansers. We have medicated cream on stand by for times when it gets particularly bad, but I've always kept my eye out for gentle products that help protect and nourish her fragile skin, particularly in her elbow areas.
So when I was approached by the Itchy Baby Company to try their range, I was excited to hear about their similar, back story. Developed in Australia by a pharmacist mum , Julia Simmonds, her son's eczema is the reason behind itchy baby co. She 'had hit rock bottom'. Admitted to hospital with her toddler's infected eczema covering more than 75% of his little body. Despite having tried product after product, countless visits to the doctor and listening to anyone who had any advice to give, here she was. Felling guilty, helpless and utterly desperate to help her little boy.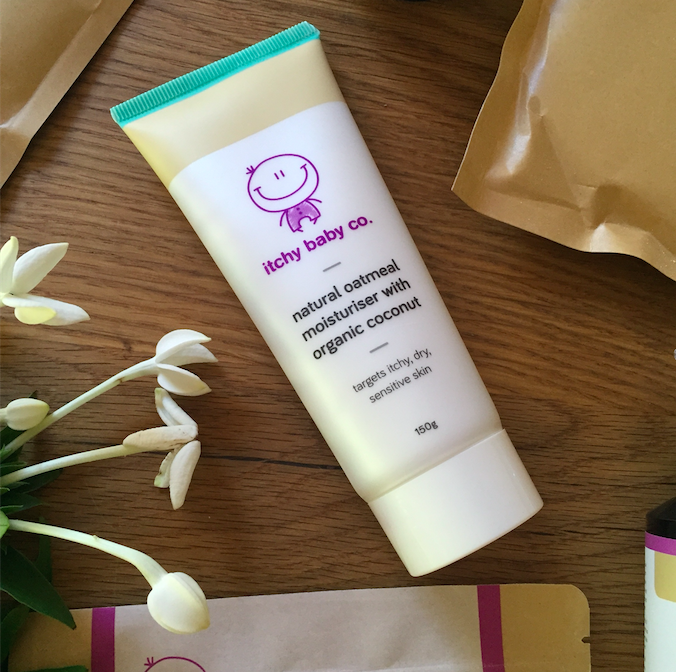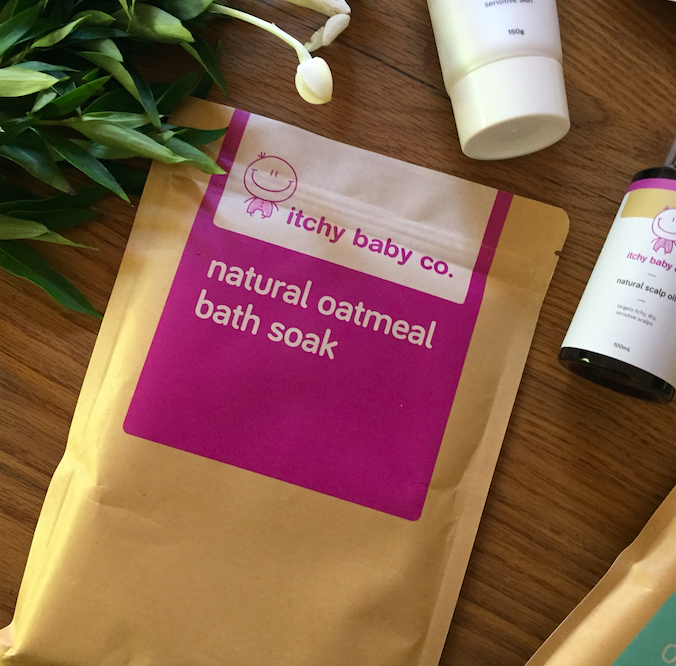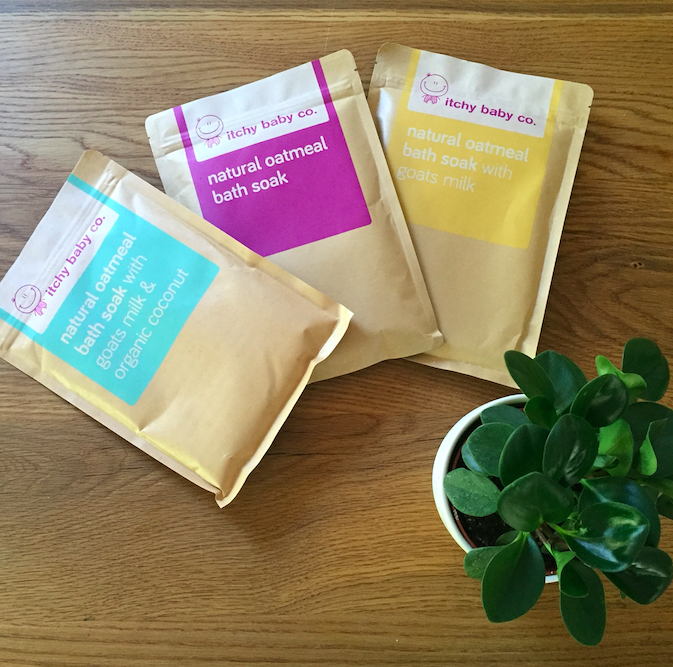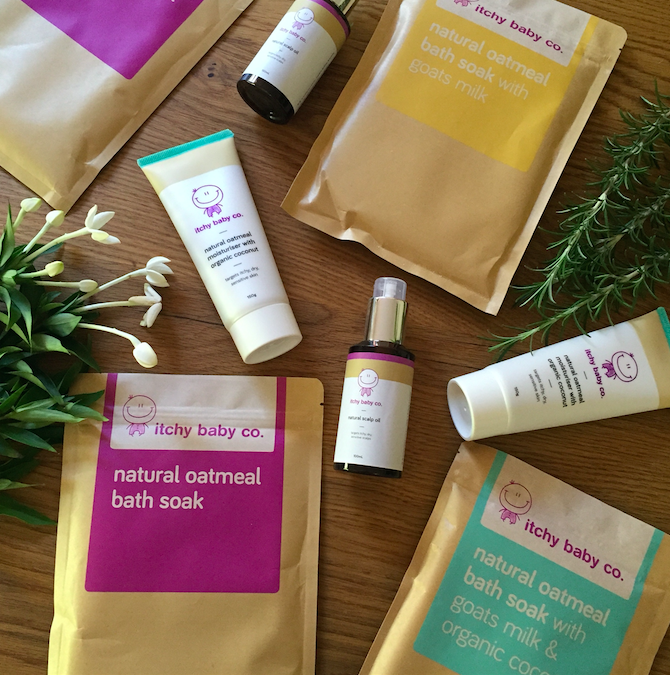 Eczema is so challenging and we deal with it every day through the emotional heartache and practical problems it throws our way. Julia's product range contains only the goodness of natural ingredients to nourish and hydrate your child's skin without any chemicals or irritants.
I was lucky enough to try the following products from their range:
Natural Oatmeal bath soak
Natural Oatmeal bath soak with goats milk
NAtrual Oatemal Bath Soad with goats milk and organic coconut
Natural Oatmeal moisturise with organic coconut
Natural Scalp Oil
I've been using the bath soak in the bath with both my children each night. I've followed this with using the moisturiser on Ella's skin. I've noticed that the areas, particularly on the inside of her elbows have remained clear and free of any irritation. Ella would sometimes wake in the night with irritated and itchy skin, and this has not happened at all during the last fortnight. IT's been wonderful and I would so far recommend the range to anyone!
I'm thrilled to be able offer one of my readers the chance to win their own chance to experience the Itchy Baby Co range. Thanks to Itchy Baby Co, I am giving away an amazing prize pack including:
1 x Natural Oatmeal Bath Soak ($14)
1 x Natural Oatmeal Bath Soak with goats milk ($16)
1 x Natural Oatmeal Bath Soak with goats milk & organic coconut ($16)
1 x Natural Oatmeal Moisturiser with organic coconut ($21)
1 x Natural Scalp Oil ($18)
Total Value of product: $85
To WIN:
Head to Instagram
like the image for the blog post, follow @happyellaafter & @itchybabyco
List which product from their range you would love to try most, and how it would help your family.
Tag a friend (no comp accounts please)
One winner will be chosen on (date to be advised)
To view their range and shop, head to : https://itchybabyco.com.au/shop/
Comp is open 8pm Thurs 18th April AEST and closes on Sunday 21st April at 9pm AEST. No comp accounts please. Australian residents only.
This giveaway is not sponsored, endorsed or administered by Instagram. By entering you are releasing Instagram of any and all responsibility and agree to the terms of use.
Please note: For best results we recommend bathing in itchy baby co. bath soak every day and applying our itchy baby co. moisturiser immediately after the bath, while the skin is still damp. Our moisturiser can be used as often as needed throughout the day. · It is important you patch test itchy baby co. products first for allergies. Although they develop their products without irritants everyone's skin can respond differently to natural products.