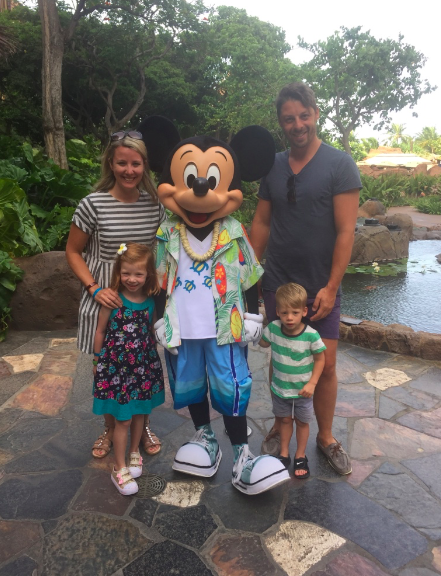 Hawaii with Kids Part 2: Aulani Disney Resort
I was so thrilled to receive such positive feedback last week following my epic post about travelling to Hawaii with kids. I really hope it helps you to have a great trip! As you know, our trip included three stops: Waikiki, Maui and finally, the Aulani Disney Resort. The later simply needs it's own post. It's an epic place. It's huge. It is, well, Disney. Disney, not in it's stereotypical form. You see, this place is one of those once in a life time destinations, but it should not be mistaken for the traditional Disney resort.My first tip is to make sure that you are aware of that. It is, however, incredible, magical and a place you will remember forever. It is a beautiful resort with subtle touches of Disney. Each room for example has a beautiful Mickey lamp, and in the murals you will see around the resort. Of course, the characters appear and bring the magical touch of Disney to life.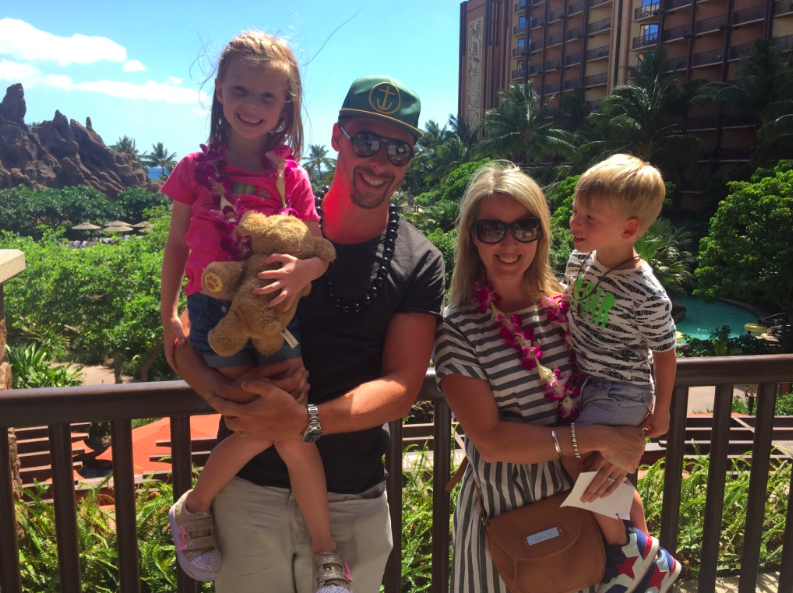 Arriving at Aulani, you are firstly taken by the incredible manicured grounds of Kapolei – the tiny and exclusive suburb, home to this incredible resort, and a few others. Built in 2011 it cost almost $1 Billion to construct. This gives you an insight into vast space that this hotel now occupies. Aulani was built to respect and celebrate the customs and traditions of Hawaii. You and your children will be in awe of the amazing spaces that pay homage to Polonesian culture, as if to transport you straight into 'Moana' itself. You may also find yourself a little overwhelmed, standing on the huge balcony overlooking the grounds, including the incredible, man made volcano sitting directly in the middle of the resort. Every where, you will see people, water, slides, pools. It does take a couple of days to find your feet at this place, and I'm proud to say that I had the trusty advice of a close friend at hand, who had been to Aulani several times.
Everything here is epic. The number of hotel rooms, the setting, the pools, the water slides. It's all incredibly put together.  Aulani is a place for children. It is a wonderland for little minds. It is a place you take your family to, to experience and remember. Whilst Disney is proclaimed to be the 'happiest place on earth', I wouldn't call Aulani the most relaxing place on Earth. This is by no means a criticism, it is just something that you need to keep in mind, particularly if you have little ones too small for the incredible kids club. If you are lucky enough to have children who are (three years and older who are toilet trained), then by all means….call it relaxing because that is what you will do!
Kids Club : Aunty's Beach House
Aunty's Beach house is home to their free kids club. Quite possibly the best thing about this place. It is….ah-mazing. As mentioned above, it is free (with optional paid workshops and food for meal times) to all children from three years and up who are – toilet trained. Alas, our Huddy is indeed three, but when it came to ticking the 'promise' that he is 100% toilet trained, we had to bite the bullet and just let Ella go herself. They did tell me that they know accidents do happen, and have a 'three strikes' rule, but we knew that this would give Huddy about 1 hour before getting kicked out. We also didn't want to jeopardise Ella's spot, so for four days, she went solo.
There are two things you need to know about this place. You can either drop them off any time during the hours of 9am-9pm to just play in one of the many rooms (TV Disney room, art and craft room, games room, outside play area) OR you can sign them up to one of the workshops held throughout the day. Some of them are free, some are paid. You can also pay for them to have lunch or dinner there.
Now pay attention! This next part is THE part you need to know. To get your kids into the workshops you need to get up early and sign them up. Early as in they open up the tickets at 7.30am but people queue from 7am. Yep, 7am. You basically wait in line and if you are lucky, you get your kids into the workshops you want. If you need to pay, you do that to.
Before your kids can go, you need to complete an extensive medical and safety registration. For obvious reasons. Each child then receives a GPS tracking bracelet for a refundable $12. Ella kept hers as a souvenir. Once your child is inside, they either take down your phone number, or if, like me and you have an OS number, they actually give you a loan mobile incase they need to call you. It is all super safe, super secure. These guys have this place locked down!
Ella had literally been going on about Aunty;s Beach house for weeks leading up to our stay there. When we got there, she was initially excited, but as Ella does being quite sensitive, cried her eyes out when she realised she didn't know anyone. A gorgeous teacher helped a Mum out and took Ella's hand, reassuring her that everything would be fine. And it was. Three hours later, she came back telling me that she wanted to go again. She went each day and had a ball. She even got to feed the fish in the amazing snorkling area~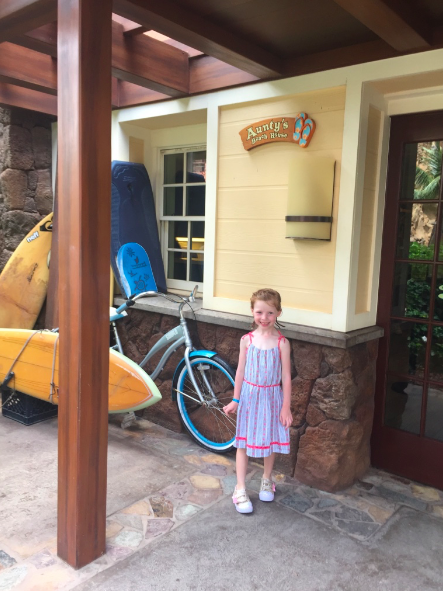 Character Breakfast & activities
One of the biggest lessons I learned about travelling in Hawaii is the need to be planned. Nothing happens last minute. If you turn up to your holiday expecting to get into things, you will be greated with the question 'have you already made a reservation?'. Whilst answering 'No' may seem logical, particularly given that you just arrived, it is in fact a major rookie error. You see I thought that I would be able to arrive and get us into the infamous 'Character Breakfast'. I was motrified to find out that most people actually booked the breakfast six months before hand. I was given the advice to go straight to the restaurant upon arrival to ask (ie. beg) them if they any spots available. Lucky for us we got in later that week. My big tip is to book this before you go to avoid disspointment, and general panic.
This breakfast includes a buffet selection of amazing treats, Mickey pancakes, eggs, fruit, waffles…anything and everything you can imagine. It also involves an intimate audience with Aunty herself and your favourite Disney Characters: Mickey, Minnie and Goofy. Children are invited to dance, sing and join in a parade. Characters visit each table and encourage you to take as many photos as you like. For approx $90 per family of four, this is truly a highlight. The resort offers a Luau, but for the cost (approx $400 for us), we thought it was too expensive and didn't bother.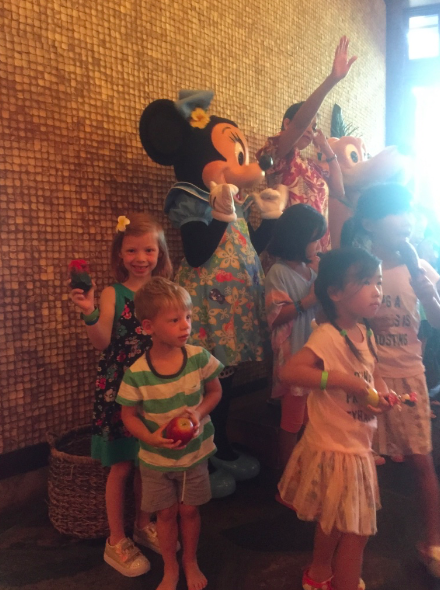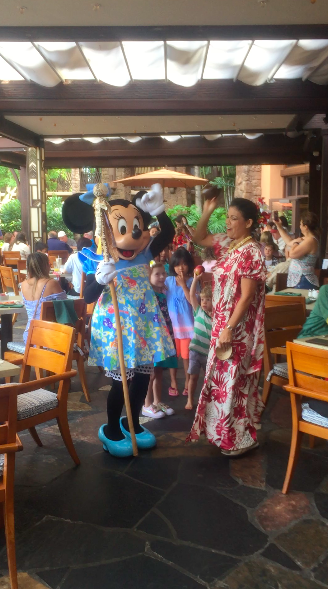 Each day there is a resort newsletter outlining the activities. You will often see the Disney Characters around the pool, or at spots thorughout the resort for photo opportunities. They also have pool partiies, movie screenings and various activities run by the characters.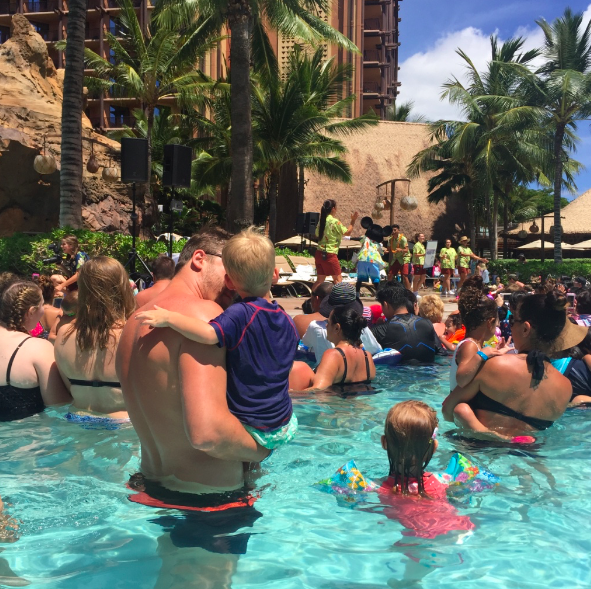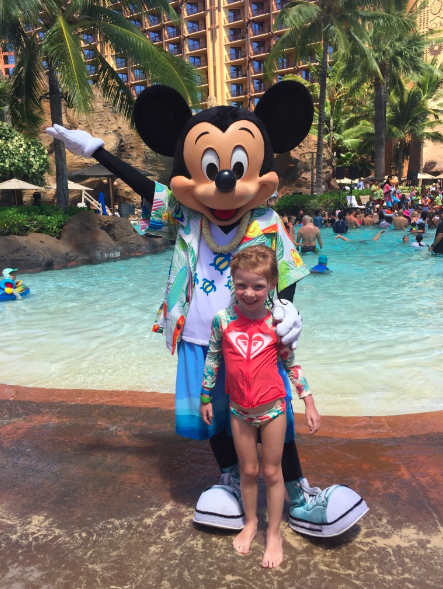 Swimming: Pools & Slides
Like most resorts in Hawaii, each day you receive a coloured wrist band. The colour changes each day to ensure that only current guests are able to use the facilities. Only those with the day's wrist band, are able to obtain towels. The wrist bands are available from 8am. Similar to Aunty's Beach house, a long line quickly develops, as guests get their bands, towels and deck chairs for the day. The resort has a strict 'no reservation' policy. This is to ensure that peple don't hog the chairs. However, we quickly worked out that people do, and find loop holes. Whilst waititng in line, we saw several people sitting on deck chairs beofre 8am. Clearly, people used to take their gear down, sit on the chairs of choice whilst others lined up for the bands / towels of the day. There are literally hundreds of chairs throughout the resort, however, it is truly astonoshing how quickly these fill up.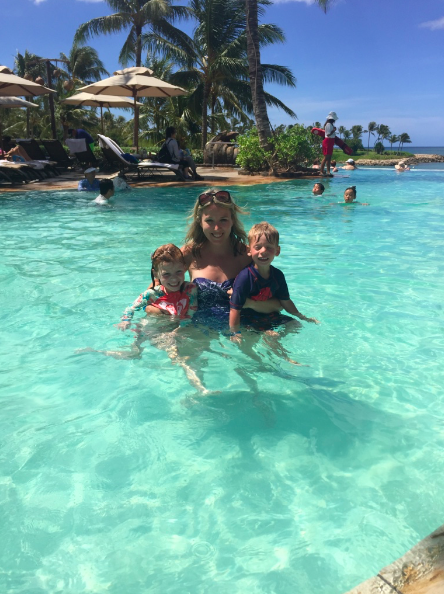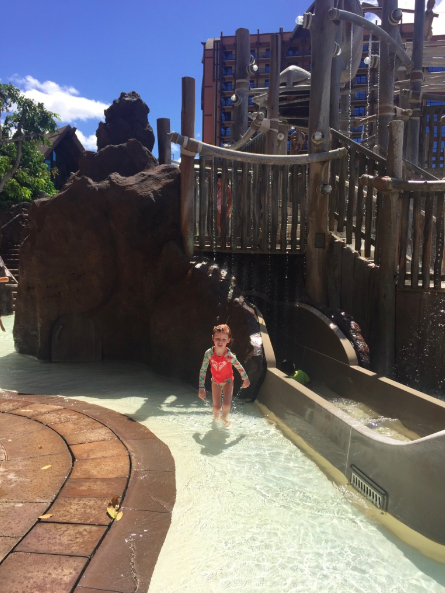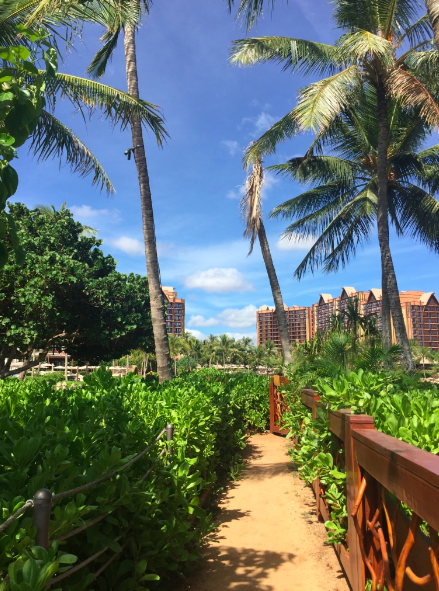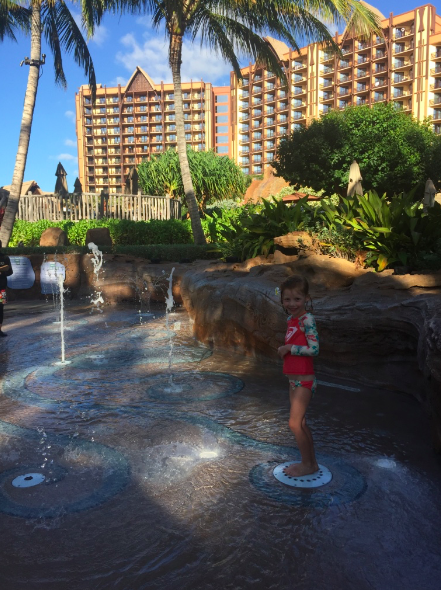 Each hour, pool attendants walk around checking the chairs. If you have not been at your chair in a while, a white towel is neatly folded and placed over the back of your chair. This serves as a marker / timer. Basically you have 1 hour to return to your chair and pull the towel down, or else your belongings are taken and stored. This ensures that people do not leave chairs unoccupied for ours at a time.
My tip is to get in early, after you sign your kids up for Aunty's beach house. Use your chair as needed, then leave it free for someone else.
There are several pools throughout the resort, hot spas, a fabulous lazy river, stunning beach lagoon and two epic waterslides. Honestly it is fantastic! You might even spot Mickey!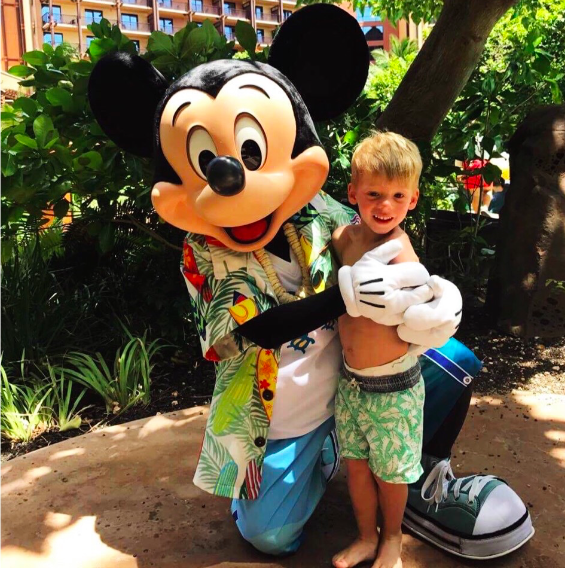 Food Options
Breakfast  / Lunch / Snacks: We didn't have breakfast included at this resort. In terms of restaurants at the actual resort, the options are somewhat limited. Food  and drinks are available all day by the pool. Grab and go packs are also available at various outlets throughout the resort. We would get croissants and beautiful cinnamon donuts each morning, and I'd take them up to the room. My biggest tip is to purchase the $17 drink cups which allow you to get bottomless refills of a variety of drinks throughout your stay. You can also get a huge plastic tub of Popcorn and get $1 refills!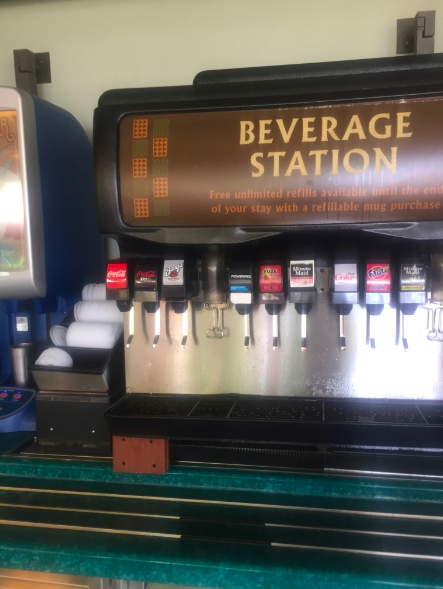 Throughout your stay you rarely need to carry cash as everything can be charged to your room. A big tip is to make sure that you always carry your room key. This will be asked for to charge various things to your account!
There is a small grocery store in the resort, however it is quite expensive. There is a large ABC village store in the shopping centre directly across the road. It evens sticks Chandon!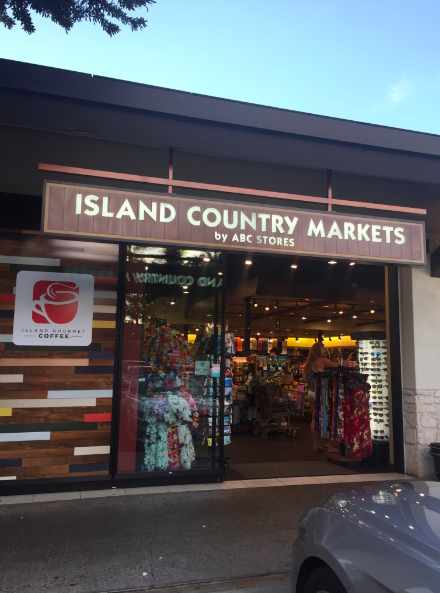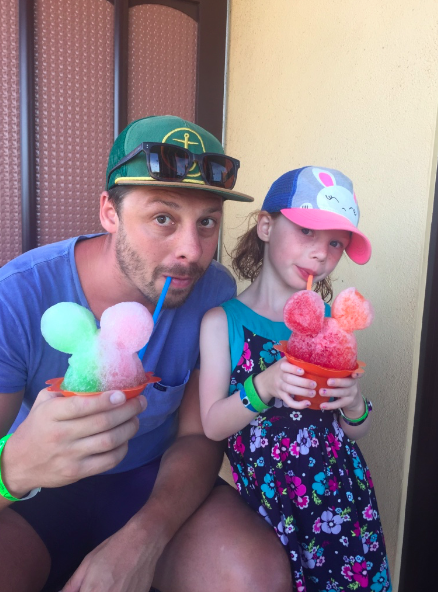 Dinner: As mentioned above, dinner options are more limited here. We still used the Open Table App and ate mostly at Monkey Pod across the road in the small shopping village. This place was fantastic. Amazing menu, great drinks and fantastic options for kids. There is also Mexican, Pizza and Japanese restaurants in this complex. We ate dinner one night at the beautiful 'Fish House' at the Four Seasons next door. Definitely a great night out!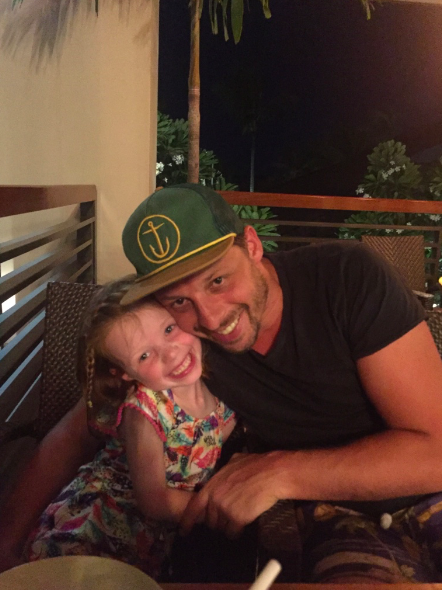 Hotel Room
We were lucky enough to receive an upgrade to an Ocean View Room on a high level. I would recommend ensuring that your room looks onto the volcano, as the view is stunning. Several of the resort rooms are time share, and villas include separate bedrooms and kitchens. This would be a great option if you have a car and are able to venture out to Target to purchase supplies for yourself!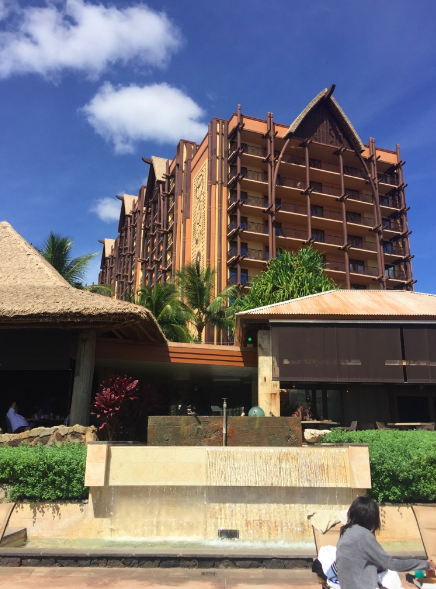 Again, our kids took their scooters and loved using these to get around. The resort is HUGE and using them certainly helped getting around.
So they are my major tips in travelling to Aulani. We had a ball, and after finding our feet, worked out how to play the game so that we could indeed, enjoy every aspect that this place had to offer. Truly a place to remember! To see more of our trip, and view highlights of the resort…view our Youtube movie below!