And then there were four!
Well it has been a hectic couple of weeks in the Korber household. Four weeks early, Hudson James Korber just couldn't wait anymore, and decided to make a grand and surprising entrance into our world. We are not sure if he simply wanted to meet his big sister early, or was eager to prove that he could beat our renovation deadline. Either way, we are completely thrilled and over the moon to welcome our little man to our growing family. Blessed with 'one of each' , like all parents do we just feel extremely lucky and grateful to have him here. Pure joy and love.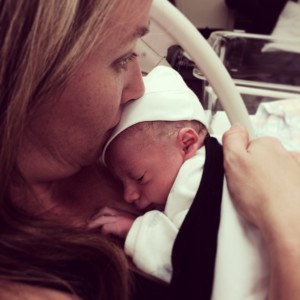 His entry into this world was an interesting one. A story that will indeed baffle many and surprise some. I gave birth to Ella on a 43 degree day. On that day, Daniel suggested we go out for dinner, and enjoy my 'last supper' of choice. Without hesitation, I chose Jacks Satay Bar. A favourite amongst Essendon folk, it has the best Malaysian food in Melbourne. It was one day before my due date, and as most 40 week pregnant ladies do, had been feeling quite uncomfortable in the days prior. That said, it was the height of summer and I just thought it was the heat. During dinner (after entrée) I had a 'show' and we immediately left the restaurant (after paying of course). The rest is history, and our Ella was born.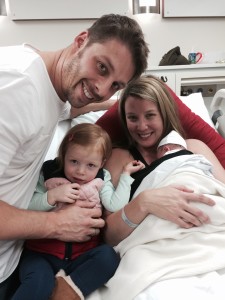 Last Friday I went for what I thought would also be one of my 'last suppers' with three of my best friends. We had all been blessed with the birth of our first children in the same year, and one of these girls was also expecting her second child, three weeks before me. Given the fact that I had four weeks to go, I was not at all worried about going out for dinner, on this occasion again to Jacks Satay Bar. A few sarcastic messages had been flying throughout the day from both my friends and family about being careful 'returning to the scene of the crime'. I wasn't fazed about going back to Jack's Satay Bar, so close to being due, and given the fact that I love their food so much, I was prepared to travel to the ends of the earth for their infamous 'roti rolls'.
So it was very surprising that during dinner, I started to feel my waters break. Joking with my friends, they googled possible symptoms during my frequent trips to the toilet. I wasn't sure if 'was or wasn't' something, as my waters never broke with Ella. I knew it had to be something to check out, but was both dismissive and in denial of the fact that I was going into labour four weeks early, at the SAME restaurant where I went into labour with Ella. Surely it couldn't be happening again. Could it? Well four days later, after a stop, start labour, my question was answered. For some reason I went into labour early, and our beautiful little boy just wanted to meet us. A crazy coincidence, or was it something in their food? Needless to say, I'll be making a phone call to let them know of their magical powers. Hopefully next time I'll get through a meal without anything happening!
Our little man arrived a little small, and as I've come to know, as a premature baby he has some growing to do. He has had to remain in hospital after we came home, something that broke my heart. I felt strong and calm until we got into the lift, as I struggled with a mixture of emotions. I know it is the best thing for him, and he is is in the most amazing care. However there is something that feels so wrong about coming home without your baby. Each day we venture into the Freemasons Epworth Special Care Nursery for two feeds and time for cuddles. The nurses are so supportive and caring. They made my Mothers' Day last weekend by creating the most beautiful card with his footprints. A small gesture that was appreciated so incredibly. It's hard to juggle your emotions, and remain strong for both your partner and toddler. We are so conscious of Ella's world being thrown into disarray. That said, we know how incredibly blessed we are to have such amazing support of family. We know it could be far worse. I have met so many families in the SCN who have been faced with months of special care and travel in and out of the hospital. It gives you a great sense of perspective, and I know that in the grand scheme of things we are very lucky.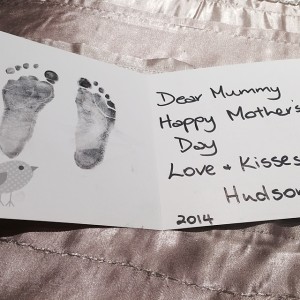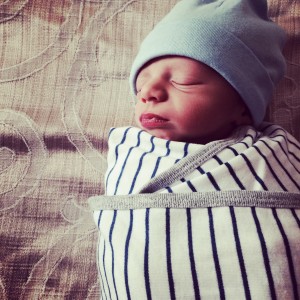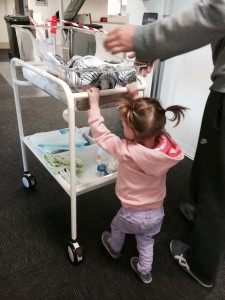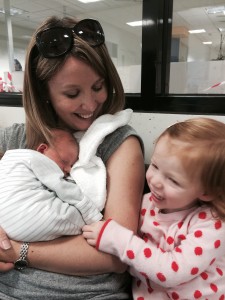 So until we can bring him home, we will stay positive and just keep plugging away to help him do what he needs to do. We have received so much support from so many, and I'd like to thank you all for everything. The little messages help so much, and from one Mum to another, I am truly grateful.
I look forward to writing his welcome home post, and celebrating in style. Until then, give your babies a cuddle and keep them close to your heart.