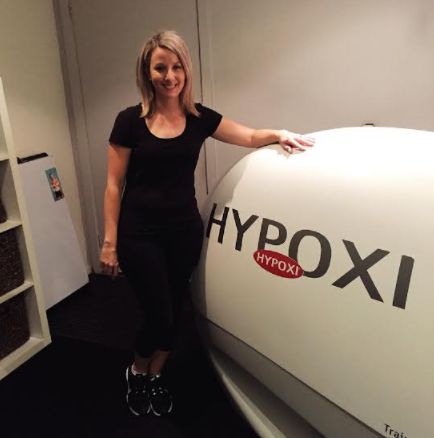 If you've been following along lately, you will know that I've been trialling Hypoxi. No, this isn't another 'eye roll' sponsored post that seemingly promotes a brand without really seeing what it is like. I need to start by sharing with you that this is NOT a sponsored post. I AM NOT being paid to write this review. I DID receive 12 sessions free to trial and share my own, honest experience with my readers. I WAS a total skeptic in the beginning, but I was also curious. I've never been a dieter, or someone who has actively tried to lose weight, but since having children, and a hip replacement last year, I've been someone who has grown increasingly self conscious of my body. Of 'that' tummy and hips that 'used' to look toned, but alas no longer resembles it's former self. Don't get me wrong, I'm proud of my body and all it has achieved / given me, but I am just starting to feel a bit 'bleh' and yuk about myself, how I was feeling in my clothes and just general post baby body. I wanted to do something about it, when Hypoxi came along. I wondered, what on earth was this Hypoxi business that kept popping up on my social feed?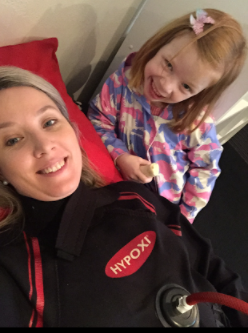 Since sharing the news that I was going to participate in a month long Hypoxi journey, I've been met with many questions:
What is Hypoxi?
Does it work?
Is it a fad?
What is involved?
How much does it cost?
Does it really work?
So today I'm sharing my own experiences of Hypoxi, how it worked, what I did and how I ended up. I Could this work? Would this work? Read on, and find out my verdict!
What is Hypoxi?
In the beginning, I had no idea what Hypoxi was, what it did or how it worked. On my first session I was briefed about the science behind Hypoxi and how the mysterious 'targeted fat burning' worked.
HYPOXI is a low-impact exercise method that is up to 3 x more effective at burning stubborn fat than traditional exercise and it significantly reduces cellulite. Through our advanced vacuum and compression technology and healthy nutrition, HYPOXI activates your body's natural system to burn specific areas of fat and cellulite. HYPOXI targets the stubborn fat stores around the stomach, hips, bottom and thighs that traditional exercise just won't move easily. You see it's not necessarily about weight loss, its about loss of cm. Toning the areas that I was self conscious about myself!
How does it work?
In my first session I was measured in several areas: stomach, waist, hips, bottom, upper leg, relaxed leg and knee. These measurements would be tracked approximately every three/four sessions. For best results it is recommended that you attend three sessions a week. Depending on the machines you use, this is approx 1 hour each session.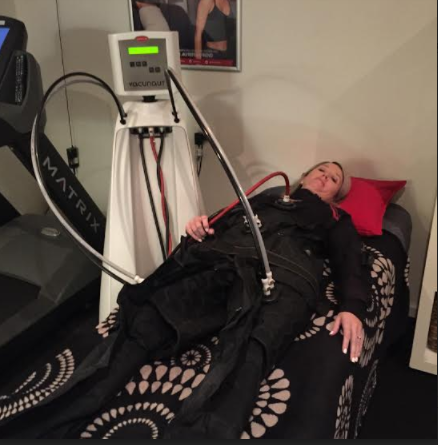 Step 1: HDC : Hypoxi  Dermology. The first thing you do is jump into what can only described as a wetsuit that sucks in all of the air as you lie down on a bed. Once all the air is sucked out, over 400 pressure chambers located around the stomach, hips and thighs start to lightly massage your body, similar to cupping. It feels like bubble wrap popping, and is oddly really relaxing. The purpose of this suit is to stimulate blood flow in these problem areas. It helps improve skin tone and texture and is great for cellulite. This step lasts for 20 minutes.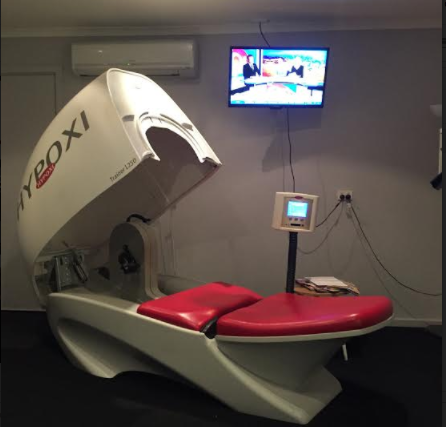 Step 2: Hypozi L250 Training. Following the HDC suit you then put on looks like a plastic skirt and a machine that combines an exercise bike with a laying down position. Once you lay down, the hatch is lowered over your stomach to create a sealed vacuum from the waist down. For 30 minutes you peddle at a specific RPM (mine was 55-65 RPM) and the machine applies gentle vaccum pressure to the lower half of your body. This machine targets cellulite and fat on the stomach, bottom and thighs. I found this machine very easy and did not need to use much effort to keep the pace. This is great for anyone of any fitness level. What was a bonus was the fact that I could watch television, whilst exercising, lying down.
Nutrition Rules: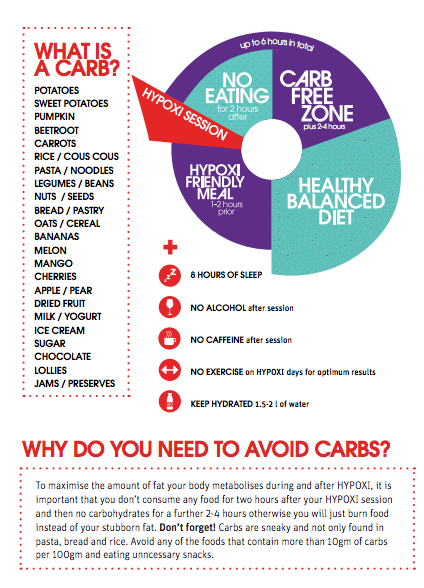 Like any health plan, exercise is not the entire answer. Hypoxi combines low impact exercise with some simple nutritional guidelines to develop results. The rules include:
No eating for two hours post each session. Following this, no carbs for a further 2-4 hours.This is because post session your body continues to burn fat, but if you eat, then your body will burn that instead.
Balanced diet. Exercise combined with a balanced diet will of course bring about better results. If you don't change anything about your diet and simply focus on the exercise component then you are wasting your time and money!
The Verdict
So did it work? I must admit that I'm super nervous about sharing photos of my results with you. Nervous, not because if the program, but because of putting myself out there and sharing an image of my body when I'm feeling pretty self conscious.  However I know that the best way to show if something works is by providing you with proof. Proof that is unbiased and objective. So to cut to the chase, below you will find a photo of my body before and after: for and a half weeks later.S o please be kind!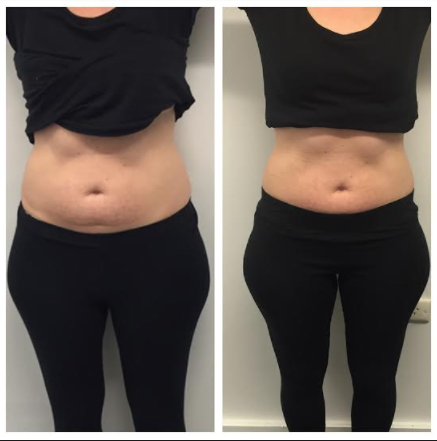 So did it work? Yes. It did! Over the past 4 1/2 weeks, I have participated in 14 sessions (extended due to one session being cancelled because of a faulty machine).  Whilst I didn't lose any weight (this is quite normal), I lost 28.5 cm across all of my measurements. The best areas were my stomach and thighs. From the above photo you can see that my stomach is indeed more toned. I purposely wore the same clothes and stood in the same position to ensure that I giving you a real picture of my body. It's far from perfect, but I have to say that I'm pretty proud of this achievement in a month. I feel better in my clothes and it has really kick started my urge to get my body in better shape.
Tips and Tricks : is it for you?
Each person that completes Hypoxi finds themselves getting into a rhythm. You find parts of the program that are easy, and parts that are challenging. So to summarise my experience, I thought I would share with you some of the things that I would recommend doing if you want jump on board yourself!
Do it at night. As I got into the program I fast realised that I struggled with the nutrition component. Especially if you do your session in the late morning, it means that you feel really hungry through the day. The absolute best way to do it is at night. I did most of my sessions at 8pm. After dinner and my hubby put the kids to bed. This meant thatI could exercise and then simply go home to bed. No need to feel hungry!
Pre book your sessions in advance. I found that if I had already booked my sessions, it felt like an appointment that I had to keep. You really need to do 3 sessions a week to get results!
Drink loads of water. The more the better.
Don't get obsessed with the weight. For me it was about cm. I achieved that goal! Many do lose wight too, but this isn't the focus.
So is it for you? I would absolutely recommend Hypoxi for those who want to kick start their goal to improving the health of their body. It is great for Mums who are busy, but able to exercise at night, or super early in the morning. It is great for people of all fitness levels, especially for those who are recovering from surgery. It is wonderful for those who have a big event in their life, a wedding or a big holiday. Whilst it isn't the cheapest form of exercise on the planet, you can get fantastic sale deals if you keep your eyes out!  It essentially is a great way to start yourself on the road to better health.
If you are interested, Hypoxi offers everyone a FREE TRIAL. With centres in loads of locations, you are sure to find one near you.