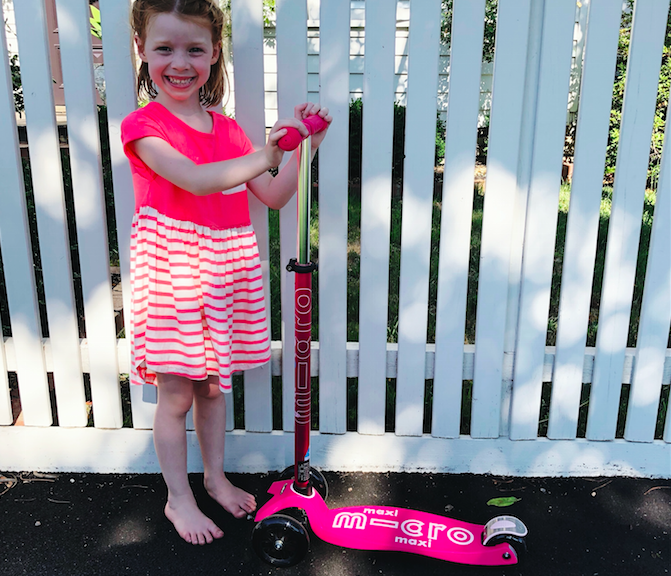 Christmas Toy Review #4: Micro Scooters
As you know, this year I'm on the hunt for gifts that I can get for BOTH of my children. Stuff that they will love, play with together and (if I can help it) get them outside. In our family, there is nothing quite more loved than our scooters. We took them to Hawaii (read about it here) and have used them in place of our pram for over a year. They get the kids active and are just generally the coolest things you can give to kids. The problem is, like bikes, as they grow, so does the need to upgrade their scooters. There is nothing greater in the scooter world than a Micro.  If there is something I've learned these last few years as a parent, you get what you pay for. The quality, design and service provided by Micro is second to none. I've always wanted to get my kids a Micro, and was utterly thrilled when I recently had the opportunity to try them out for my own children, and am excited to share our findings with you today!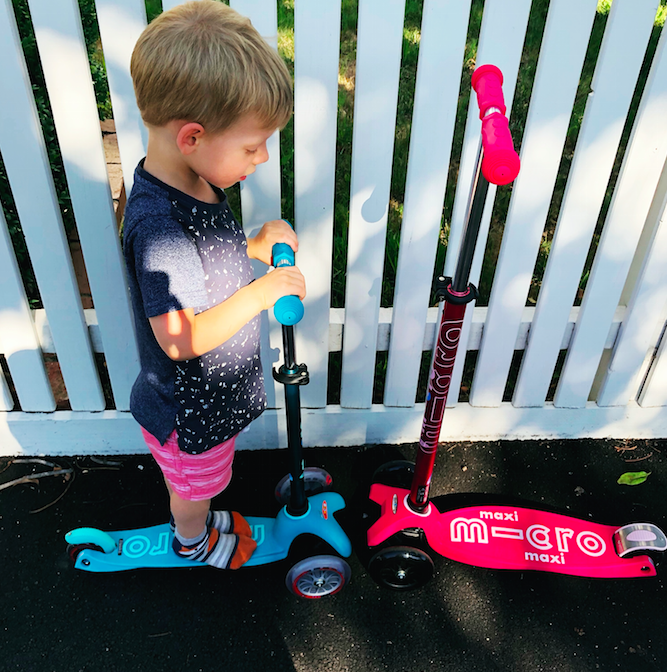 In case you don't know, buying a scooter is kind of like buying a car. There are literally thousands of models out there, but you need to find one that suits your needs, budget and taste. Scooters come in all shapes and sizes, and the micro offerings are no different. In the past, we have used cheaper versions, but now we were ready to invest in the best. The problem is, Ella and Huddy are both at very different stages, skills and physical make up. Ella is super tall, but also still needs support to transition her to a two wheeled version. Micro made it easy, suggesting the perfect type for each of my children. Still having three wheels was our preference and they catered for our needs with no problems. Here is what we chose!
Hudson: 3 Years: Mini Micro Deluxe
The Mini Micro Deluxe is the reimagined version of the world renowned classic Mini Micro preschooler scooter. It features an adjustable t-bar, raised silicon deck for stability, and an anodised finish that looks great and protects from rust.
The Mini Micro Deluxe's intuitive 'lean and steer' scooting style is perfect for younger children and helps your child's balance and co-ordination which are vital for the development of early motor skills. It's lightweight and therefore perfectly suited for little ones as it enables them to negotiate pavements, steps and doorways without the help of us Mums and Dads!
The brake is the best. It has been ingeniously designed so even the slightest pressure put on it will bring the scooter to a gentle halt. This is something Huddy needs! The Mini Micro Deluxe's 3 wheels and sturdy deck provide stability, giving your child the confidence they need to master scooting.
Specifics:
• For ages 2 – 5 years
• Adjustable handlebars
• Unique silicon raised deck
• Anodised stem protects from corrosion
• Develops balance skills
• Stable 3 wheel design
• Intuitive lean-to-steer action
• Lightweight design
• Wide non-slip deck, low to the ground
• Quality non-marking wheels
• Comes in  Pink, Blue, Green, Red, Yellow, Purple, Aqua and Orange
• Please note: Mini Deluxe Red has a pink brake and pink deck logos
Ella: 5 years old: Maxi Micro Deluxe
The next step up from the Mini Micro Deluxe, the Maxi Micro Deluxe 3 wheel scooter is the ideal next stage kids scooter for kids who want all the fun, stability and good safety design of the Mini but are ready a larger, cooler and more robust scooter.
The Maxi Micro Deluxe version has a new weight limit of 70kgs, a unique deck with raised silicone Micro grip, and an anodised stem which not only protects your scooter from corrosion but provides a stylish look.
Your little one can cruise the pavements,  parks smoothly and confidently on their Maxi Micro Deluxe scooter, while further developing their balance and co-ordination skills.
With an adjustable handlebar the Maxi Micro Deluxe is the ideal scooter for the fans of the mini who want to keep riding what they already love.
Specifics:
• For ages 5-12 years
• New 70kg weight limit
• Anodised metallic finish
• Raised silicon non-slip deck
• Adjustable handlebar height
• Intuitive lean-to-steer action
• Superior stability
• Vibrant range of colours: Purple, Red, Green, Black, Blue, Pink, Yellow and Aqua
• Please note: Maxi Deluxe Aqua has a pink brake and pink deck logos
My kids fell in love with their scooters at first sight. I could not recommend Micro more highly. There is nothing better than a Micro Scooter. The perfect Christmas present for any boy or girl.  It is certainly a Christmas choice that will bring you and your family so much joy. All you need is a scooter for yourself!
I'll finish with some action shots of the kids cruising and having the time of their lives!